Updated August 4, 2017
If you're looking for a full list of character meals, locations, characters involved, costs and menus; subscribe to Character Locator!
Walt Disney World offers more than 20 character dining type experiences around the property and there's 6 more that are in the Walt Disney World area, but not in an official Walt Disney World Hotel.  You can meet Goofy in 12 different meals, Pluto in 10 different meals and Donald in 6 different meals.  But some characters are so rare, they not only don't appear in the park often, they are only in one character meal.
7. 1900 Park Fare Breakfast  and the Wonderland Tea Party – Mad Hatter
No one has a voice like the Mad Hatter.  Many people try to copy his unique tone, but few succeed.  He used to meet regularly in the Magic Kingdom by the Mad Tea Party, but currently he can only be found regularly at 1900 Park Fare for breakfast and the Wonderland Tea Party.   In recent years, he has been available for meets during the Halloween Party as well.  He's a lot of fun with which to laugh and joke around.  Tell him the guy with the "Loser Hat" said hello.
6.  1900 Park Fare Dinner – Prince "Charming" and Lady Tremaine
First, we should settle the fact that Cinderella's prince doesn't actually have a name in the movie Cinderella and he isn't called "Prince Charming" in the movie.  For some reason the carousel in Fantasyland is named in his honor.  Okay, now that's settled we can discuss the meet.  Cinderella's Prince only meets at 1900 Park Fare for Dinner and he appears for the  Christmas Party with Cinderella.  He isn't a very interactive character, just too formal for me.  Lady Tremaine meets here only as well.
5.  Crystal Palace – Eeyore & Piglet
Within the last year we've lost both Eeyore and Piglet from in park meets.  Eeyore and Piglet used to meet at the Sorcerer's Hat until Wreck-it Ralph and Vanellope began meeting.  Eeyore also met in Animal Kingdom until Mickey and Minnie moved into their new location in Animal Kingdom.  This leaves you with one guaranteed option to meet these guys.  They may sometimes appear in Epcot for Training .  All those tears caused Eeyore to lose his space in the happiest place on Earth.  I kept telling him to pick his chin up and smile a bit, but sadness doesn't play well.  Piglet was needed to provide the sausage and bacon :)
4. Hollywood & Vine (Breakfast and Lunch – not at lunch after September 2017) – Handy Manny
The only way to meet Handy Manny at Walt Disney World is to book one of these character meals.  He does not appear in the parks for regular meet and greets.

3.  Ohana Breakfast – Lilo
Lilo was displaced from Animal Kingdom's rotation in December, 2011 along with Terk and Jiminy Cricket.  She's a lot of fun with which to interact.  You can do all kinds of fun surfing and hang ten poses with her.  She does meet at Typhoon Lagoon in the summer months.
2.  Pirates and Pals Fireworks Voyage – Captain Hook & Mr. Smee
Captain Hook and Mr. Smee used to meet in Adventureland years ago, but now they are merely random appearance characters.  They can sometimes be found near the Epcot Character training in Epcot and Mr. Smee at Character Palooza, but those aren't guaranteed.  The Pirates and Pals experience is very unique to Walt Disney World and I believe it's worth doing.  Here's an article that I wrote about my experience.
1.  *Be Our Guest (Dinner ONLY) – Beast
Be Our Guest for Dinner isn't technically a character meal.  Beast doesn't walk around the dining room signing books and snapping photos with grinning kids.  He parades through the room with some fanfare and takes his spot near the fireplace.  Since the restaurant opened, it's the ONLY way to meet the Beast.  AND to add to the fun, it's booked solid until like the year 2027 or something.  Okay, it's booked solid 190 days out by hotel guests.  Just stick my photo in your autograph book and stick your dog's paw in the mud to create a stamp.  Maybe the kids won't notice the difference when they graduate college?  It would sure be nice to see him return to the Christmas Party!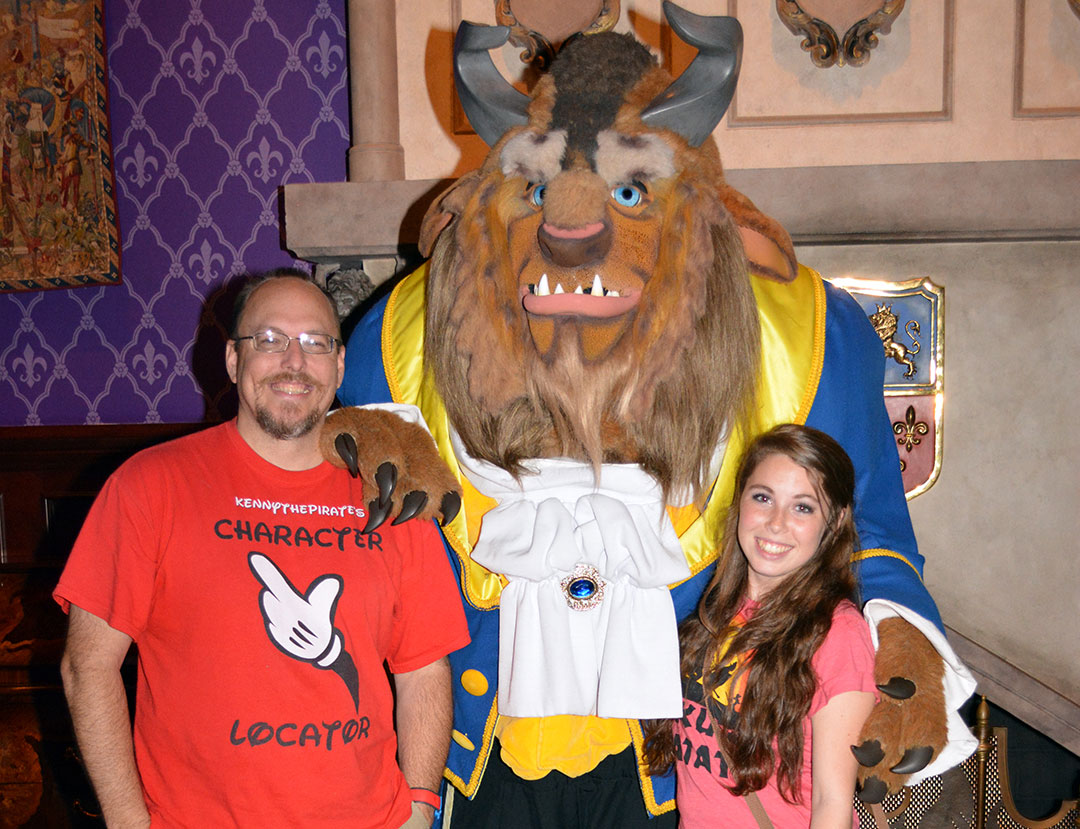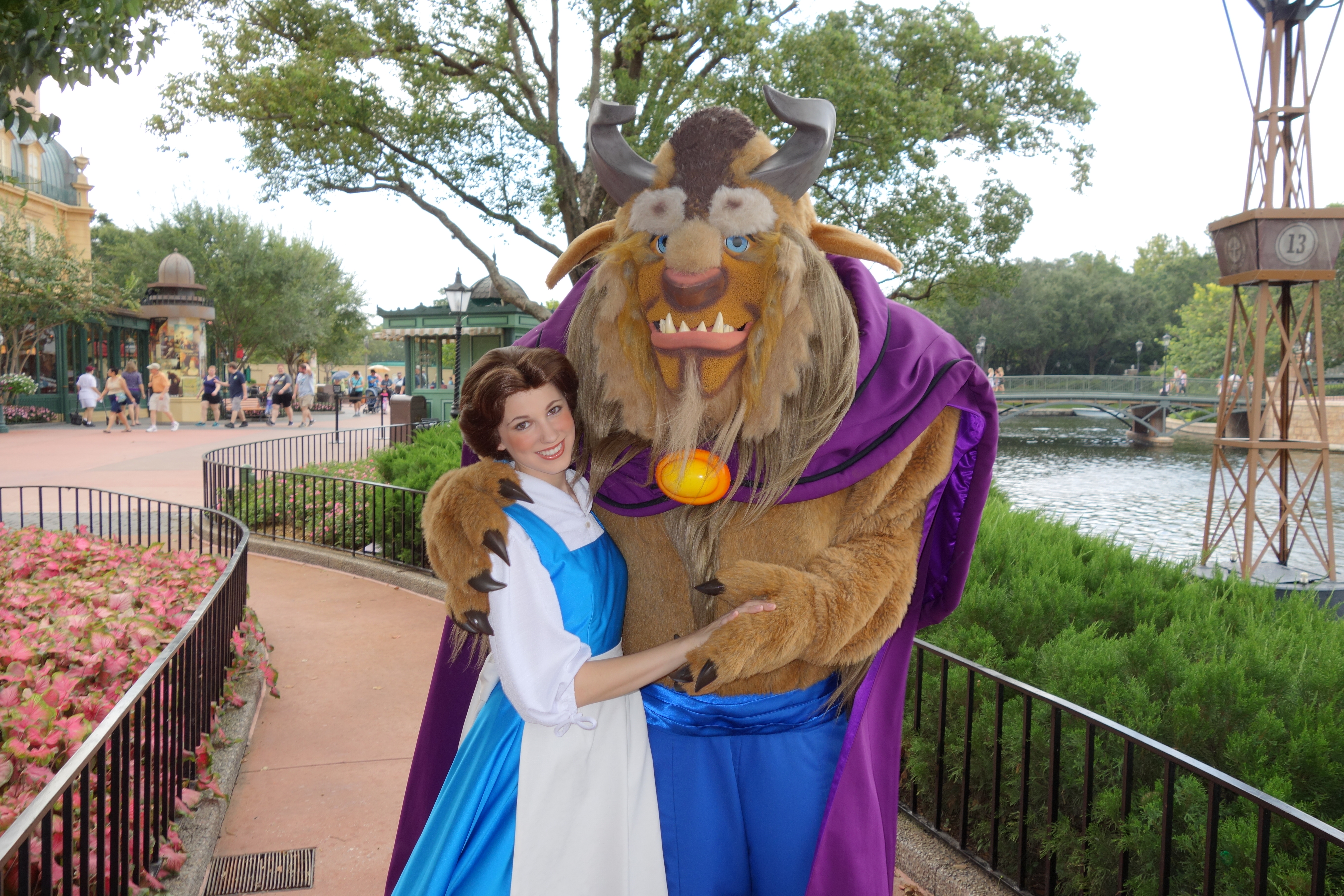 Others who meet at character meals that don't offer regular meet and greets include Flynn Rider and Prince Eric at Bon Voyage Character Breakfast.  Flynn does appear at Mickey's Very Merry Christmas Party.  If you want all the great Character Information and more, subscribe to Character Locator today.
I wish you well in consuming all those Mickey Waffles and flank steaks!
KtP