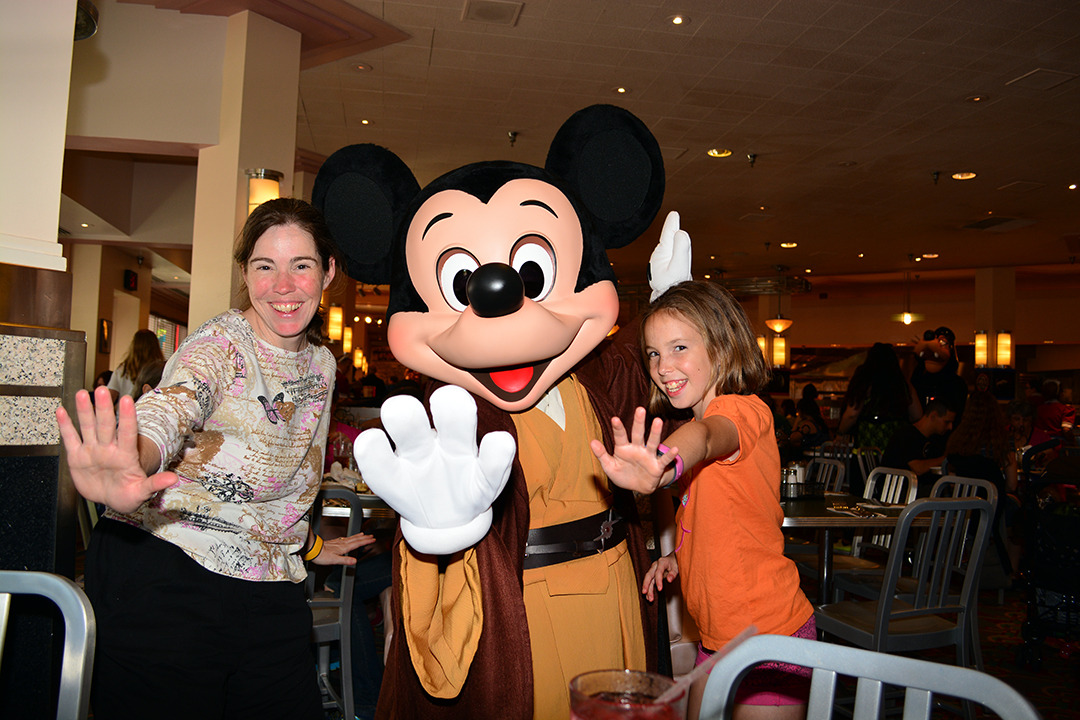 Jedi Mickey's Star Wars Dinner at Hollywood and Vine in Disney's Hollywood Studios
This Star Wars dinner has a totally different feeling and appeal to it than its breakfast counterpart.  The breakfast meal is in a really dark environment and features dark characters (except Jawas) and they provide movie clips.  (recently added more content to the breakfast post, so you might want to click the link to check out the additions).
The Jedi Mickey's dinner provides a much lighter feeling.  It's bright and vibrant and there's upbeat music playing.  It features some great classic characters that includes Chip n Dale as Ewoks, Jedi Mickey, Princess Leia Minnie, Darth Goofy and Stormtrooper Donald.  You can meet these same characters in the park during Star Wars Weekends in these costumes, but expect long lines and Mickey, Minnie, Donald and Goofy rotate often.
Jedi Mickey's Star Wars Dine cost information:
The cost of this Star Wars character meal is $55.99 for adults 10 and over and  $32.99 for children 3 to 9 years of age.  If you'd like to make it a Fantasmic! dining package the cost is slightly more at $59.99 for adults and $36.99 for children.  The meal will also include a FREE digital download of Ewok Chip n Dale. The meal will begin serving at 4:15pm daily and close with the park.
The Disney Star Wars Characters in attendance:
Chip n Dale as Ewoks
Ewok Chip n Dale are the official greeters of Jedi Mickey's dinner at Hollywood and Vine.  They appear with a giant logo background right as you enter the restaurant.  They do not move about the restaurant, they are in a fixed location.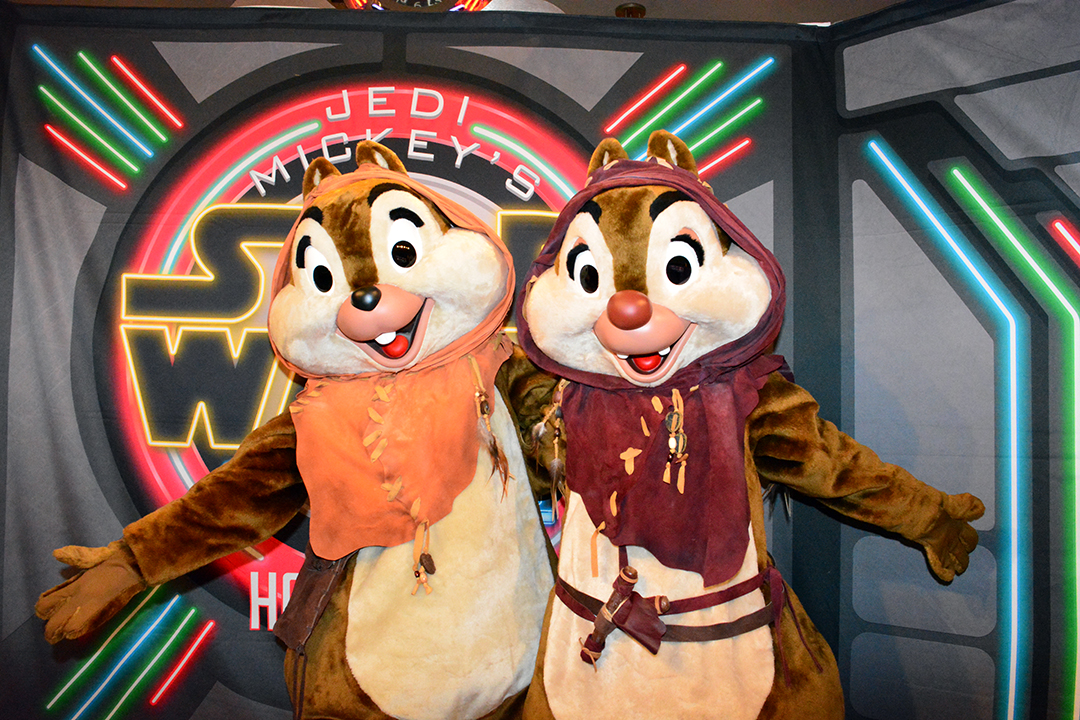 There is a photopass photographer posted here to take your photo and you're given a special photopass card to download your FREE image.  The downloads are valid until July 30, 2014.
Here's the photo of Chip n Dale we received with the different borders applied to it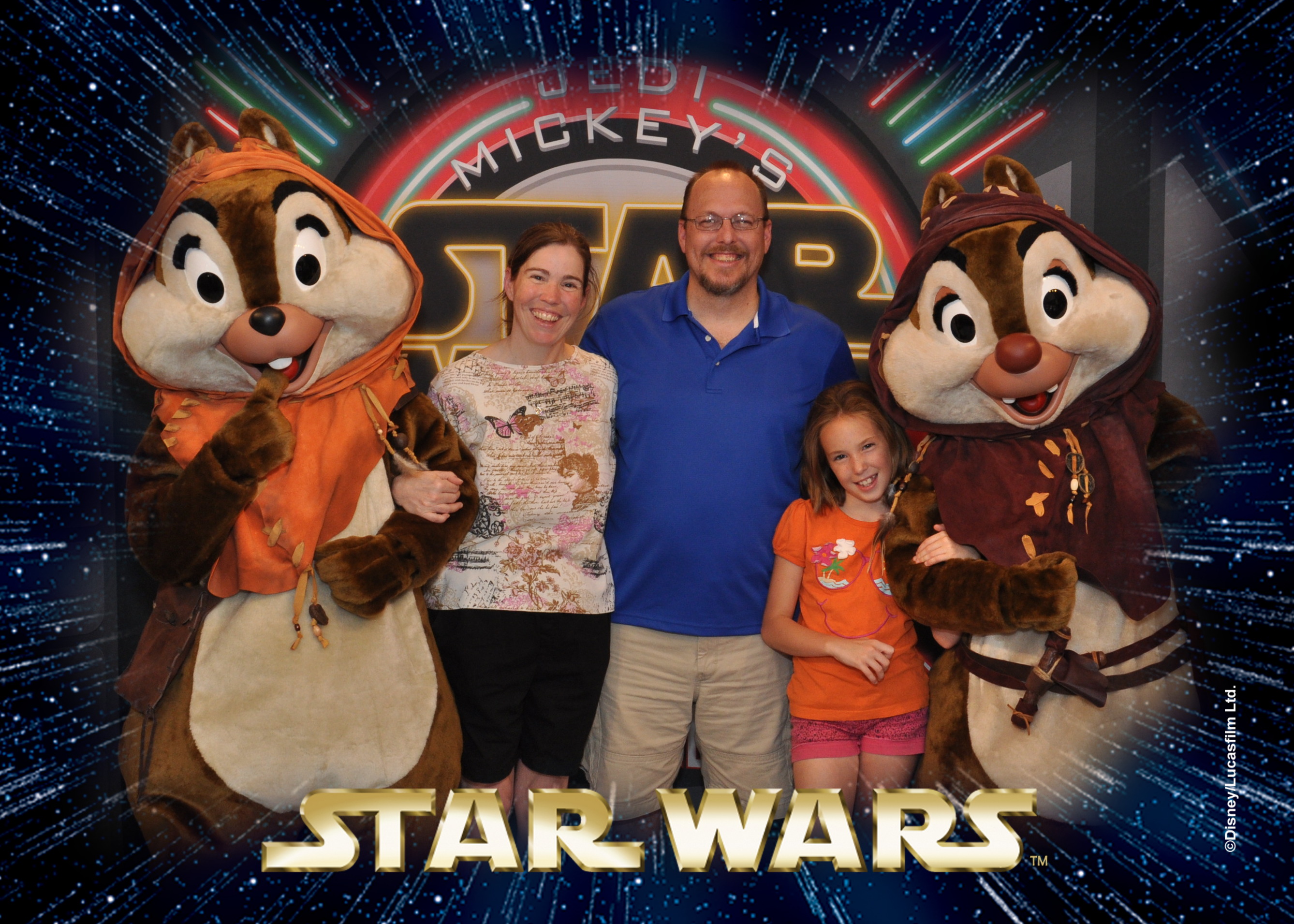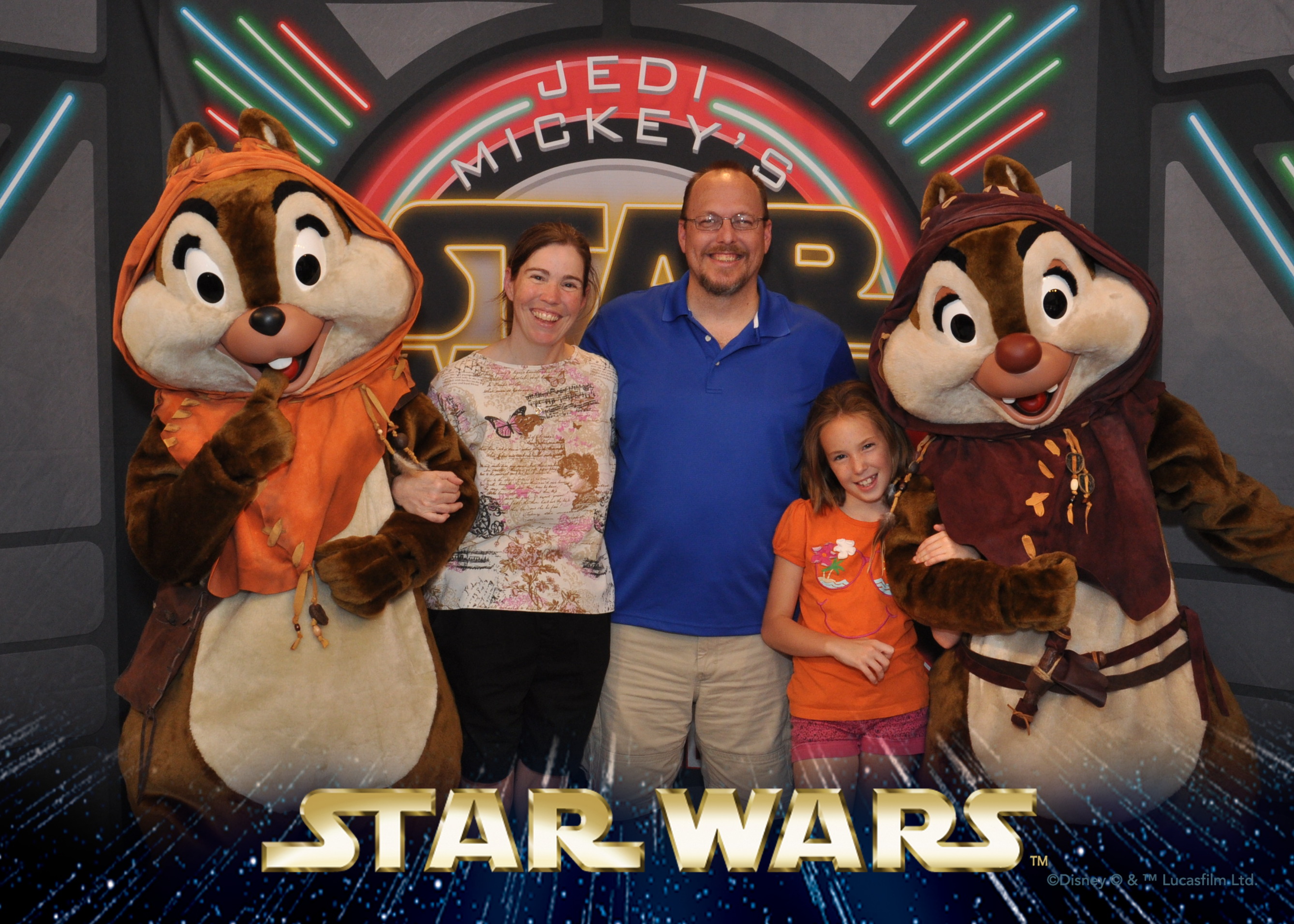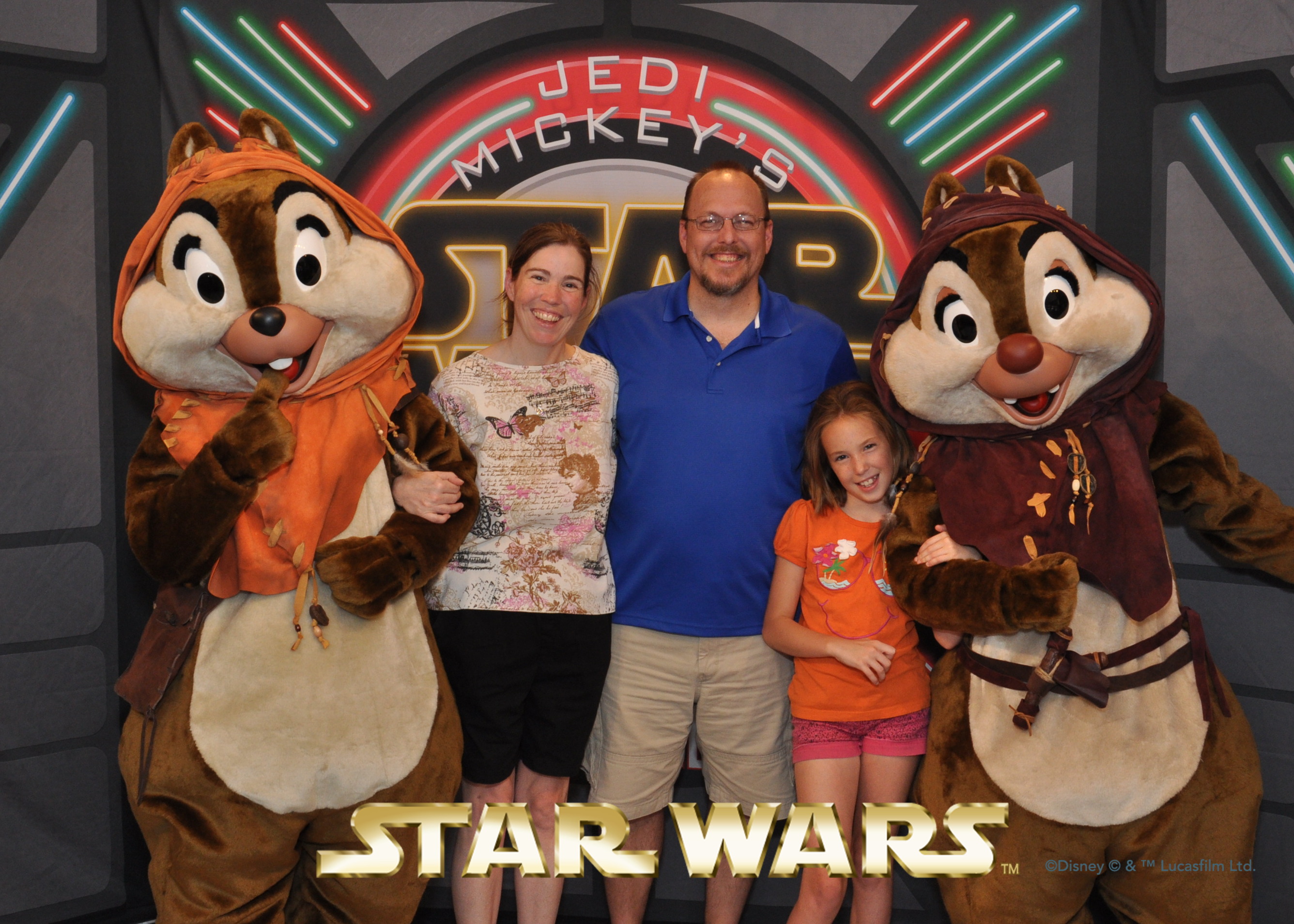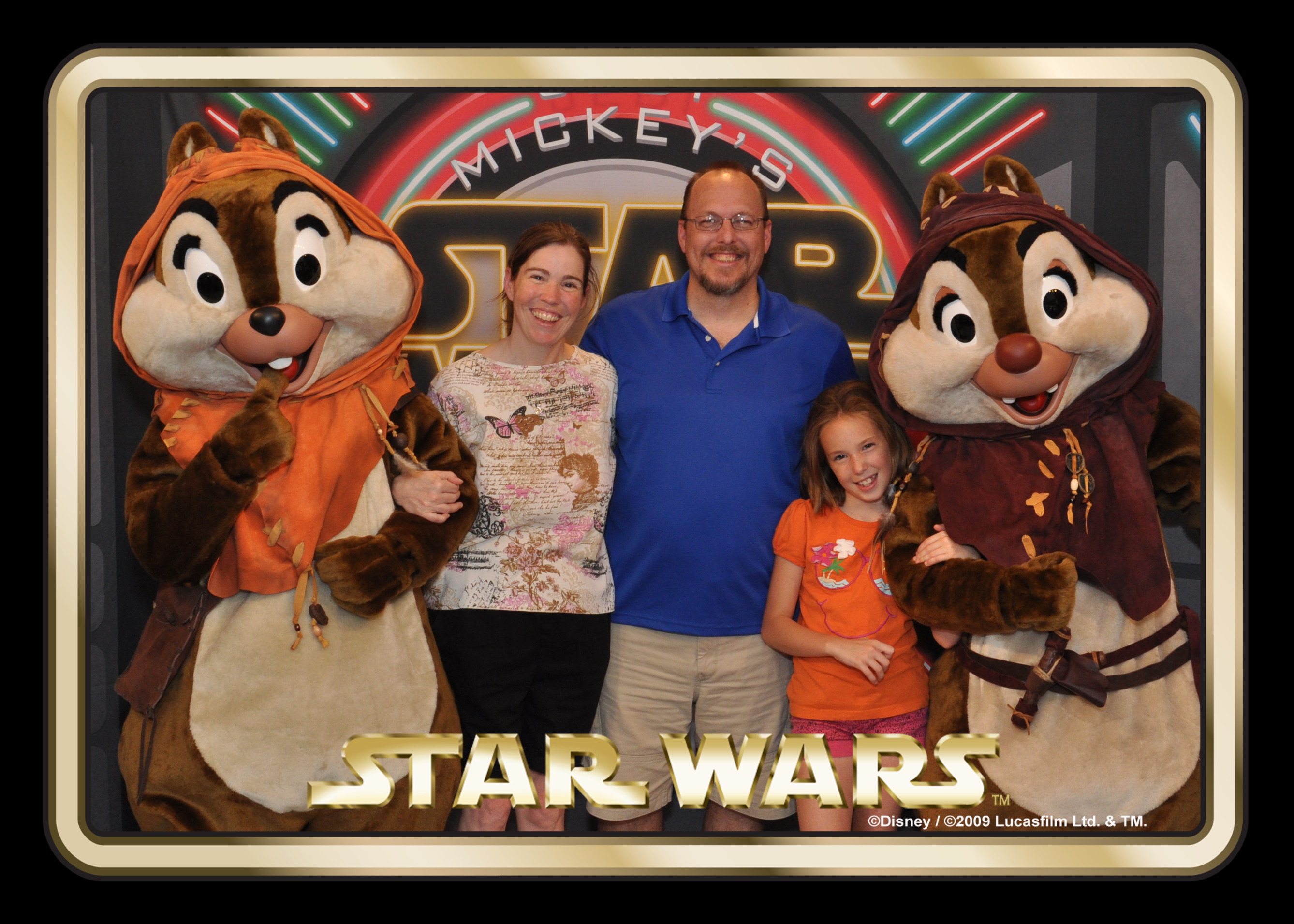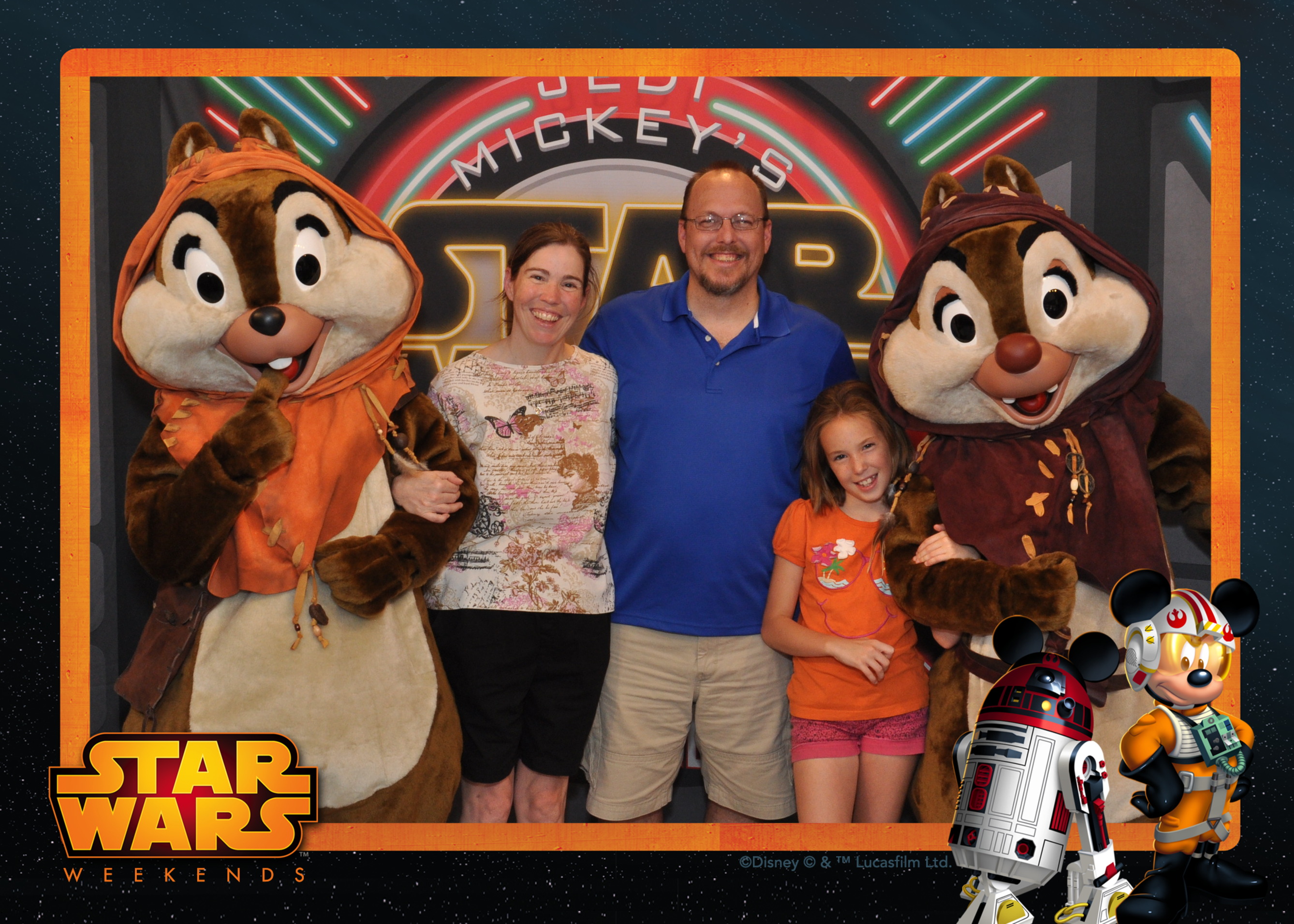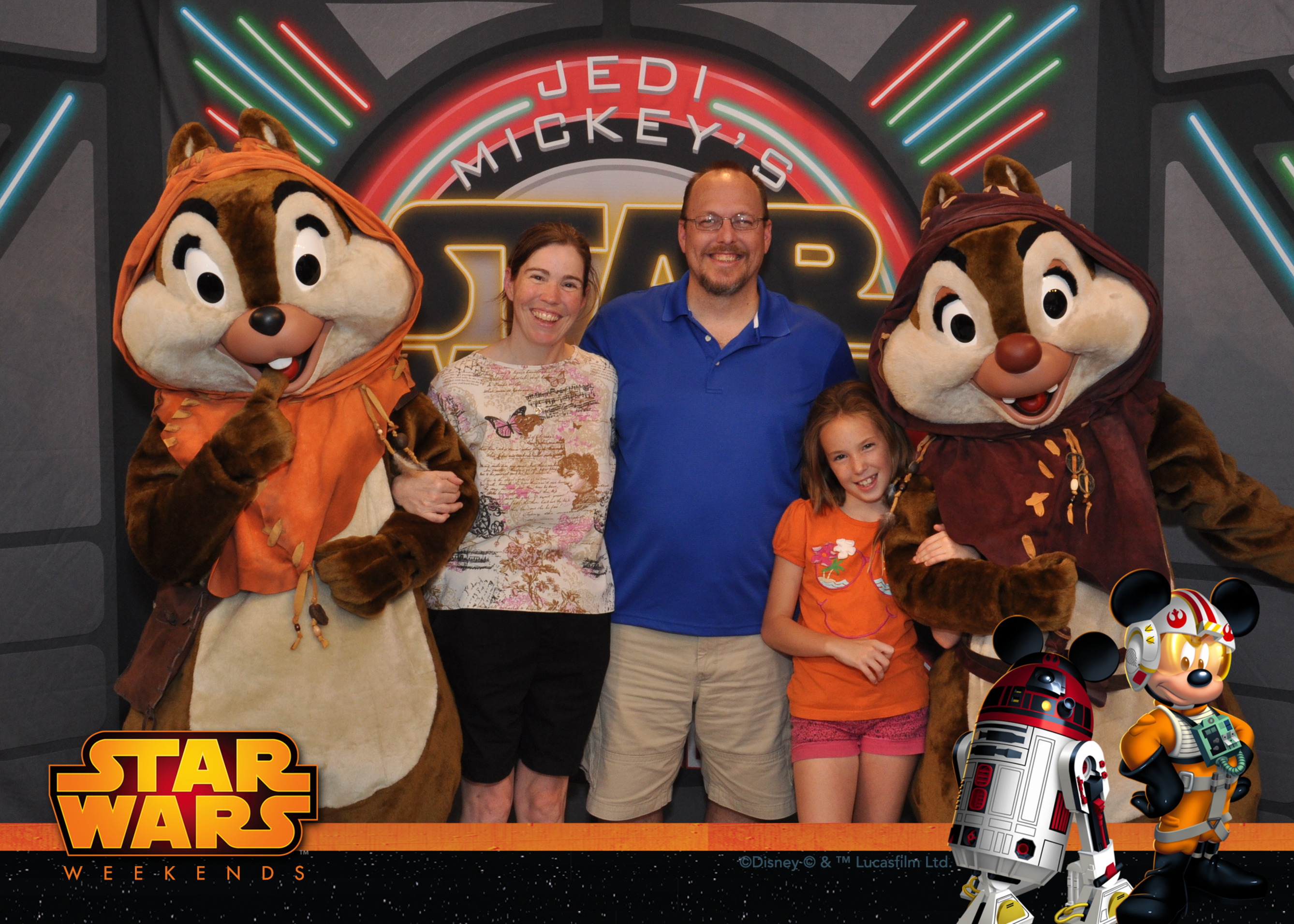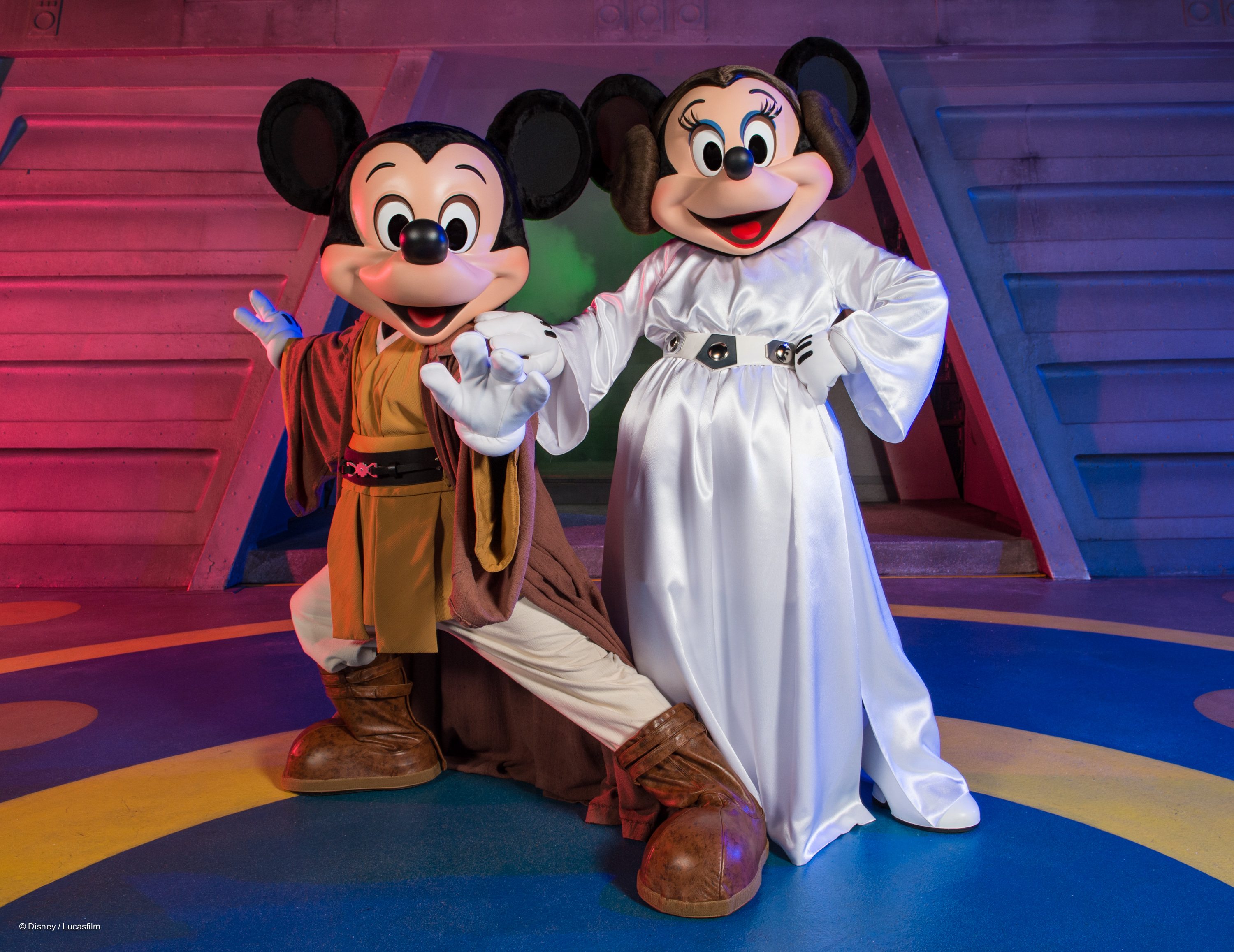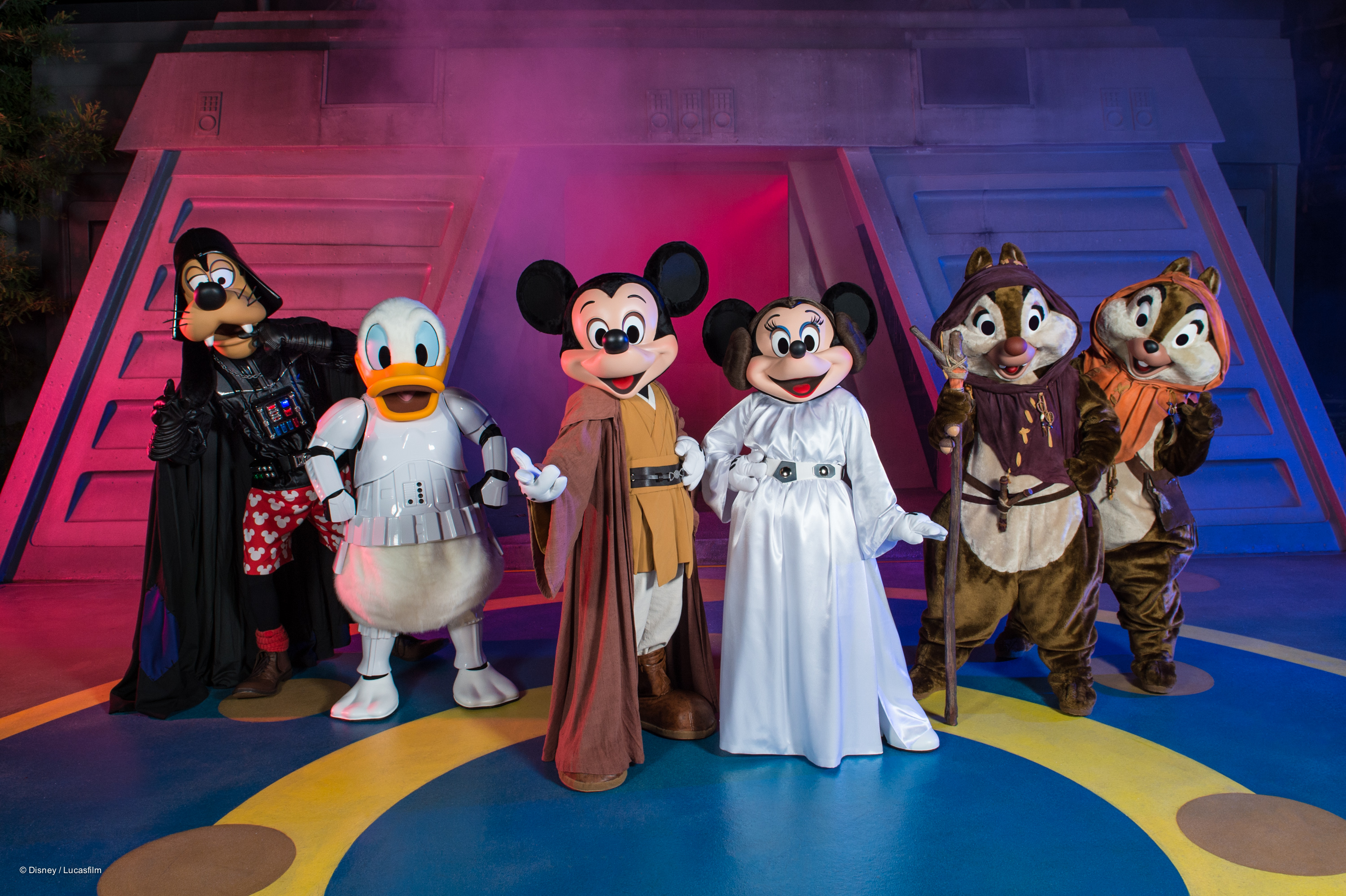 Chip n Dale wouldn't autograph live for us, but the attendant offered my daughter this pre-signed card.  It was hand signed, not just pre-printed, but Debbie really wanted them to sign a light saber for her.  For $60 per person, I think they should sign whatever a guest wants signed.
Jedi Mickey
Mickey moves about the restaurant greeting all his special guests at each table.  If you ask him, he'll even show you the proper way to perform a Force Push.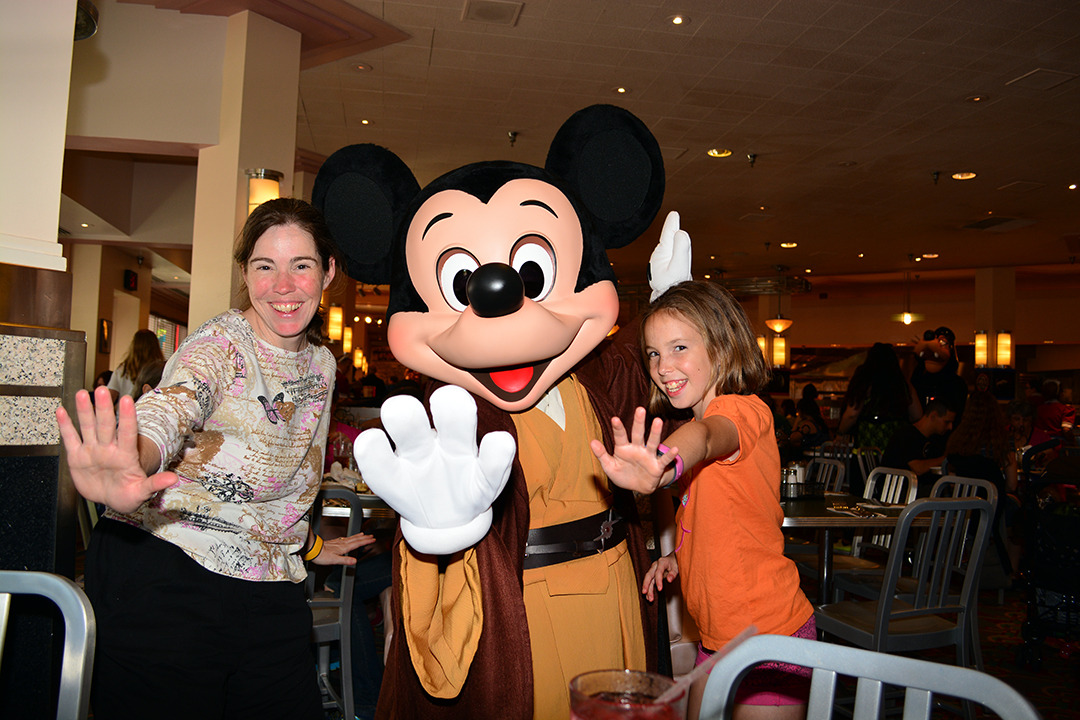 Debbie asked Mickey if he would sign her light saber (discussed below in the post) as "Jedi Mickey," but he refused to do so.  She begged him a few times and all she could pull out was "Mickey Mouse."  Boring imo.  I've been told there are rules about signing and blah blah blah.  Hello…we're paying big buck for this experience.  How about a simple four letter word?  JEDI
Minnie Mouse as Princess Leia
Minnie is adorned in her white Princess Leia dress complete with bun hairdo.  She moves about the restaurant greeting at tables.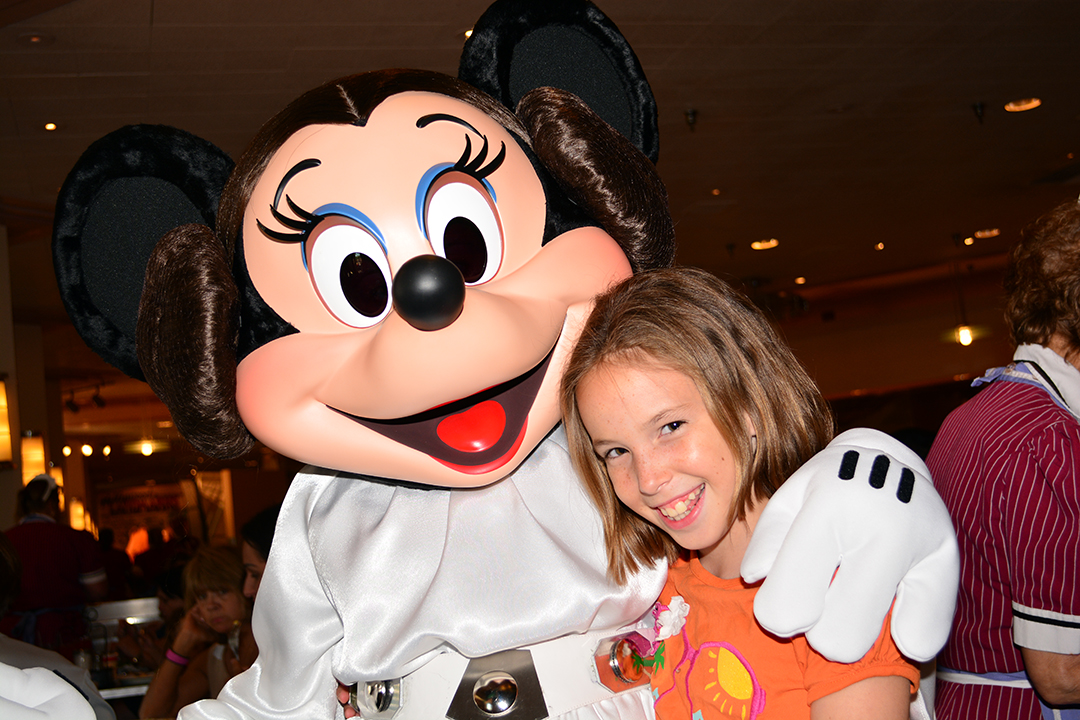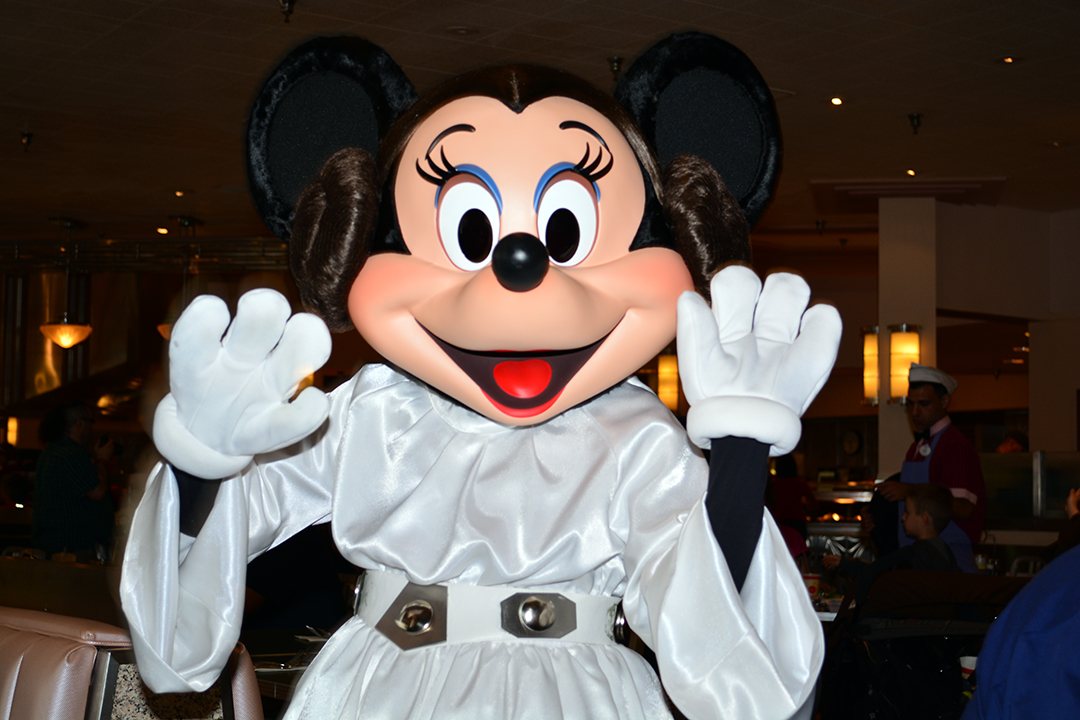 Debbie asked Minnie to sign as "Princess Leia Minnie" and Minnie was her polite and kind self and signed just as she requested.  Don't worry folks, this is going on her wall,  We aren't posting it for sale on Ebay.  I even used a terrible phone pic, so people couldn't copy all over the internet and stuff.  Shhhhh…your secret is safe with a few thousand viewers.
 Donald Duck as a Stormtrooper
Donald is dressed in his stormtrooper costume, but doesn't wear the iconic mask that they are known for.  He doesn't look much like a Jango Fett clone though.  He moves about the restaurant greeting guests at their tables.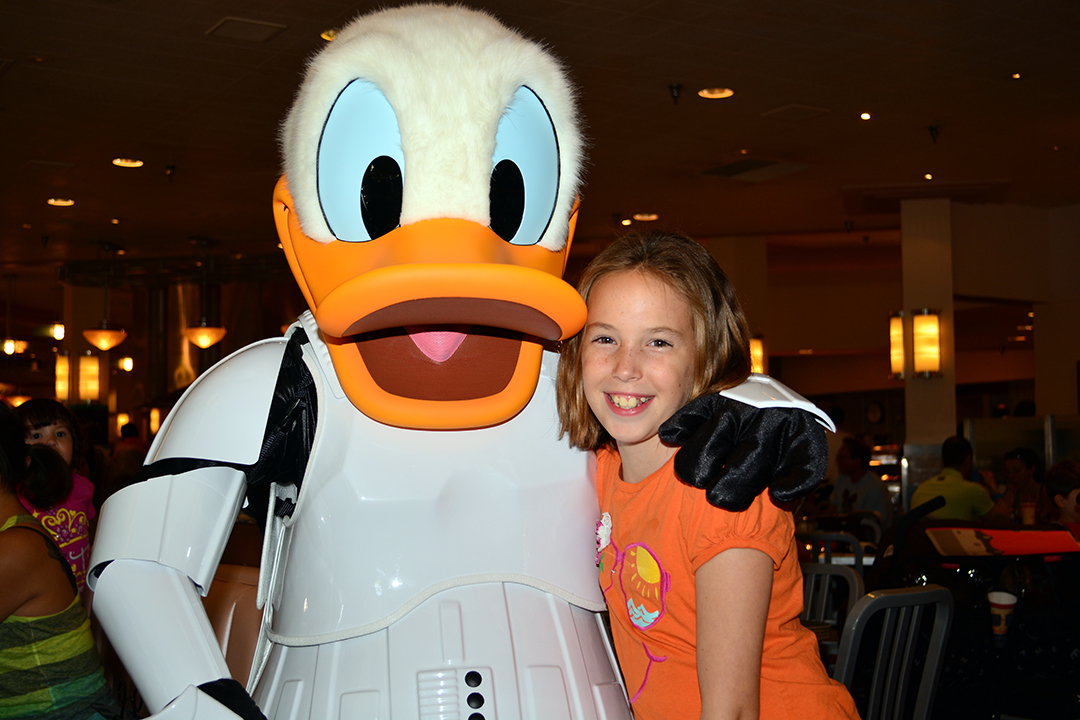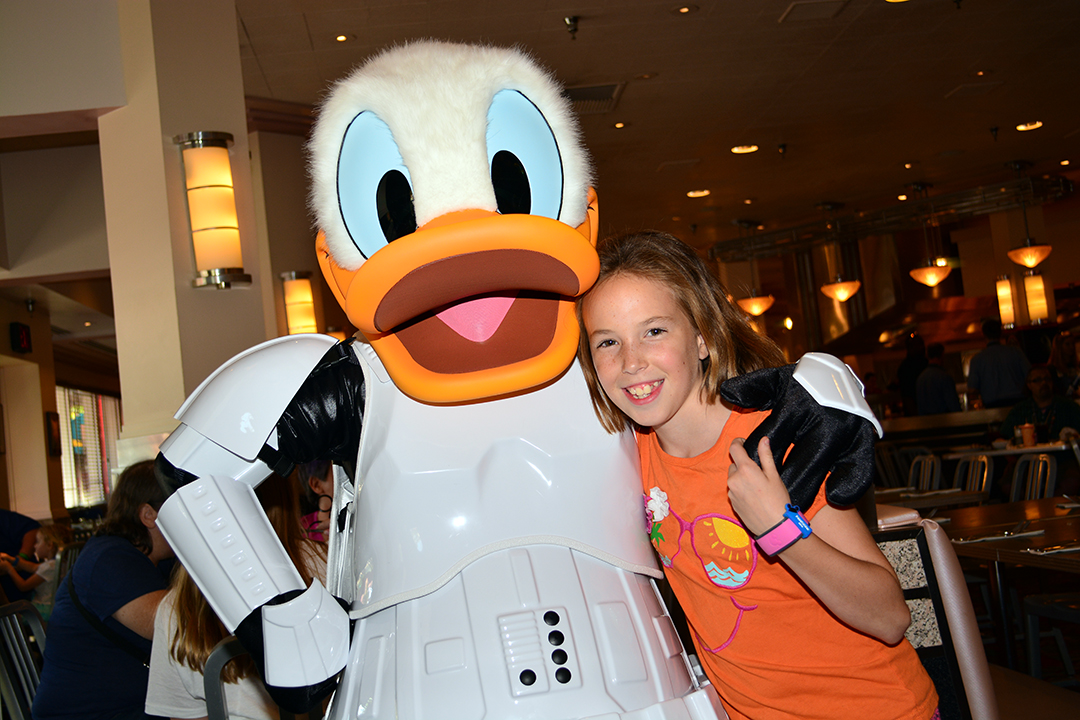 I forgot to snap a phone pic of Donald's autograph, but he refused to put "Stormtrooper Donald" on it and just signed the red light saber as "Donald Duck."  C'mon man!
 Goofy as Darth Vader
Darth Goofy as he's come to be known moves about the restaurant greeting at tables.  He looks like he was getting dressed in a hurry and forgot to put on his pants.  This is one of my favorite costumes and Goofy is my favorite classic character.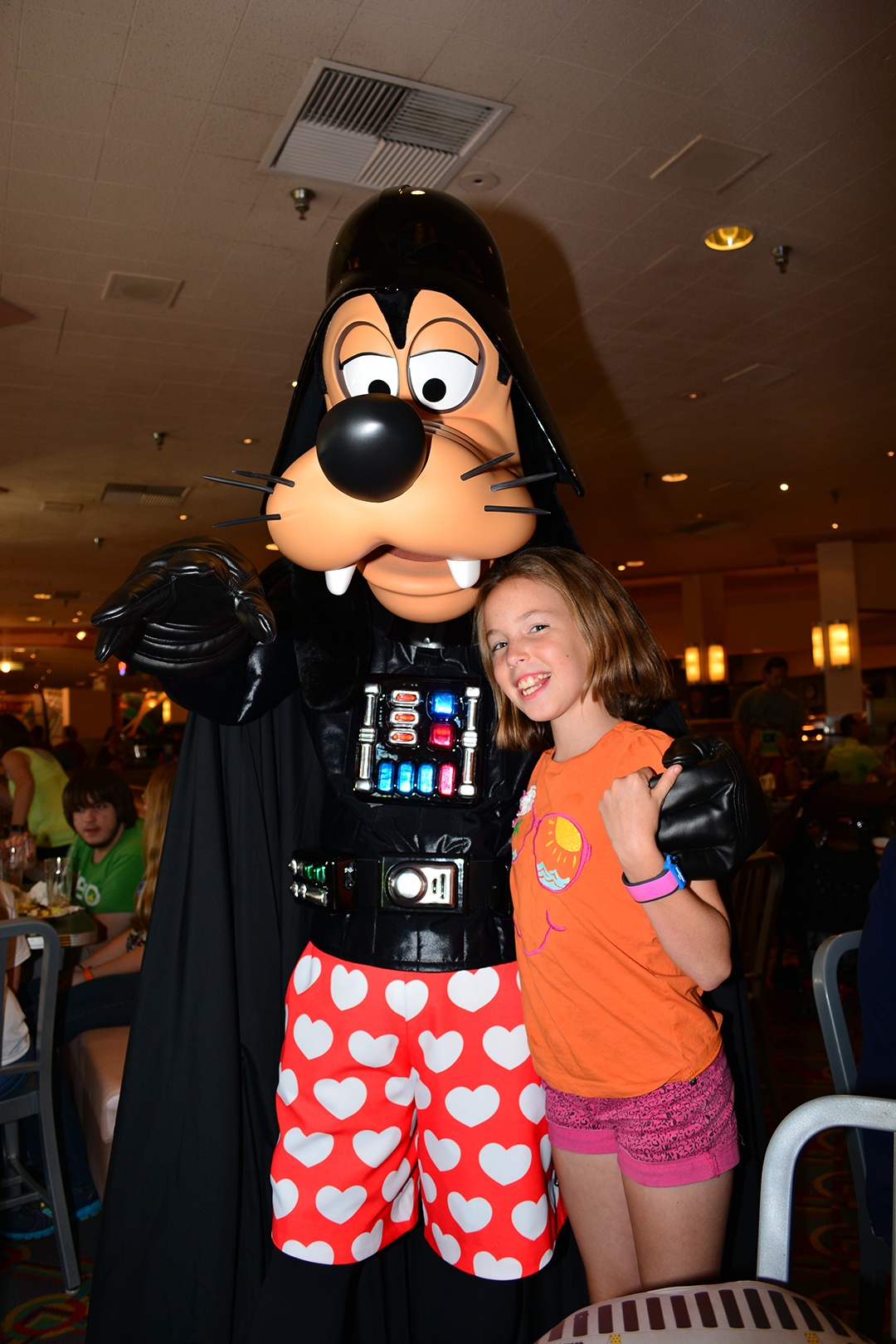 Debbie asked Goofy to sign as "Darth Goofy."  Initially he didn't seem like he wanted to do that.  I guess he thought he'd get in trouble for signing something as simple as "Darth" on a child's light saber.  Again, if it's a rule, change it.  It is a dumb rule, if it exists.  Debbie was so excited that he acquiesced to her request that she started jumping up and down.  Characters are a big deal to her at 10 years old.  I think signing as the actual character name actually adds a little magic and fun.
For those wondering, my little girl merely asked the attendant at the front of the restaurant for several light sabers in order to have a complete collection to paste on her wall.
The FUN
The Jedi Mickey's Star Wars Dinner offers some fun Star Wars music that is scored in a lighter way for little kids to enjoy.  I believe this meal was expecting a younger crowd and it delivered for them. They have some fun little sing-a-long times and happy birthday celebration.  The only thing it lacked was the little parade through Hollywood and Vine with the characters.  Little kids enjoy dancing and parading with their favorite characters.
One fun little niche they offered was a paper light saber.  Each piece of paper is red on one side and blue on the other, so you can choose to support Mickey and Minnie as Jedi Rebels or Goofy and Donald as dark Sith.  The only thing lacking here was tape.  You can roll these up as light sabers, but they won't stay that way.  Bring along some transparent tape and a marker for autographs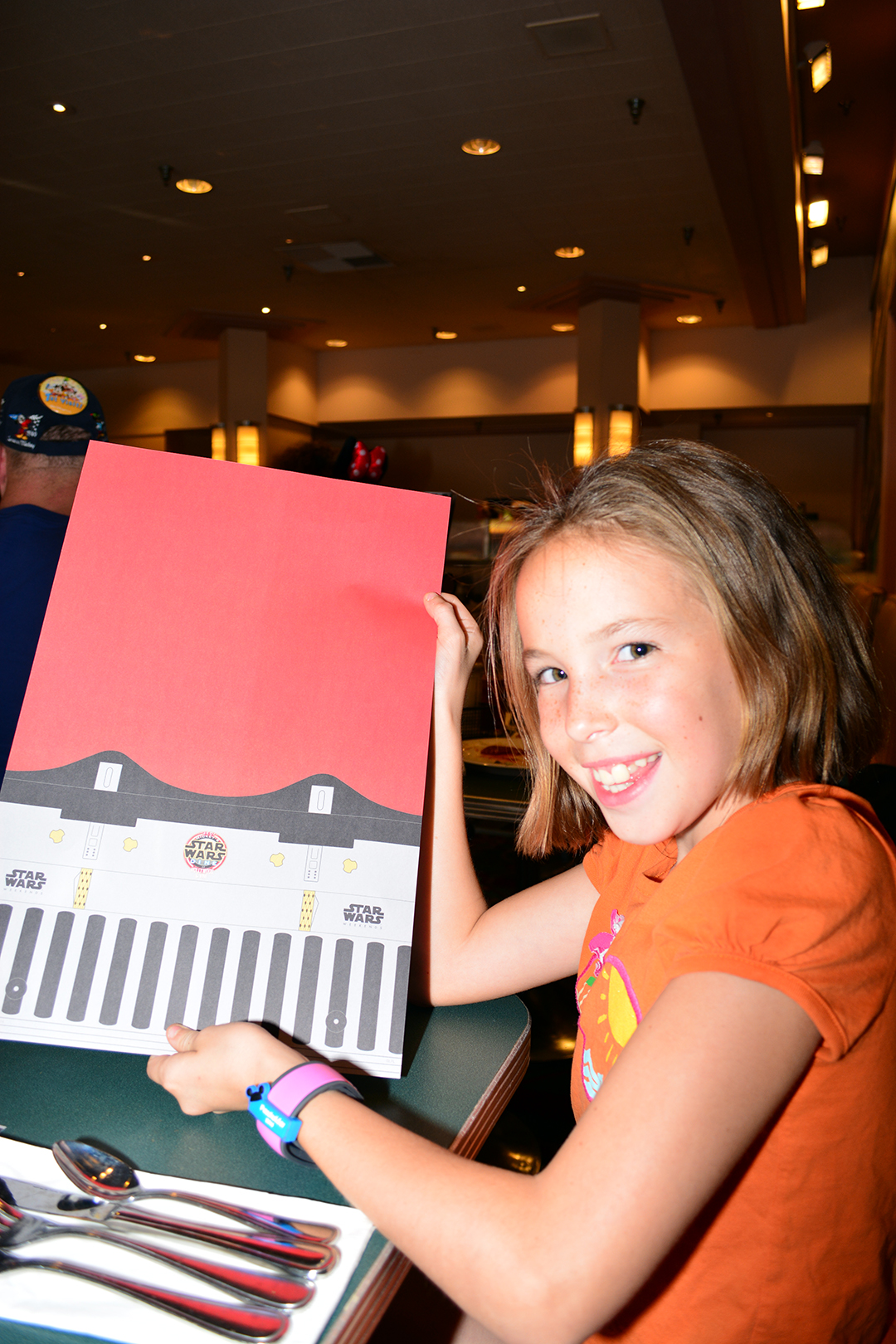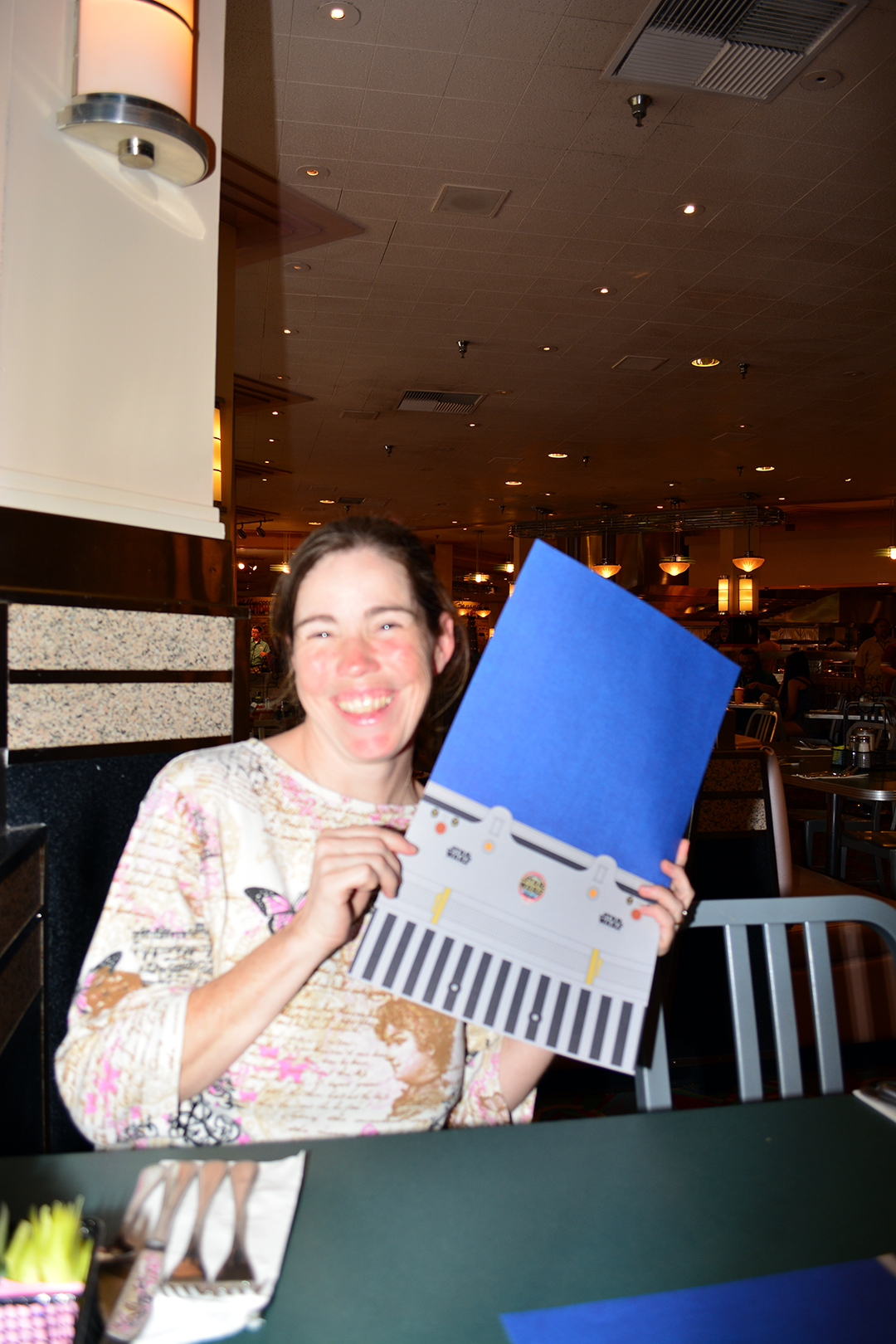 The Food
This is a buffet meal and Disney has accommodated the Star Wars universe by labeling all the foods that would fit into the Star Wars theme.
There's blue ice cream!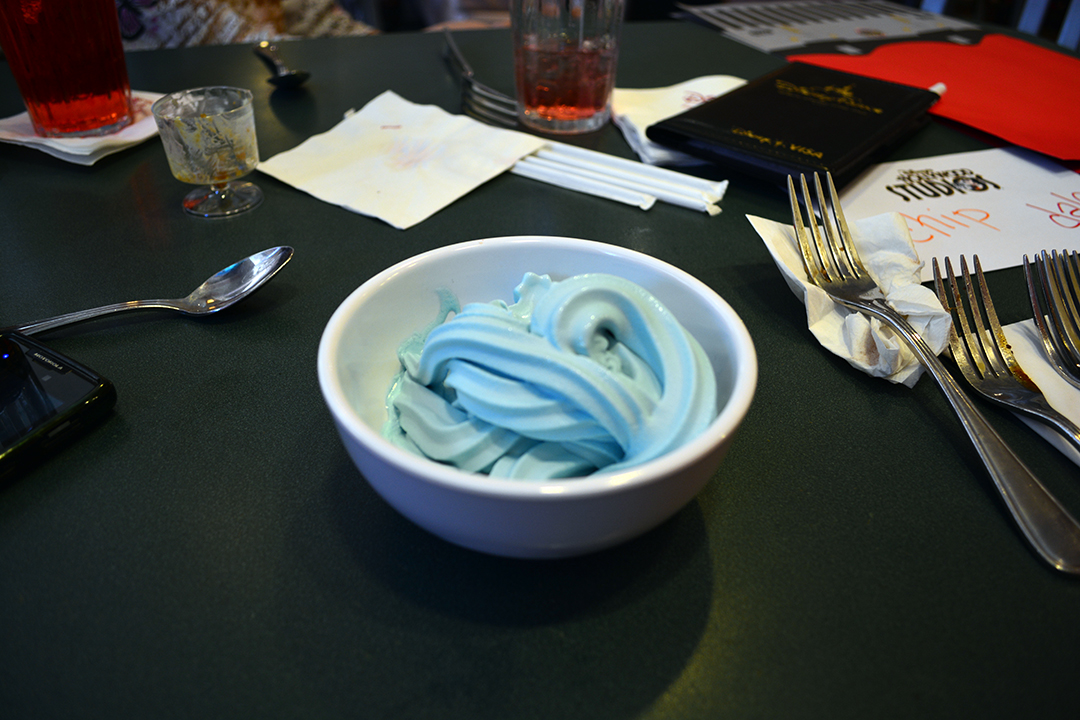 Here's an assortment of delectable dessert delights.    I ate them all and gained about 6 pounds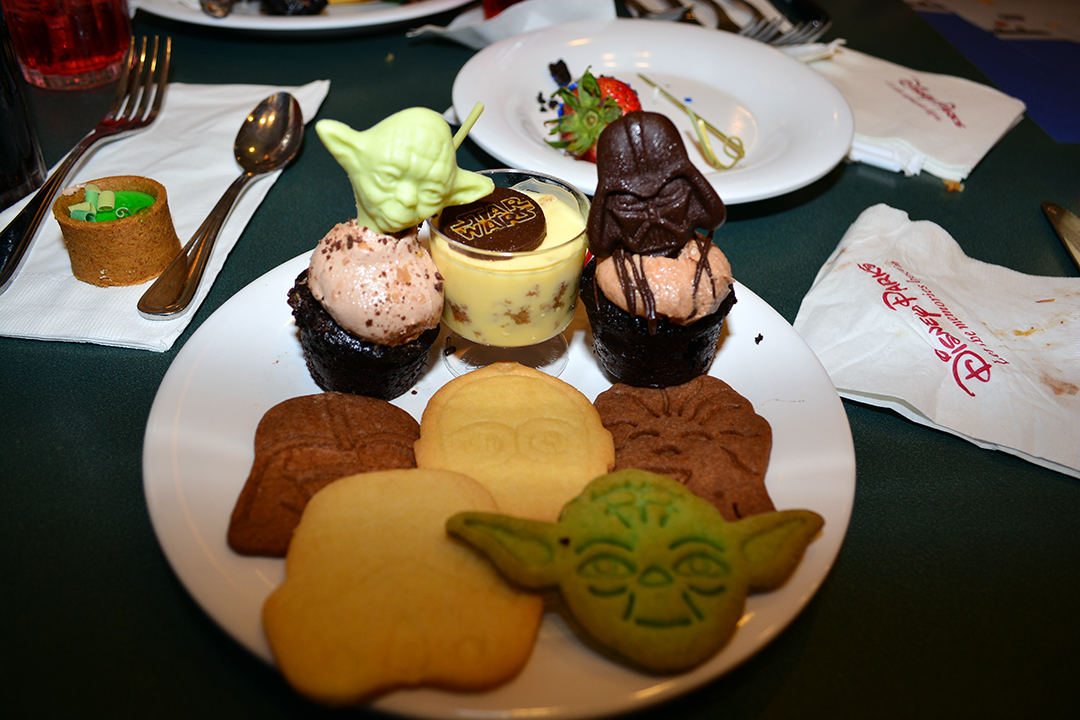 There's a handsome Jedi Mickey cake and a stormtrooper cake beside the chocolate fountain.  The fountain is attended, you can't dip your own chocolate like one of those country buffet places with chocolate on every surface.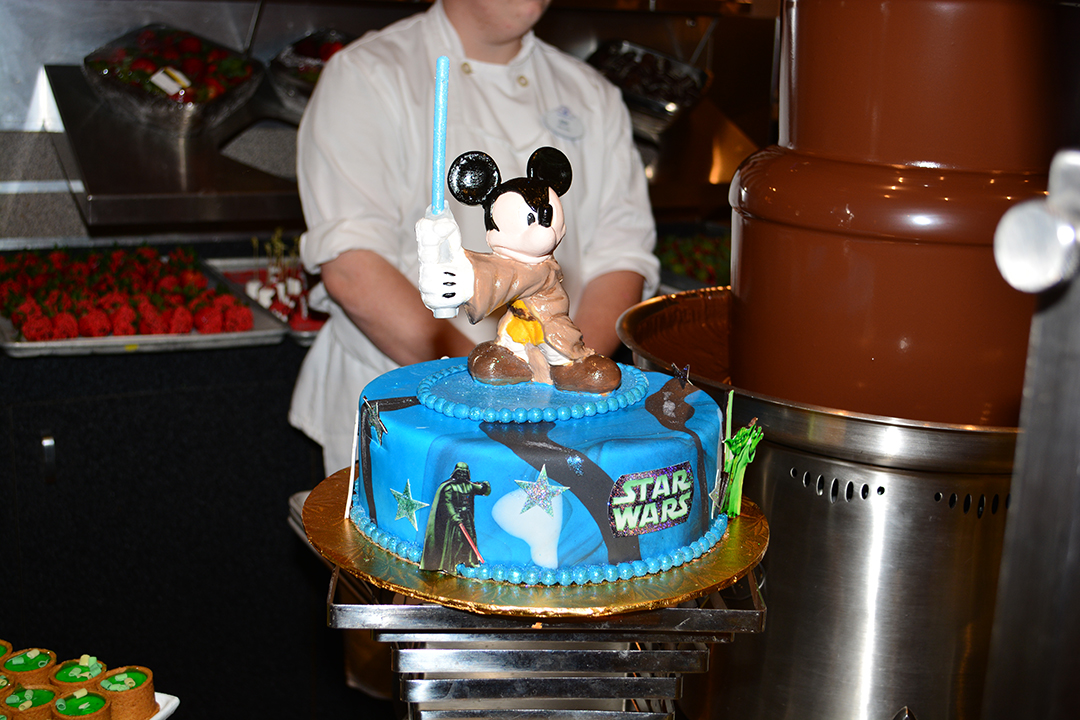 Carving station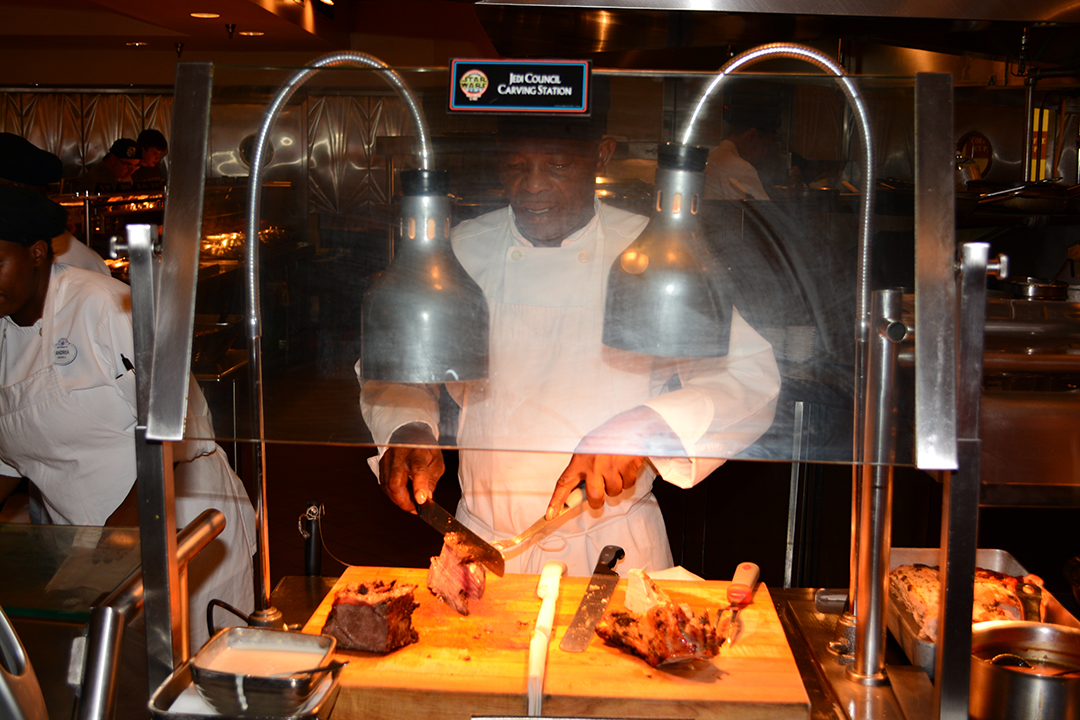 Side items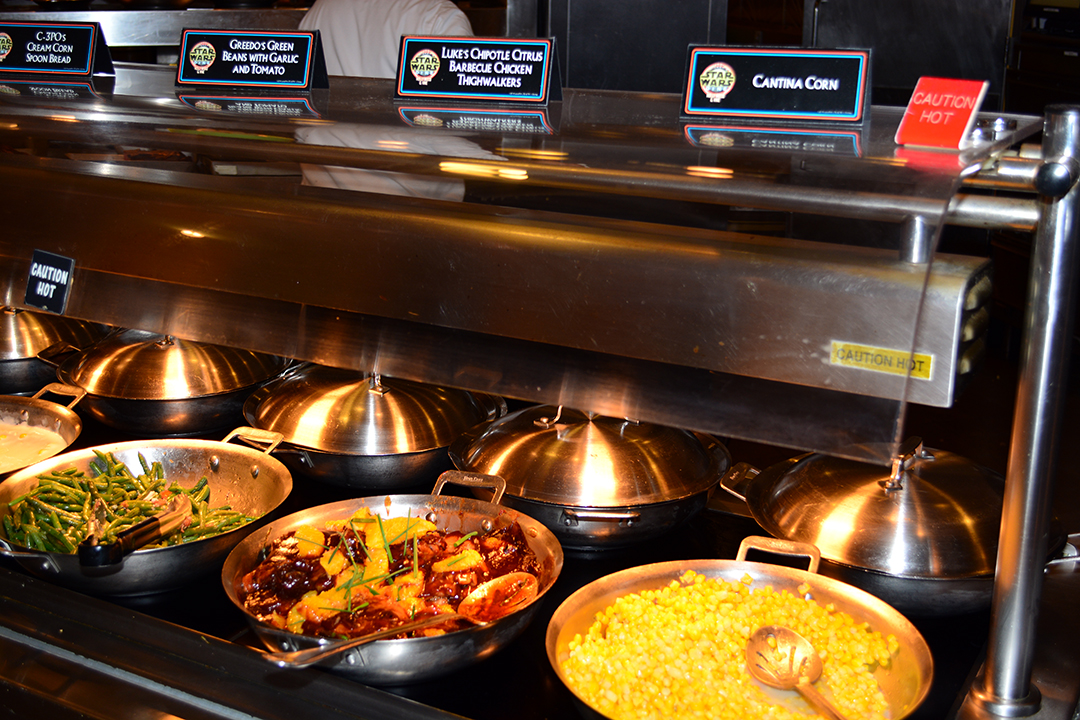 Overall, we had a lot of fun.  My ten year old girl had a blast and met all her favorite Disney Fab 6 characters with no waiting.  It's costly, but it could be worth it for those wanting to maximize their Star Wars experience, being guaranteed to meet characters that usually rotate all day with long lines and not be worried with fitting them into a tight plan.
The only suggestions I could make to improve the experience would be:
Allow the characters to sign as their character, not merely their name
Have some transparent tape with you
Bring your appetite, the food is delicious and it's all you care to eat.
Do you think this is something your family will attend during Star Wars Weekends months?  Do you think something like this character meal should become a regular occurrence at Walt Disney World?