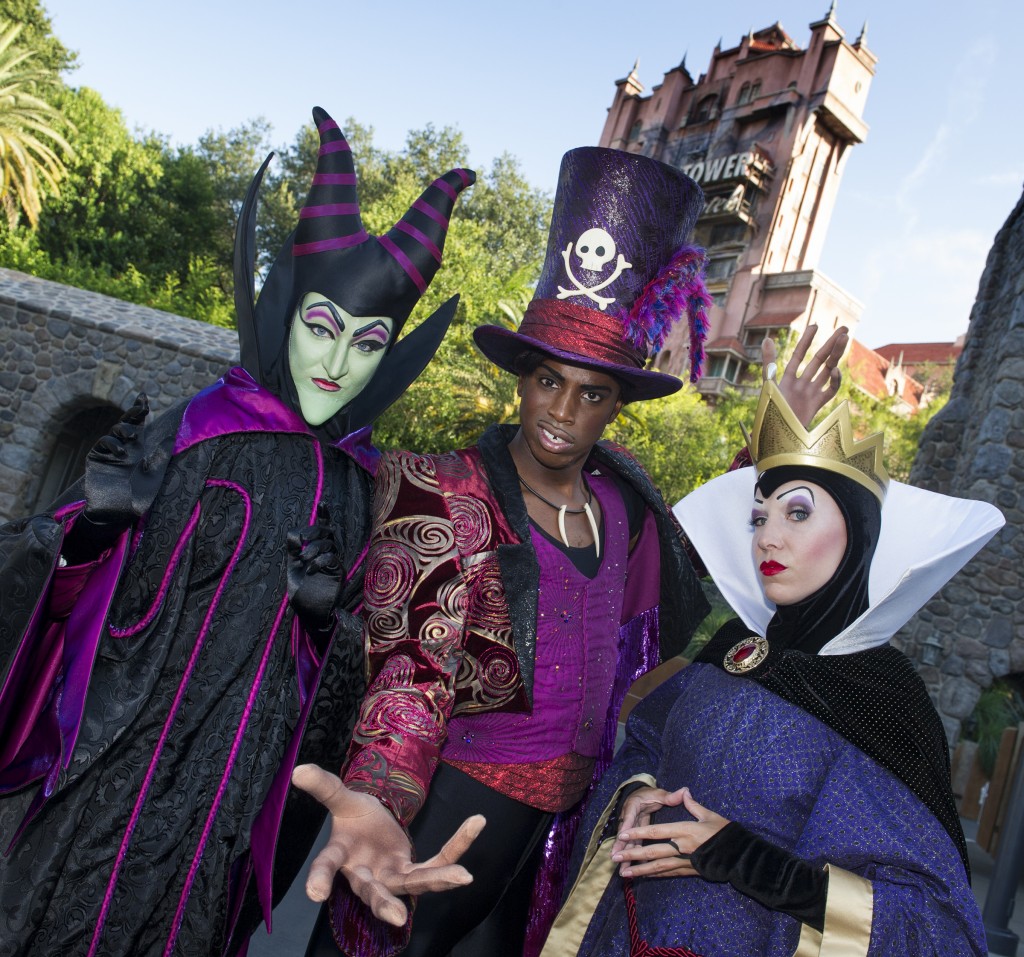 Disney's dastardly villains are ready to unleash some Limited Time Magic at Disney Parks on September 13 — Friday the 13th..
Both Disneyland Park and Disney's Hollywood Studios at Walt Disney World Resort will stay open until the 13th Hour (1 a.m.).  To celebrate the momentous evening, notorious Disney villains like Maleficent, Capt. Hook, Hades will host a wicked dance party, plus lots more spooky fun.
Walt Disney World
The hub of the villains' festivities will be staged "dead" center of Disney's Hollywood Studios at Hades' Hangout – the hottest club north of the Underworld.
The "Lord of the dead," Hades, will host spine-tingling fun while his henchmen, dancers, interactive DJ and hot house band keep the nighttime activities on fire.  Hades' 13 devilish Disney brutes will be waiting in Villain Encounters surrounding Hades' Hangout for greetings and autographs with guests.
To celebrate the imminent arrival of the midnight witching hour "Villainy in the Sky" will set the sky ablaze with spectacular fireworks, and keep the party going until the 13th hour.
It's all happening for a limited time only from 8 p.m. – 1 a.m. on Friday, September 13, 2013 as part of Limited Time Magic at Disney Parks.
"Disney Villains such as Maleficent, Dr. Facilier and the Evil Queen wait with eerie anticipation as a night of mischief approaches. On Friday Sept. 13, 2013 Disneyland and Disney's Hollywood Studios at Walt Disney World Resort will remain open until the 13th hour (1 a.m.) as the Disney villains are unleashed as part of the Disney Parks Limited Time Magic. The one-night-only event "Unleash the Villains" will include special meet and greets and a dance party hosted by an evil ensemble."
Disneyland
On this spooktacular evening, villains will take over Disneyland as well. Town Square is transformed for the party where guests may see villains like Captain Hook, the Queen of Hearts, Judge Frollo and Lady Tremaine.  Cobwebs and vines, Halloween-themed projections, lighting effects and an eerie fog set the tone for the evening.  Witches and warlocks will get the dance party started, spinning a mix of upbeat Halloween tunes and Disney-friendly Top 40 hits.
Later in the evening, the twisted celebration spills over to New Orleans Square Train Station with lurking Disney villains ready for the Unleash the Villains Dance Party featuring a lit-up dance floor and raised platforms, spooky décor and lighting effects.  A mischievous station master DJ conducts this party — announcing the arrival of a different ghoulish Disney villain at the 13th minute after every hour.  Villains will be on the prowl after dusk for photo ops and character greetings, plus a few special surprises.