Do you miss Disney's nighttime show Happily Ever After? Yes, you can still watch it in your hotel! Here's how.
Happily Ever After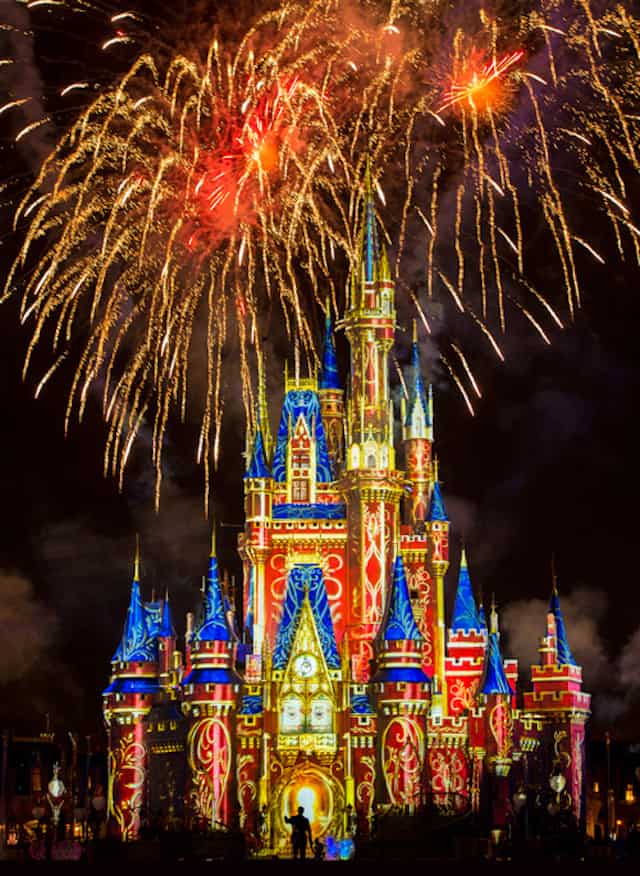 Happily Ever After was the night time show at Magic Kingdom that replaced Wishes. This fireworks showcase brought Disney stories to life. With fireworks and projections on Cinderella Castle, you could see some of your favorite Disney classics!
Disney states: Happily Ever After starts with a dream… and takes you on an unforgettable journey that captures the heart, humour and heroism of many favorite Disney animated film.
Stories you will see include: Aladdin, Big Hero Six, Brave, Frozen, The Hunchback of Notre Dame, The Incredibles, The Lion King, The Little Mermain, Moana, Mulan, Tarzan, The Princess and the Frog, Toy Story, Up, WALL-E, Wreck-It-Ralph, and Zootopia.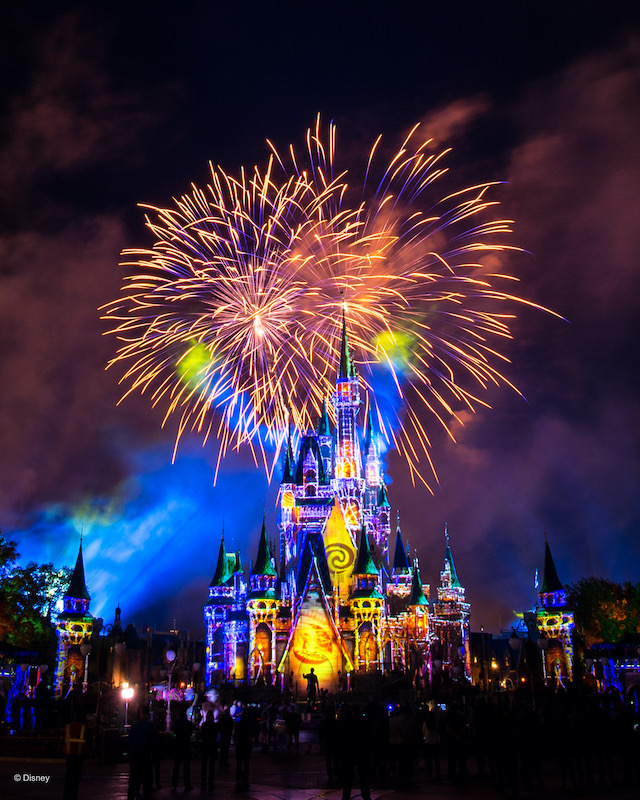 Happily Ever After is an 18 minute show that features lights, projections, lasers and fireworks! Cinderella Castle is brought to life with awe-inspiring fireworks and rooftop pyro, brilliant lasers and immersive lighting, supportive state-of-the-art projections, and a musical score featuring contemporary versions of some of the most popular Disney songs.
Catching Happily Every After nighttime spectacular was always the perfect way to end your day at the Magic Kingdom. Disney gave us a new nighttime show for the 50th Celebration.
Enchantment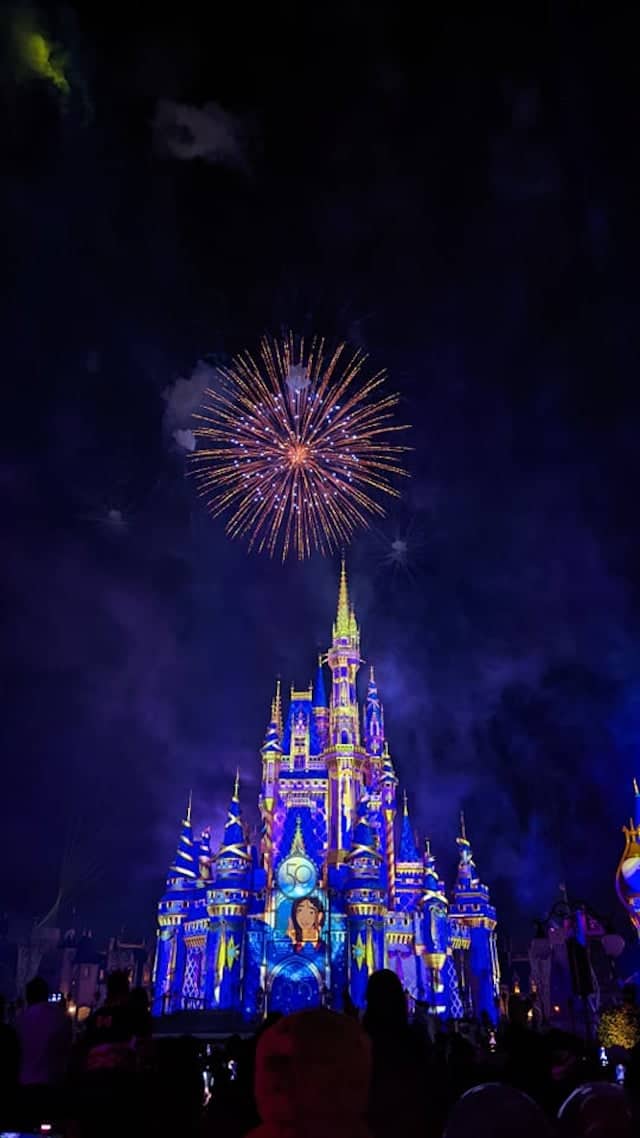 For the first time ever the nighttime show not only includes Cinderella Castle coming to life, but it also includes Main Street, U.S.A.! Disney's Enchantment debuted as part of The World's Most Magical Celebration, the Walt Disney World 50th Anniversary.
Magic Kingdom Park guests will enjoy fireworks that light up the night sky and new lighting that illuminates the Castle courtyard. This new nighttime show has some re-imagined songs along with favorite classic Disney songs. A new original song by Philip Lawrence, a 7-time Grammy award wining songwriter, will take guests on an adventure they won't soon forget.
Disney describes Enchantment as: truly a celebration of magic, imagination, joy and hope for all who carry dreams in their hearts. Throughout your journey, favorite Disney Characters like Raya, Moana and Joe Gardner from Soul will join as you explore a world of wonder filled with friendship, love and fun. And if darkness tries to hold you back, you'll discover you only have to look within to find the power to believe and make your dreams come true. The magic has been inside you all along!
Reviews of Enchantment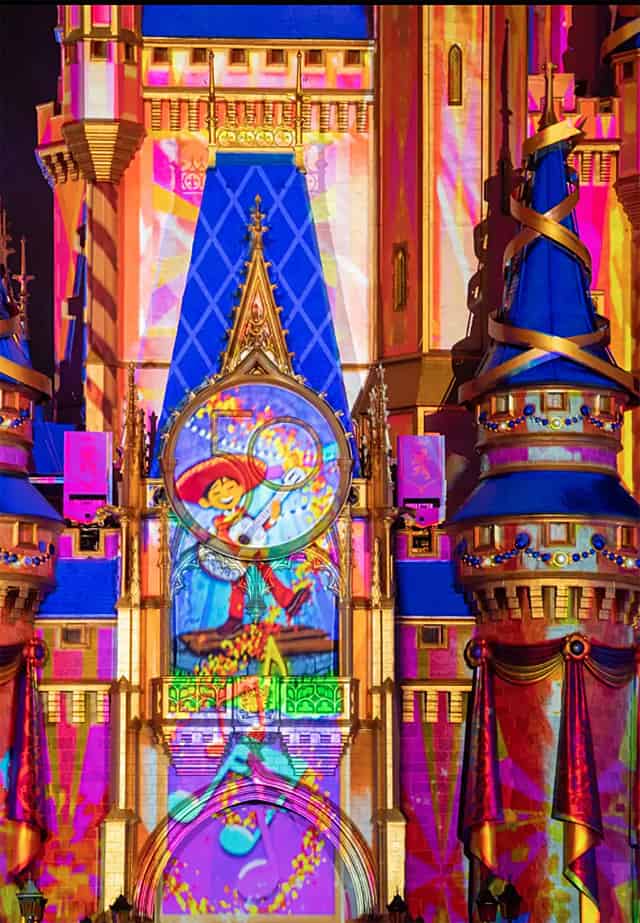 There have definitely been some mixed reviews if Disney's Enchantment is good enough to replace Happily Ever After. What do you think? Have you seen it yet?
Jamie wrote about whether or not Enchantment lives up to Happily Ever After. Check that post out HERE. One of the biggest recommendations I have heard is don't judge it from the live streams that Disney aired.
Many suggest that you need to be on Main Street to really get the full affect of the show. I, however, I have not yet gotten to see the show from inside the park. With little kids, late nights are a lot harder than rope drop.
We did catch it from the beach at Disney's Fort Wilderness Resort & Campground. I love that Disney pipes in the music to the firework shows at nearby resorts. This gives guests the opportunity to experience the fireworks without ever stepping foot inside the parks.
Missing Happily Ever After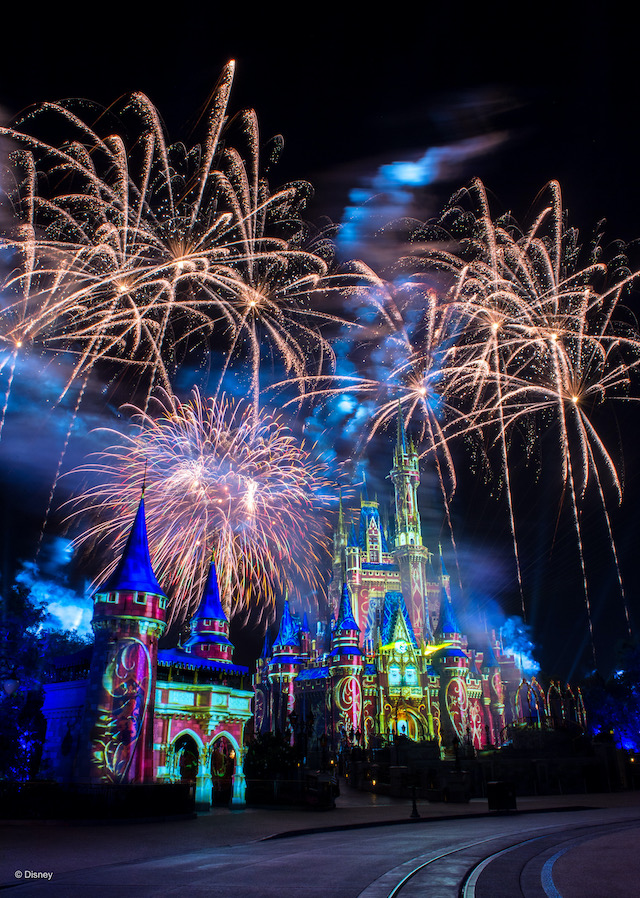 I do feel that I cannot give Enchantment a fair review yet, as I have not seen it inside the park. However, just watching it from the beach at the Fort, I did not get all the emotions.
Whenever I would watch Happily Ever After (no matter the location), all the emotions came with each song. I loved that I could connect my own memories to the classic Disney songs. I always seem to get pixie dust in my eyes when I hear "You'll be in my heart". I also prefer the versions of the songs in Happily Ever After versus Enchantment.
I will still have an open mind when I finally get to see Enchantment in the park. I feel because I was there for the opening of Happily Ever After, it holds a special place in my heart. I really miss Happily Ever After and hope they bring it back after the 50th. Even for just one night (one can hope right?).
Where To Find Happily Ever After On Your Next Trip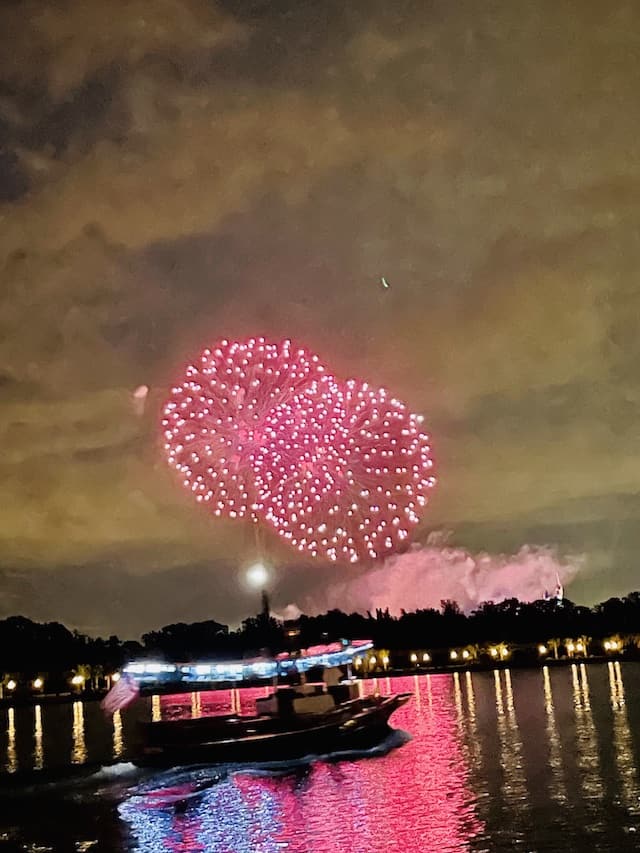 Did you know that you can still see Happily Ever After on your next Disney trip? You sure can! I was so excited when I heard this because it is my favorite nighttime show even over Wishes, which I never thought would be possible.
You must be staying at a Disney Resort in order to view Happily Ever After. You will find a Virtual Viewing of Happily Ever After every night! But you don't get just one chance to watch, you can watch it SIX times each night! Yes, please!
Tune in to channel 74 on your resort tv. Showtimes are at 6:00 pm, 6:30 pm, 7:00 pm, 8:00 pm, 9:00 pm, and 9:30 pm.
You can tune in on your resort TV to channel 74. Showtimes are at 6:00 pm, 6:30 pm, 7:00 pm, 8:00 pm, 9:00 pm, and 9:30 pm.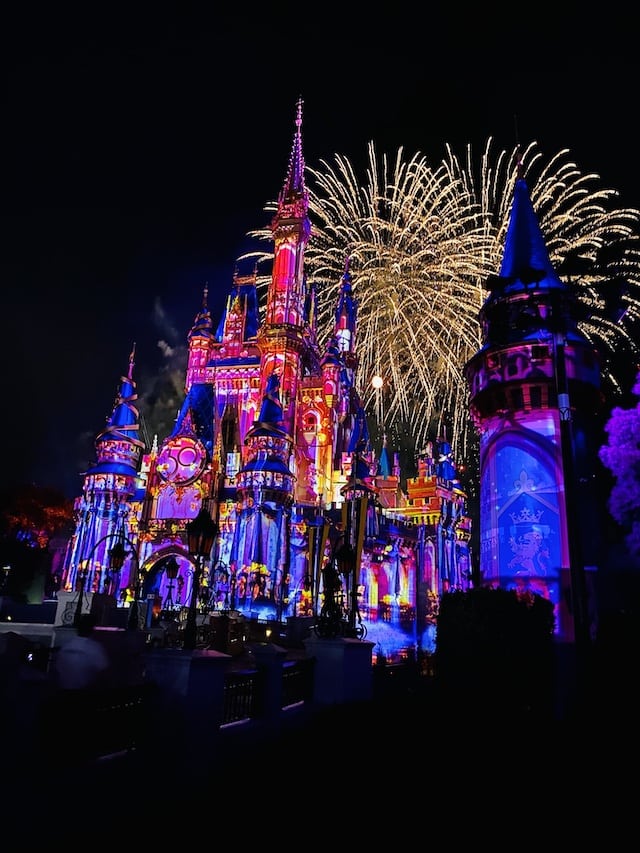 This was perfect for my family, and we loved it! On the nights that we didn't watch Enchantment from the beach at the Fort, we would catch Happily Ever After on the Resort TV. Sometimes we even caught both as we watched Happily Ever After during dinner, and then caught Enchantment after going Loopin' on the golf cart around the Fort.
My family is going to catch Enchantment in the park on our next trip, but we will definitely still include a viewing of Happily Ever After too!
Will you be watching Happily Ever After on your next trip? Let us know on the Kenny the Pirate Facebook page. Don't forget to join the KtP crew page too!


Are you planning a vacation? Reach out to our trusted travel agency sponsor Authorized Disney Vacation Planner
Mouse Class Travel
!