LATEST VIDEOS
Subscribe to my Youtube!
Just Mousing Around July 3
LIVE - Just Mousing Around
Just Mousing Around - LIVE
Spring has sprung at EPCOT's United Kingdom pavilion with not one, but two, new merchandise lines. See all the pictures and details here.
EPCOT's United Kingdom Pavilion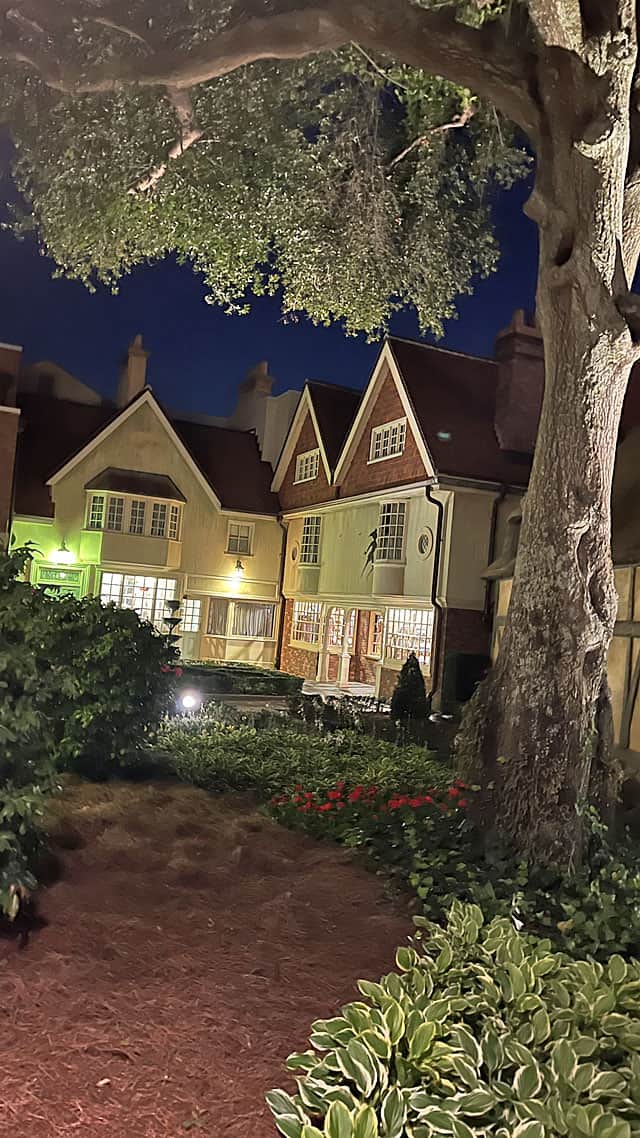 The United Kingdom pavilion is such a wonderful area to explore. While many of the World Showcase pavilions are inspired by a specific landmark, United Kingdom gets its design from experiencing the British countryside.
It represents the four countries of the United Kingdom; England, Scotland, Wales and Northern Ireland.  
The Tea Caddy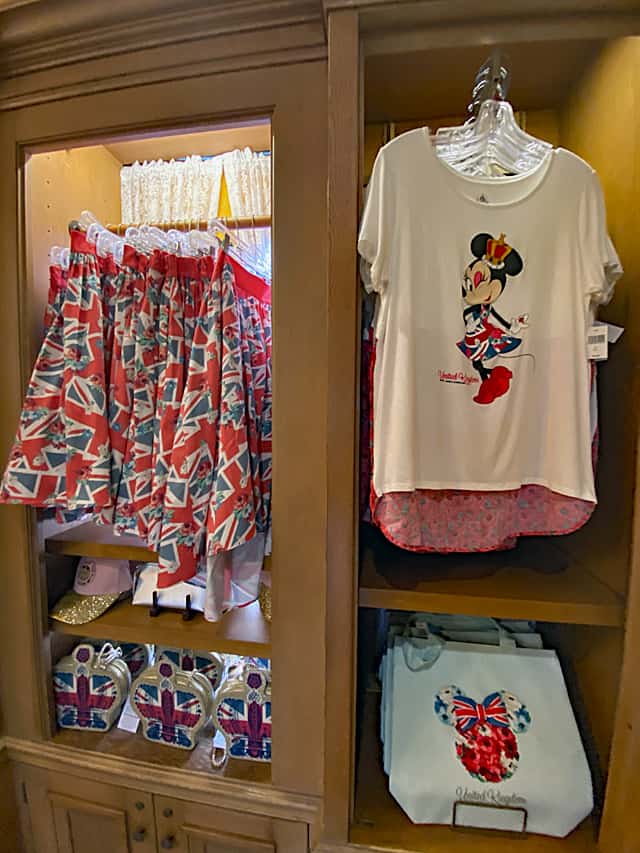 United Kingdom has some of my favorite shops in the World Showcase. My favorite is the Tea Caddy because of the authentic English merchandise and apparel. Most of the shops here are intertwined so rather than trying to figure out which one you're shopping in, just keep moving through them.
Above, you'll see the previous line featuring United Kingdom and Minnie Mouse. Now, at the Tea Caddy, there are two new lines to mix and match.
New Merchandise Lines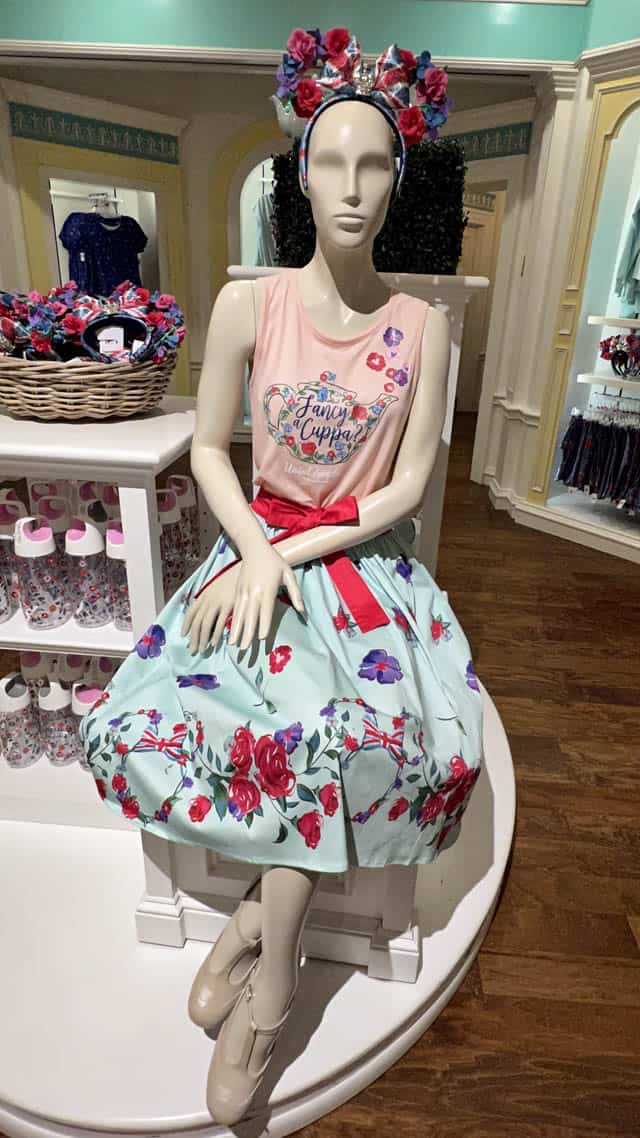 First, Disney offers a new Fancy a Cuppa? line. This whimsical line features pastel colors and a variety of flowers. Here, you'll find merchandise perfect for dressing and holding an afternoon tea party.
Then, the next line features the Queen of the Kingdom, Minnie Mouse. Her cute personality makes this spring line extra special.
Apparel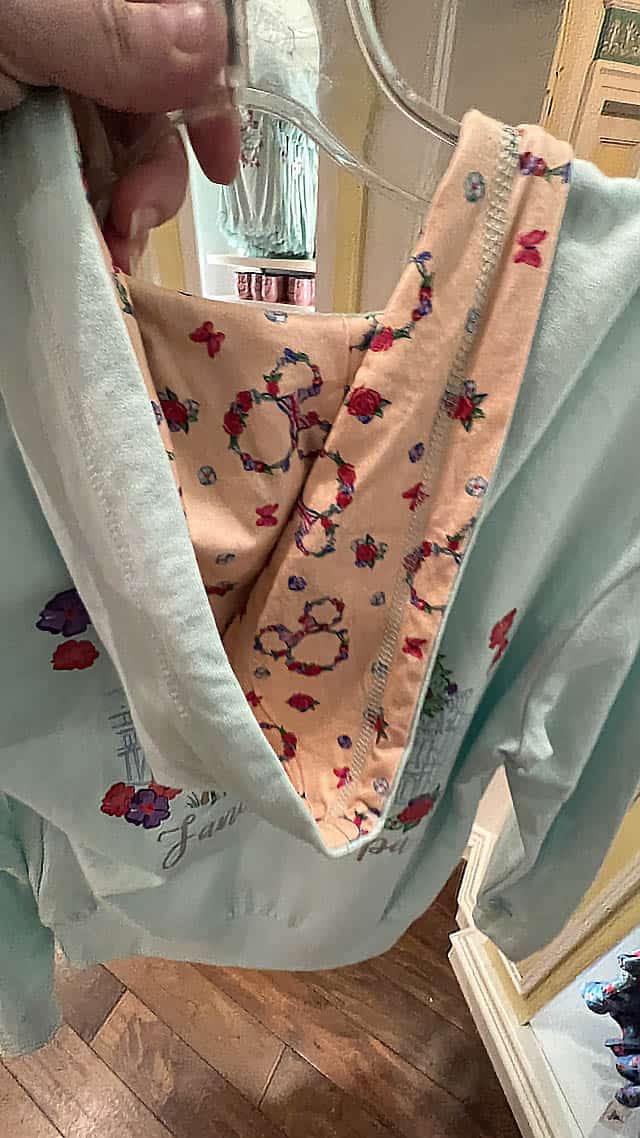 One of the best things about both these lines is they're easy to mix and match since they include coordinating patterns. Take a look at the outfits, shirts, and more below.
Hoodie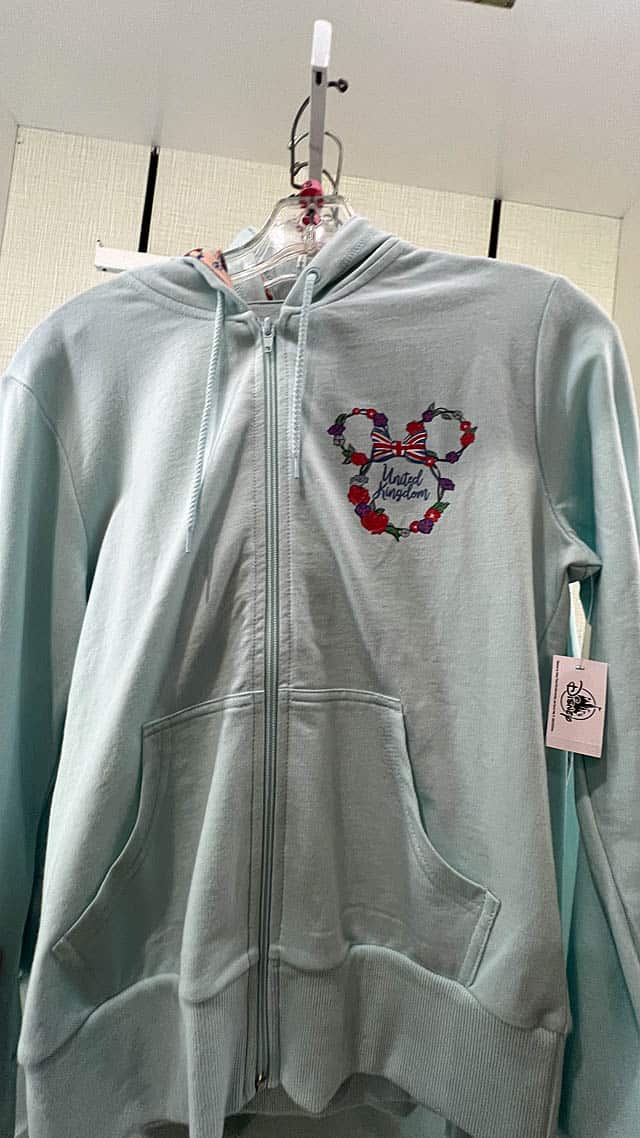 Let's start with the light green zipped and hooded jacket. It sells for $59.99 and has a soft fleece lining. Also, the outside bottom pockets make easy storage and help keep hands warm on chilly evenings.
Check out the picture above showing the peach patterned lining.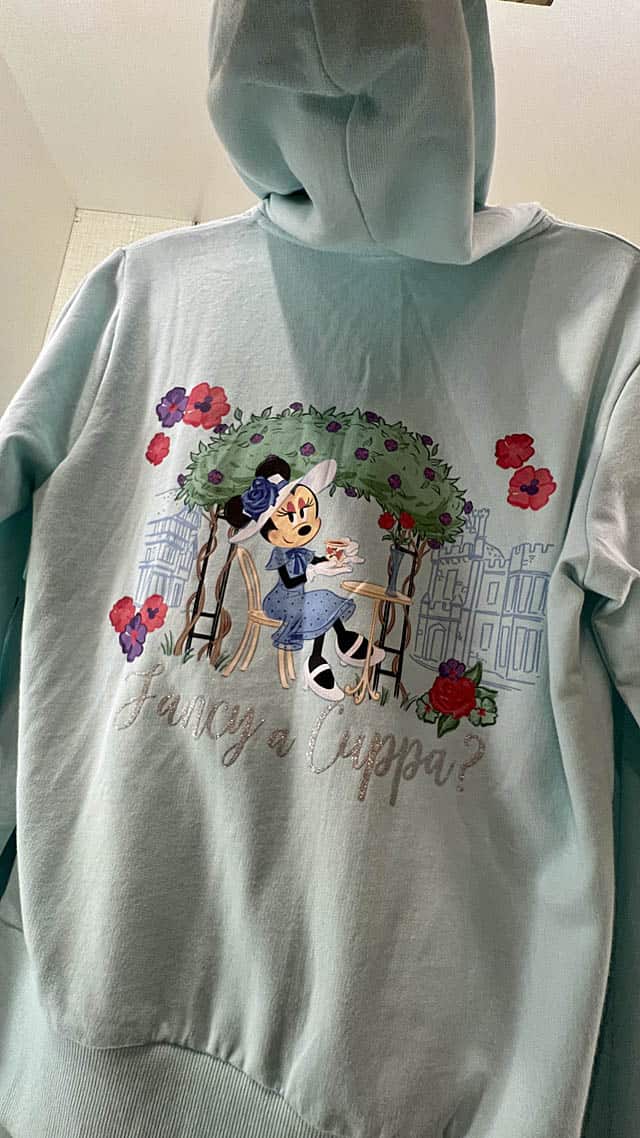 Not only that, but the back of the hoodie features Minnie sipping her tea. The attention to details on this jacket are amazing! It matches several clothing items, too!
Queen of the Kingdom Outfit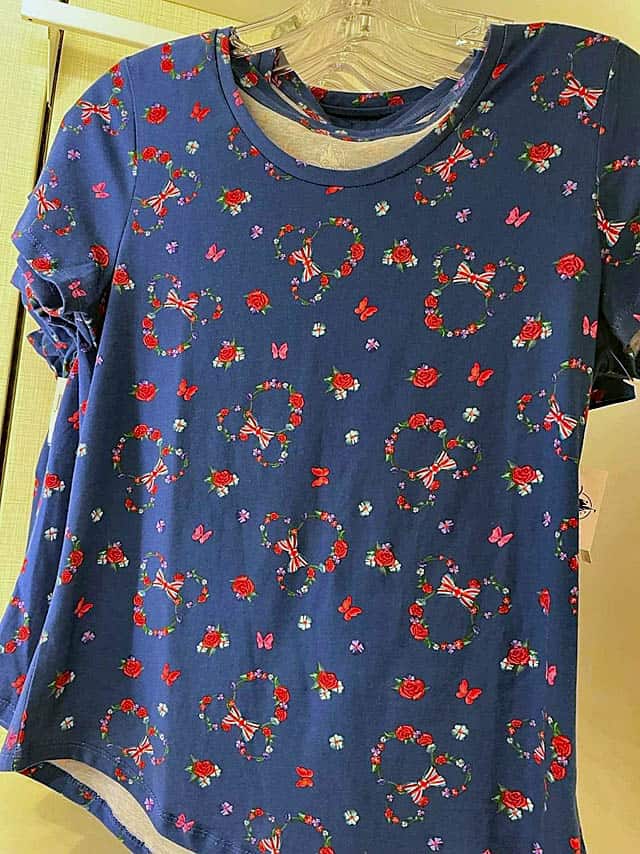 This top is buttery soft and has so many hidden Minnie's. I'm (Susan) going to purchase this one on my next visit! I love the United Kingdom bows, butterflies, and floral pattern also. It retails for $36.99.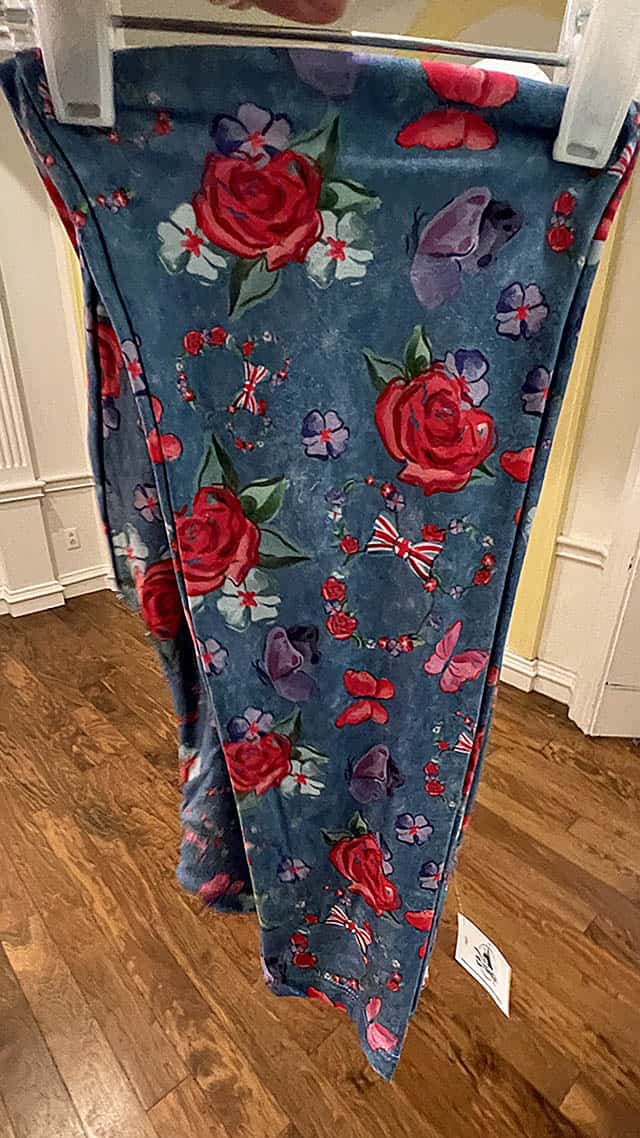 Check out the coordinating leggings, shown above. Like the top, these leggings are amazingly soft! Also, they have an elastic hidden waistband, perfect for park going. You can purchase these leggings for $39.99.
T-Shirts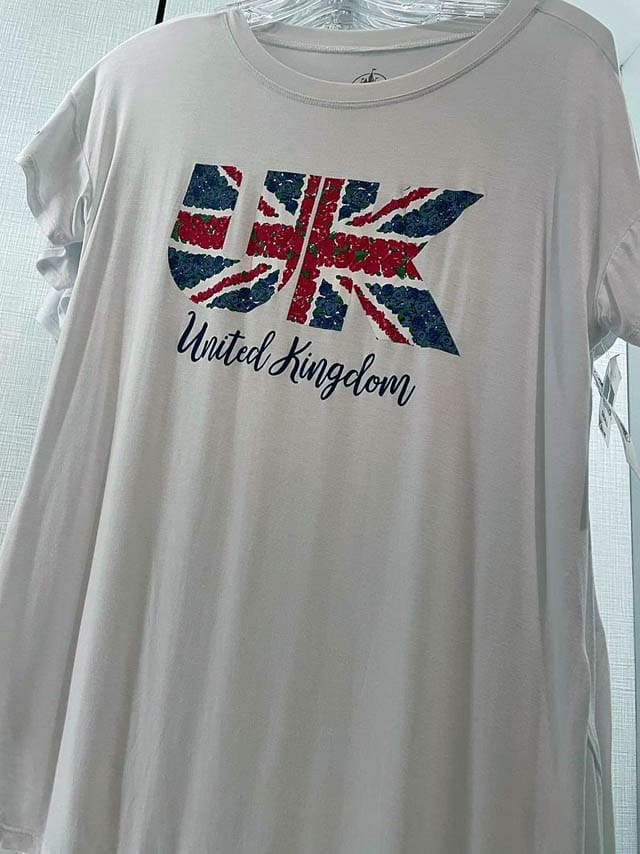 First, take a look at the white t-shirt with a featured floral UK design on the front. As with other shirts here, it also sports "United Kingdom," and sells for $36.99.
Pink and other pastel colors are prominent in these United Kingdom merchandise lines. In the shirt above, adorable Minnie is sipping her favorite tea in the garden just waiting for you to join her. Wouldn't it be fun if Disney offered a Minnie tea party?
Tank Top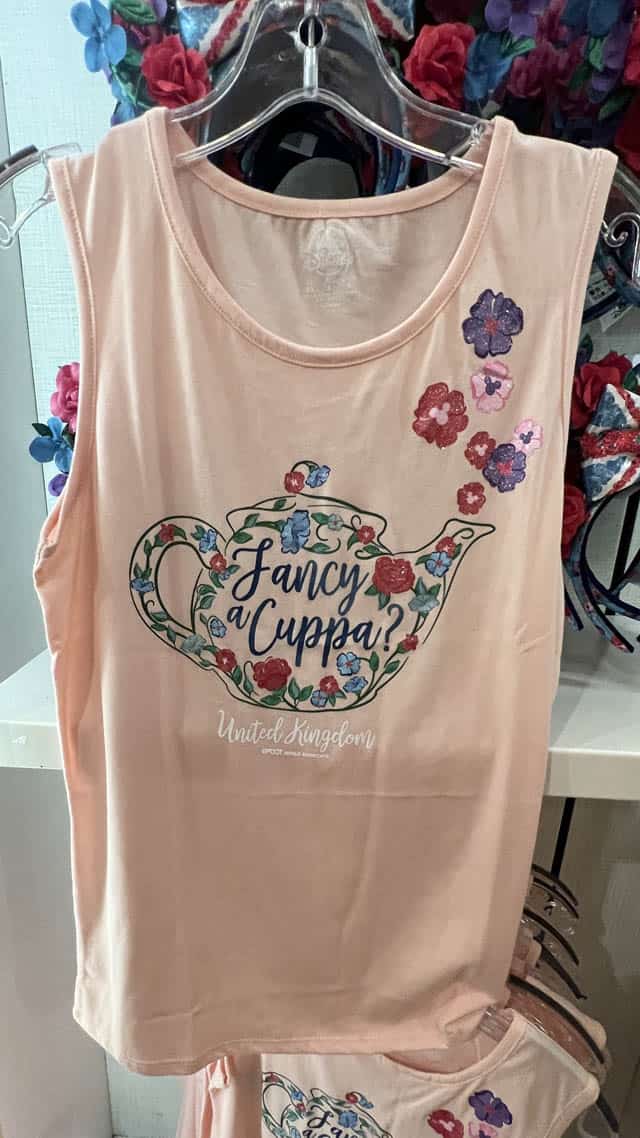 Instead of Minnie, this peach tank top is about everything tea. I love how flowers are coming out of the teapot. All of the new merchandise is a better quality than you'll find in other Disney shops. Prices are a little higher because of this.
Fancy a Cuppa? Outfit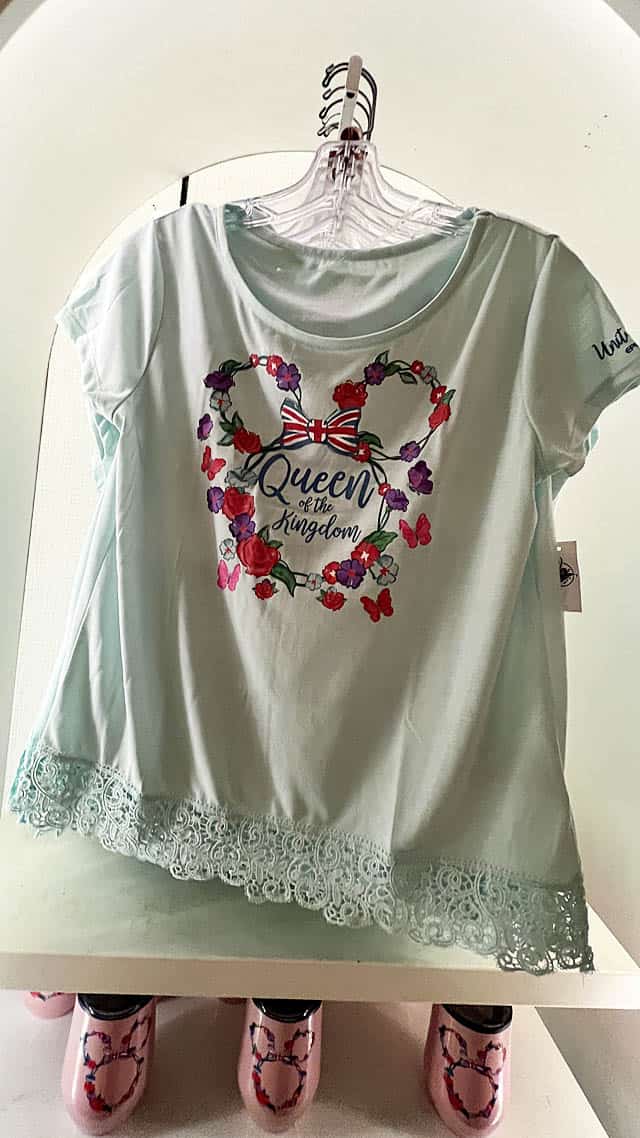 Delicate lace trim at the bottom of this outfit gives it a designer look, and sells for $36.99. The large hidden Minnie bursting with flowers and mint green color signal spring! This is another one of my favorite items in these lines, especially with the matching skirt.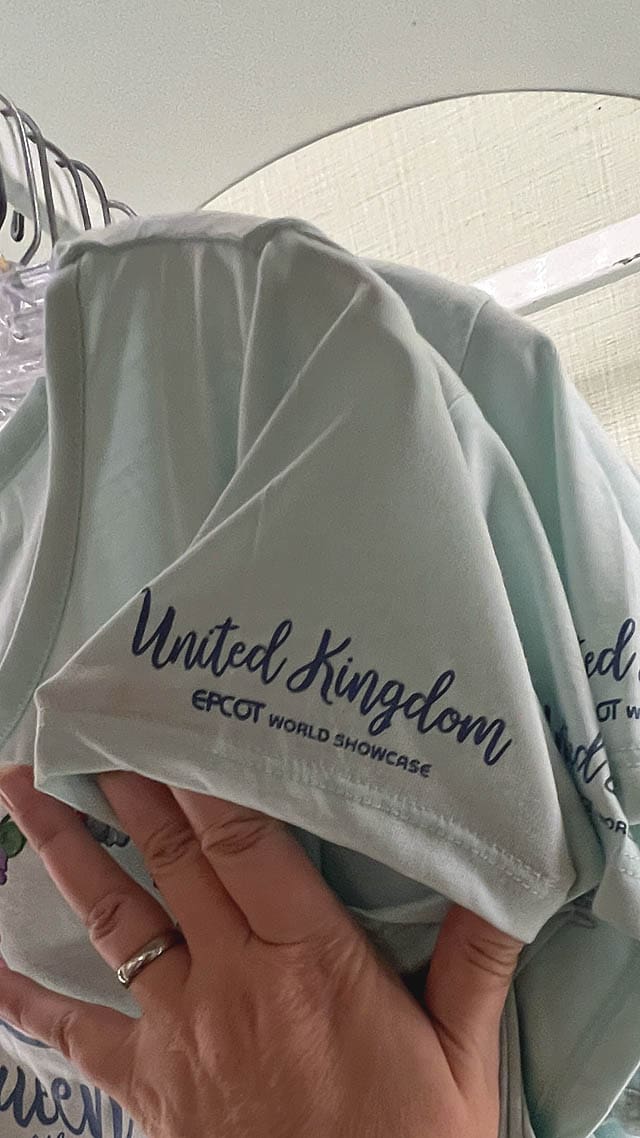 To add to the designer look, Disney adds United Kingdom detailing on the sleeve.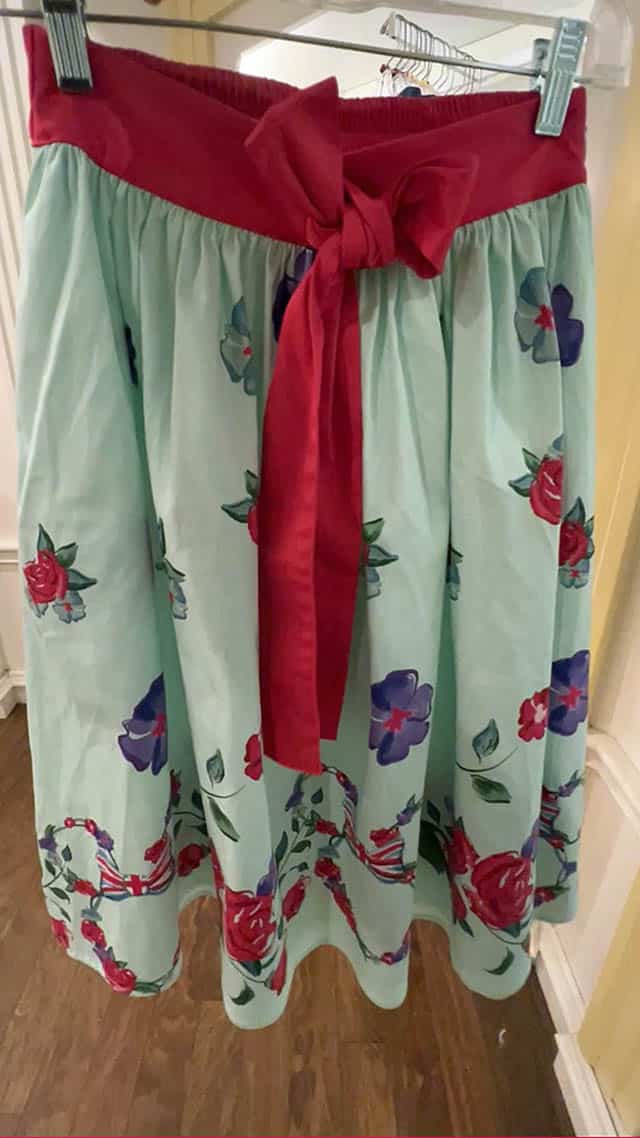 Perfectly matching the mint green top and hoodie, you'll be ready for tea time or a stroll around EPCOT in this wonderful skit. It comes with a red sash tie and sells for $78.00.
Tea Time
Are you craving tea yet? If so, be sure to check out the Tea Caddy's other rooms next time you visit EPCOT. There, you'll find a large variety of British teas for sale.
Tea Cup and Plate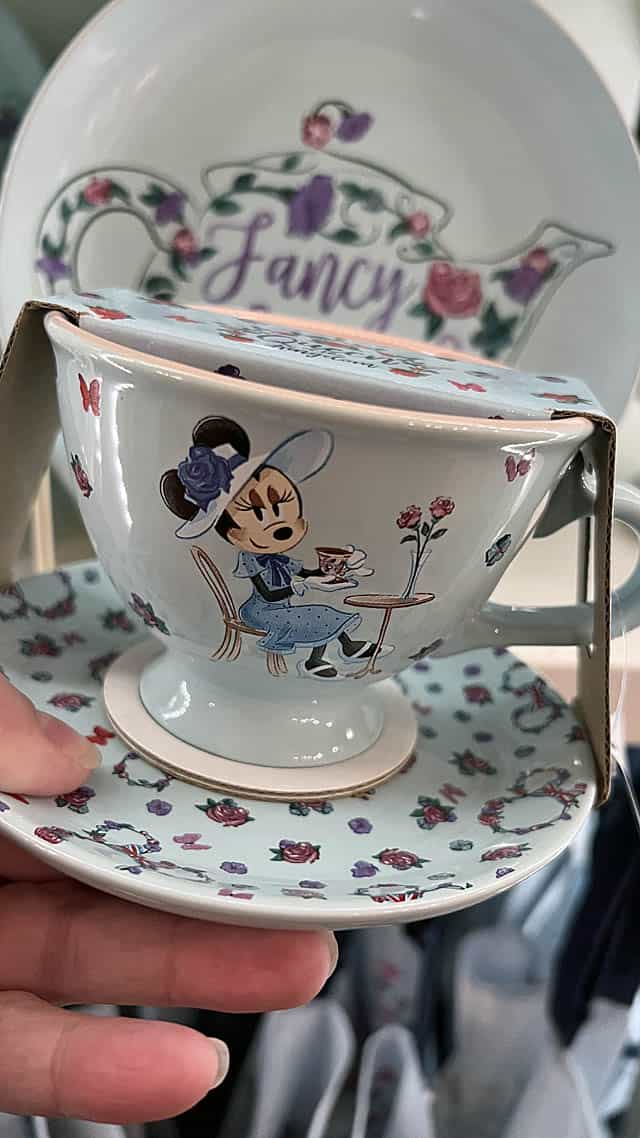 Check out the adorable British tea cup and saucer selling for $24.99. There's also a matching salad size place in this line.
Tea Spoon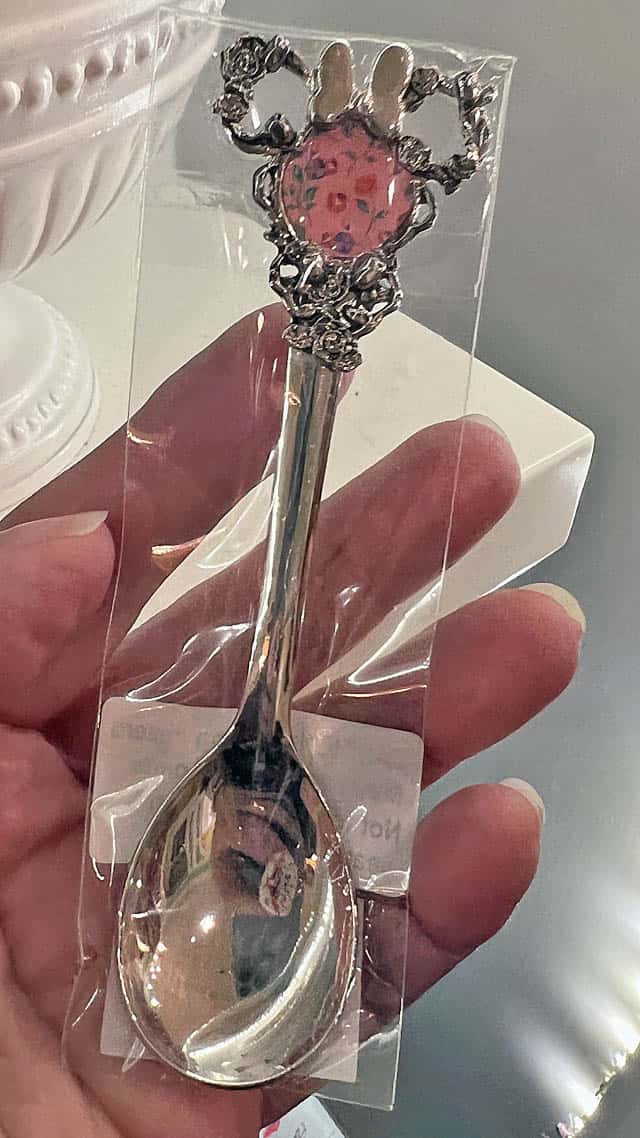 You can't have tea without a coordinating teaspoon. This sweet spoon is wonderful for adding sugar, and the hidden Minnie design will make you happy each time you use it! It sells for $9.99.
Tea Pot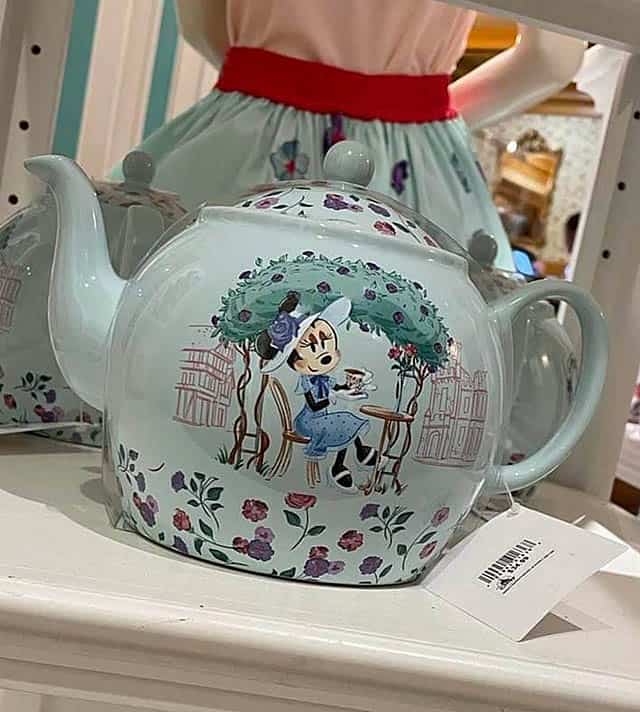 Of course, you'll need the coordinating teapot to go with your Minnie tea cup. This one will set you back $34.99.
Accessories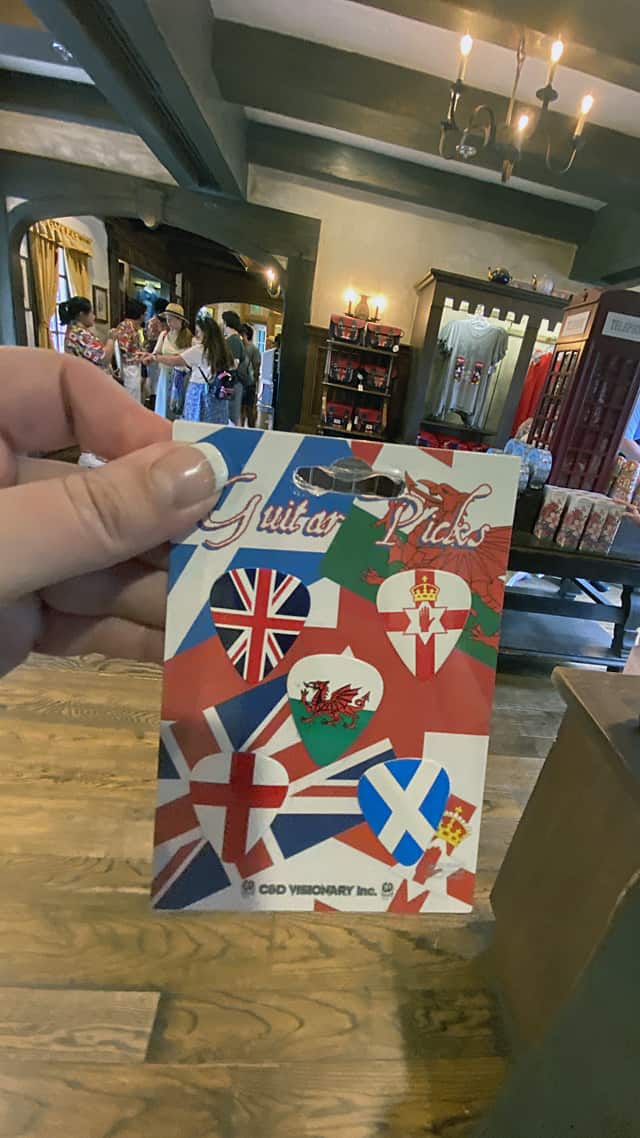 Want to spruce up your outfits even more? Check out the wonderful Queen of the Kingdom accessories found at the Tea Caddy. Shown above are British guitar picks found in other United Kingdom shops.
Purse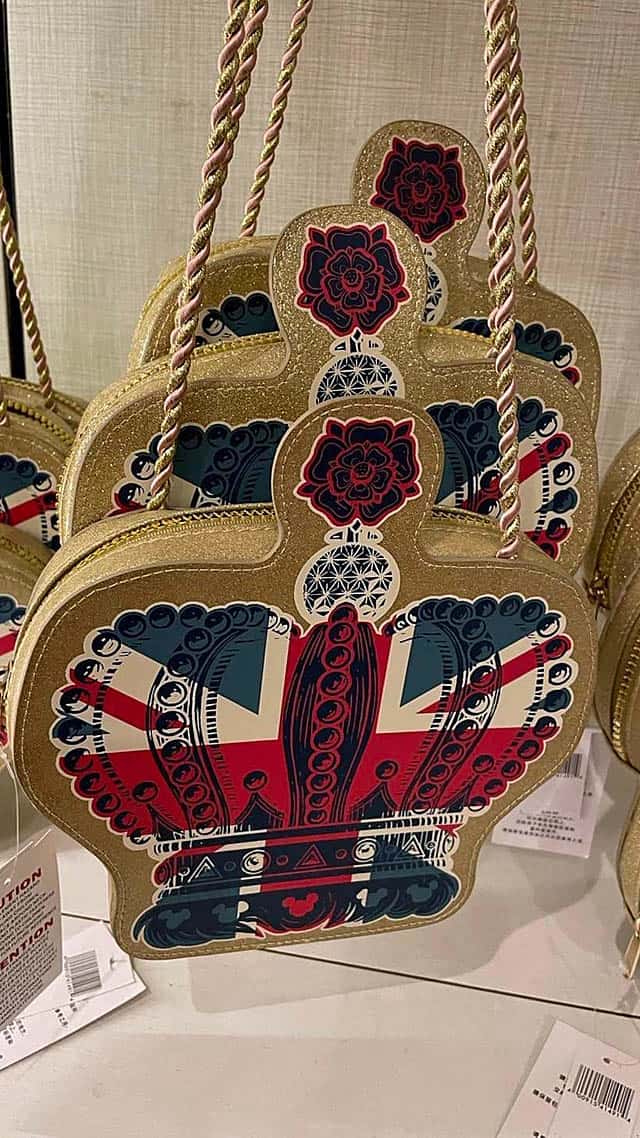 Do you love crossbody purses? If so, check out the gold British crown purse. It zips to securely hold your items.
Headband Ears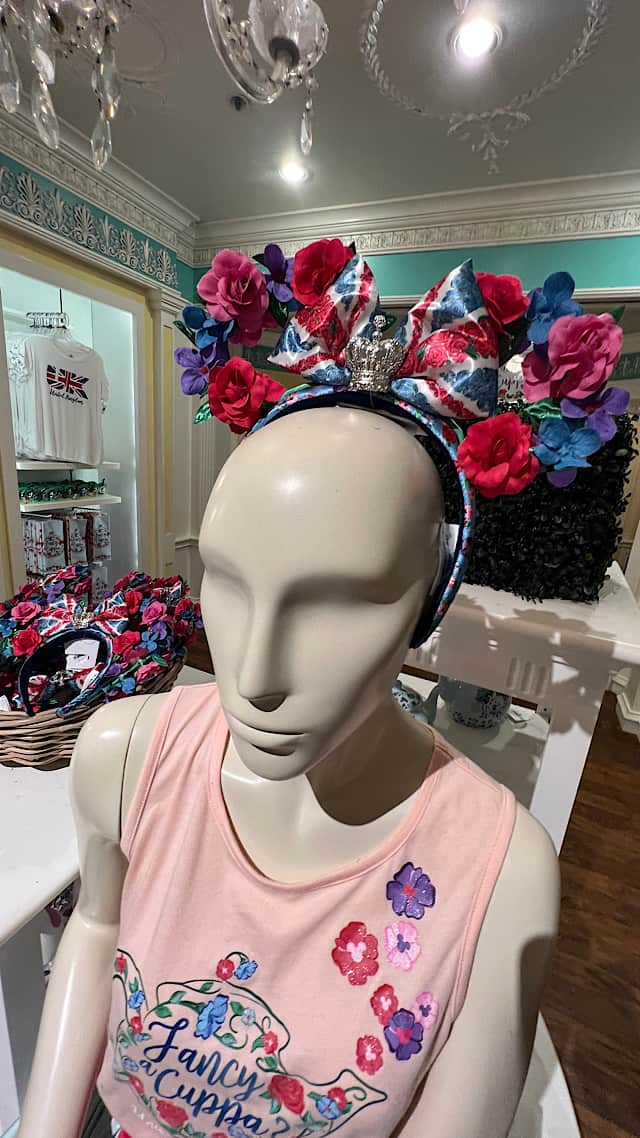 These beautiful floral ears go with any EPCOT outfit, especially the Fancy a Cuppa? line. I love the silver crown accent in the middle. To purchase these, you'll need to pay $29.99.
Kitchen Items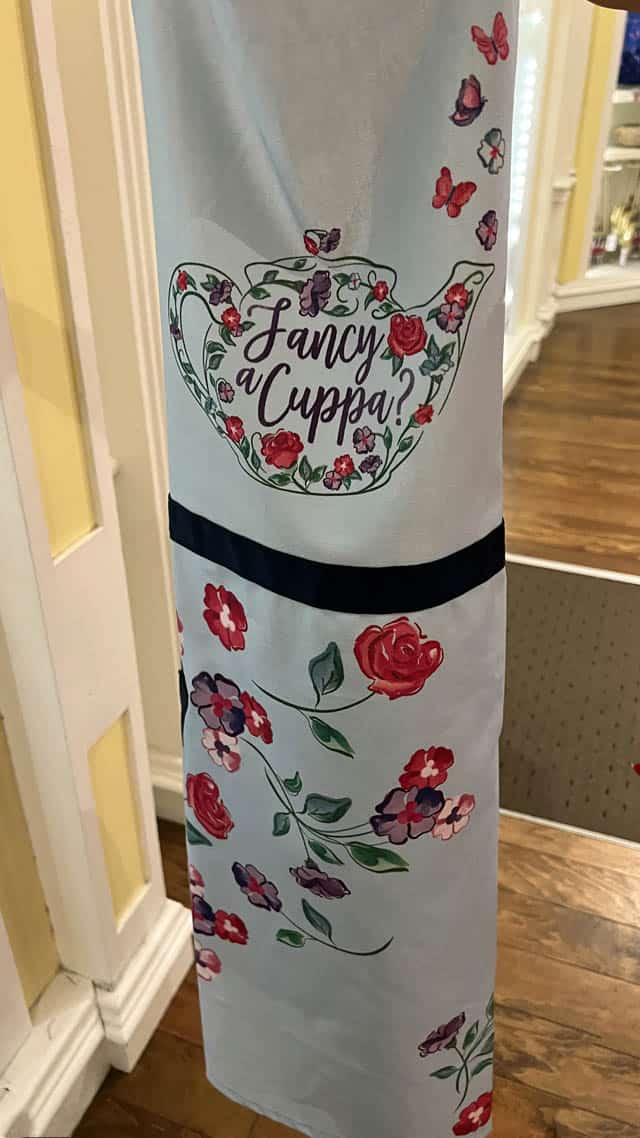 First, this coordinating apron will put a spring in your step cooking. It includes 2 side pockets and sells for $34.99.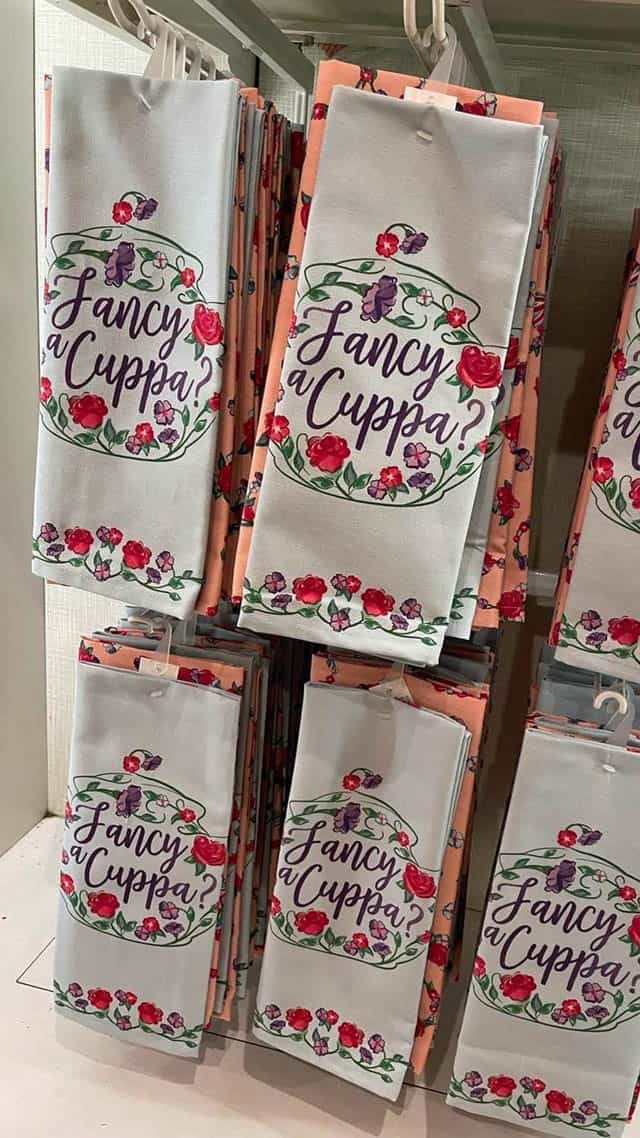 Second, you'll need this towel set to go with your apron, especially for tea parties. This set includes two towels: light green mint and peach floral patterned.
Home Items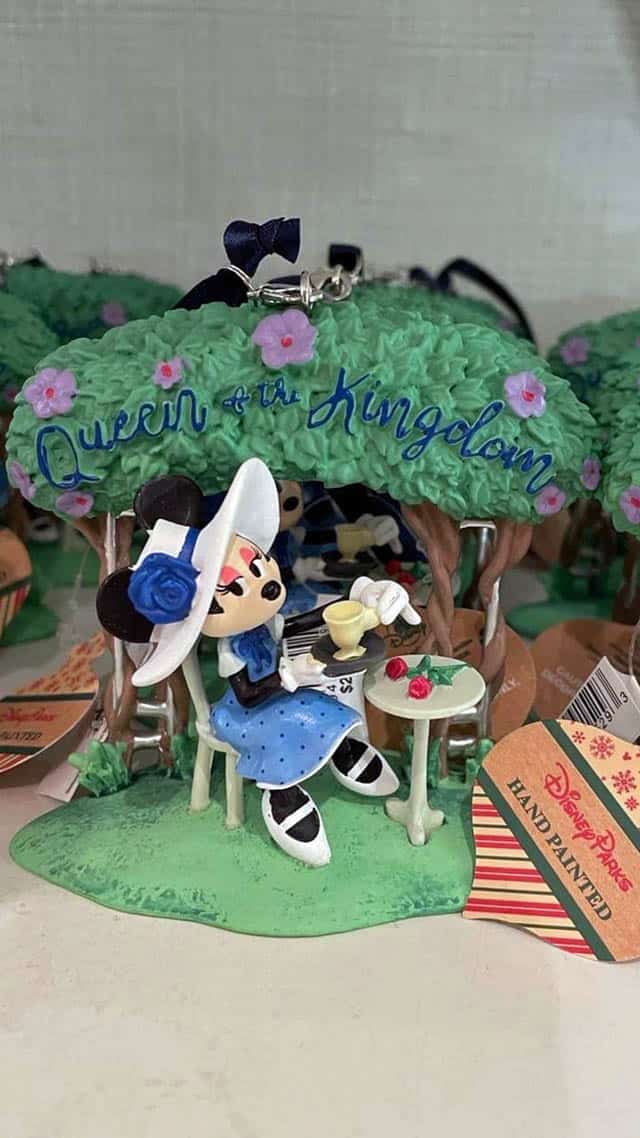 Minnie looks so comfortable all around with her tea cup. Amazing details make this ornament a one-of-a-kind collectible piece. Like many ornaments, it sells for $24.99.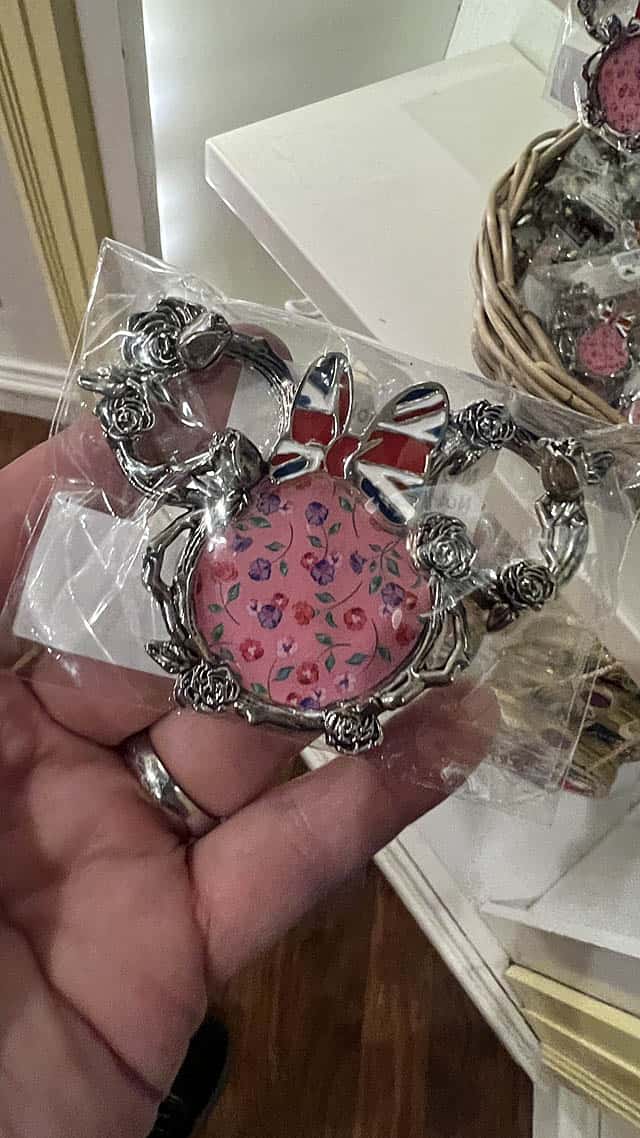 Do you collect magnets? If so, check out the new United Kingdom magnet above, selling for $12.99.
Drinkware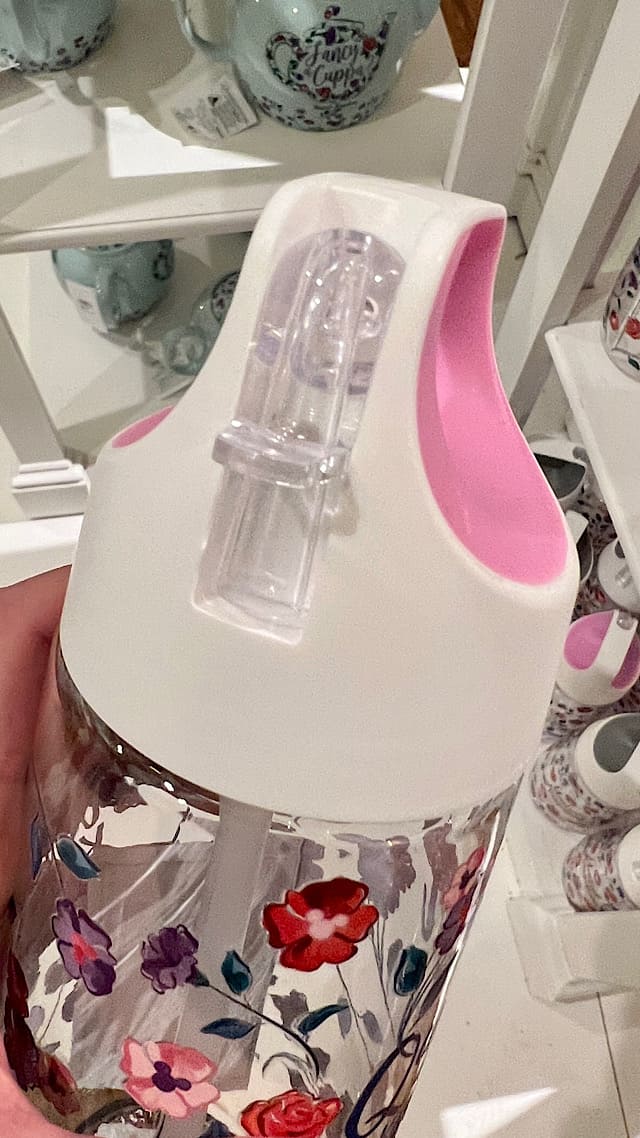 Want to take your tea to go? Then check out the new travel cups available at United Kingdom.
Water Bottle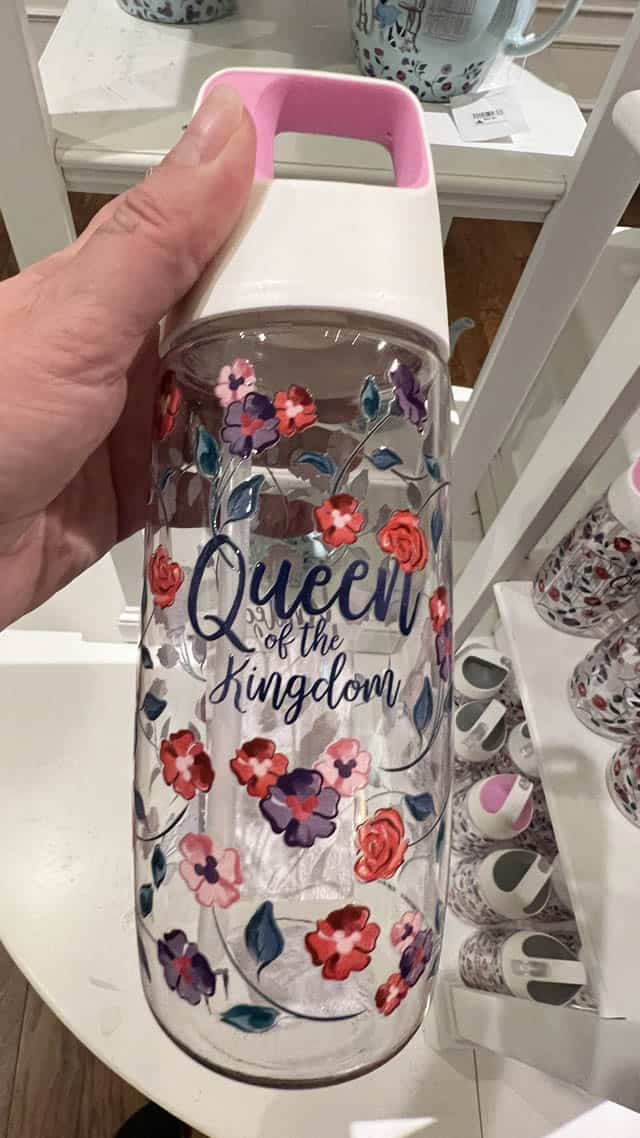 To tote your water in a stylish bottle, be sure to look for the Queen of the Kingdom travel water bottle selling for $22.99. It comes with a twistable lid, pop-up straw, and your choice of pink or grey accents on lid.
On the other side, the cup says United Kingdom. Please note this cup is not dishwasher or microwave safe and must be hand washed.
Travel Mug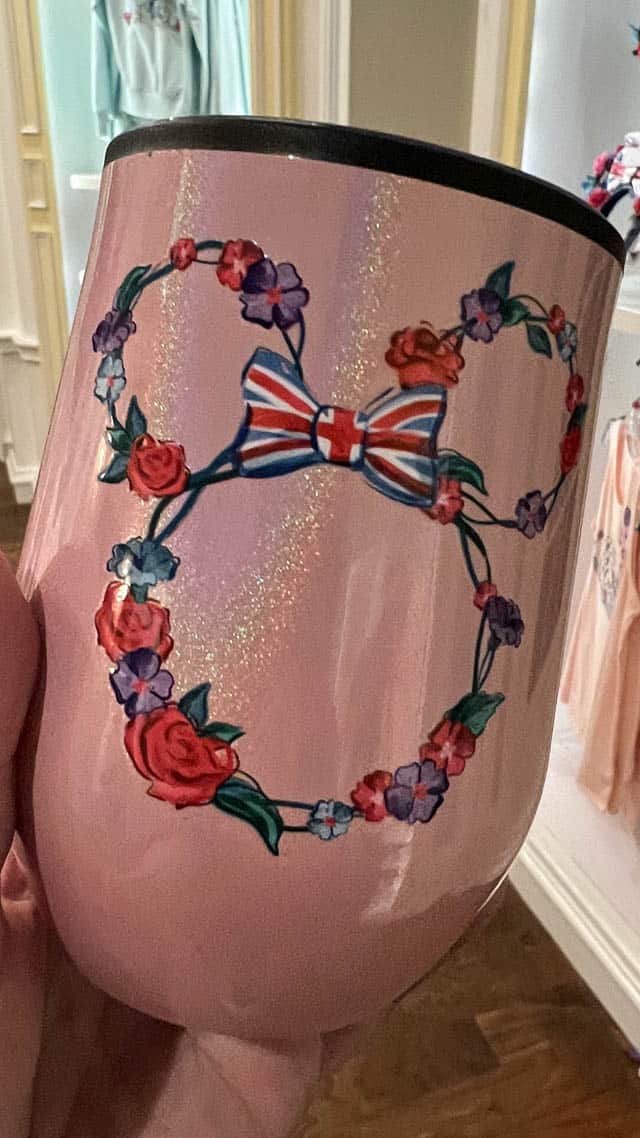 This shimmery pink travel mug is great for your morning coffee or tea. It has a black plastic lid and retails for $19.99.
Note: Both of these cups must be hand washed.
Not only does United Kingdom feature these two new fun lines, but for EPCOT's Flower and Garden Festival, there are 3 additional merchandise lines available: Alice in Wonderland, Mary Poppins, and Peter Pan.
Will you check these new items out on your next EPCOT visit? If so , which is your favorite item? Please share your thoughts with us in the comments below or on our Facebook Page.

Are you planning a vacation? Reach out to our trusted travel agency sponsor Authorized Disney Vacation Planner
Mouse Class Travel
!