LATEST VIDEOS
Subscribe to my Youtube!
LIVE - Just Mousing Around
LIVE - Just Mousing Around Tonight!
It's been several months since shopDisney released the Ariel Castle Collection. Check out pictures and details here on the next Castle Collection featuring Merida.
Ten Castle Collection Sets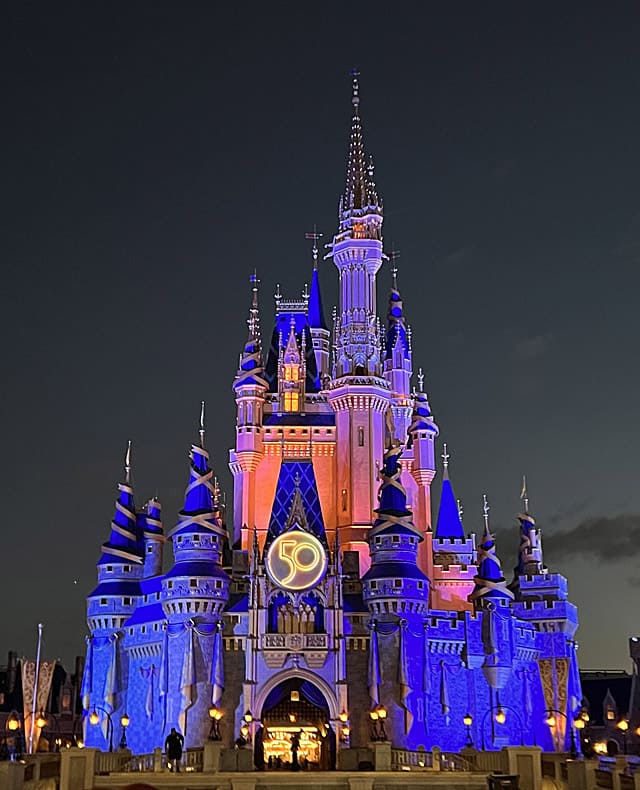 In April 2020, shopDisney announced an enchanting new collection featuring 10 of our favorite Disney princesses and their palaces. The Disney Castle Collection includes 10 sets featuring our most beloved heroines. In addition, some castles debut with these sets!
Each series features a high-end light up castle figurine, a castle ornament, and an hinged castle pin. All of these these collections are limited releases. However, some items have sold out within minutes. Take a look at past sets. Then, check out pictures of the Merida collection.
Cinderella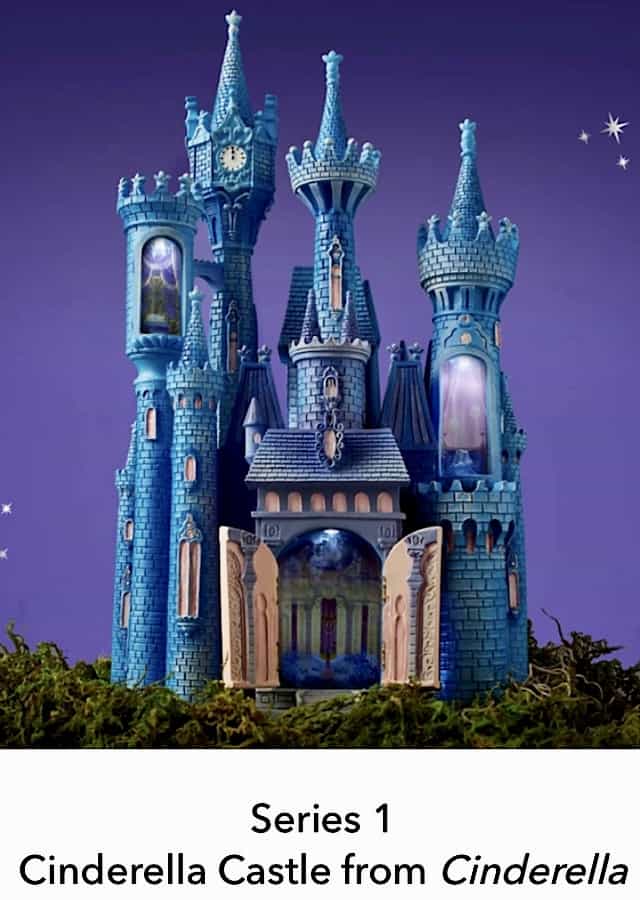 First in the Castle Collection was the world's most iconic Disney castle: Cinderella Castle. Walking down Main Street and seeing Cinderella Castle is truly a highlight for many families. As with other limited Disney collections, the first set is the most collectible.
Along with the first set, shopDisney offered a glass pin display case that sold out after a few months. Were you lucky enough to purchase the display case?
Frozen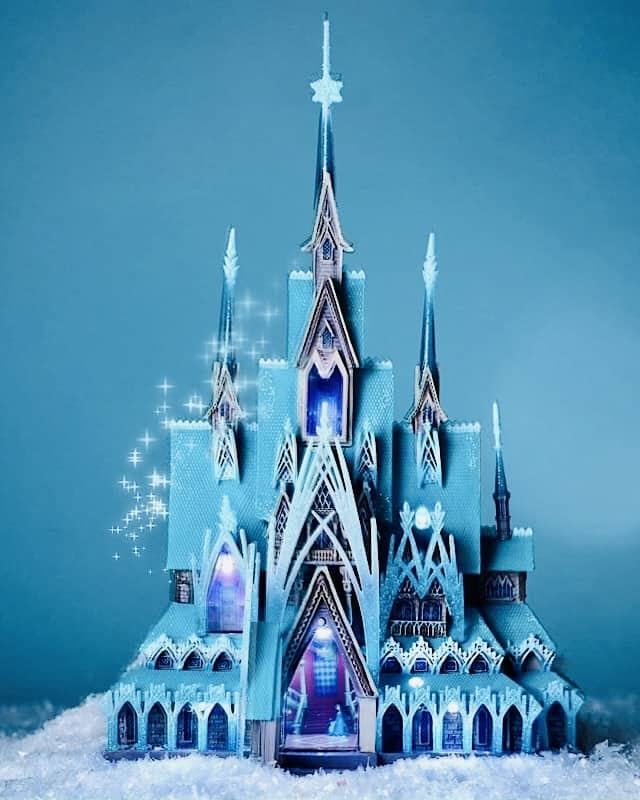 Next, Disney released the Frozen Castle Collection. I (Susan) love the light blues in this set resembling the icy kingdom of Arendelle. So beautiful!
Last July guests purchased this set using lottery on shopDisney. Shoppers weren't thrilled with the lottery, but it beat the the virtual waiting room.
Mulan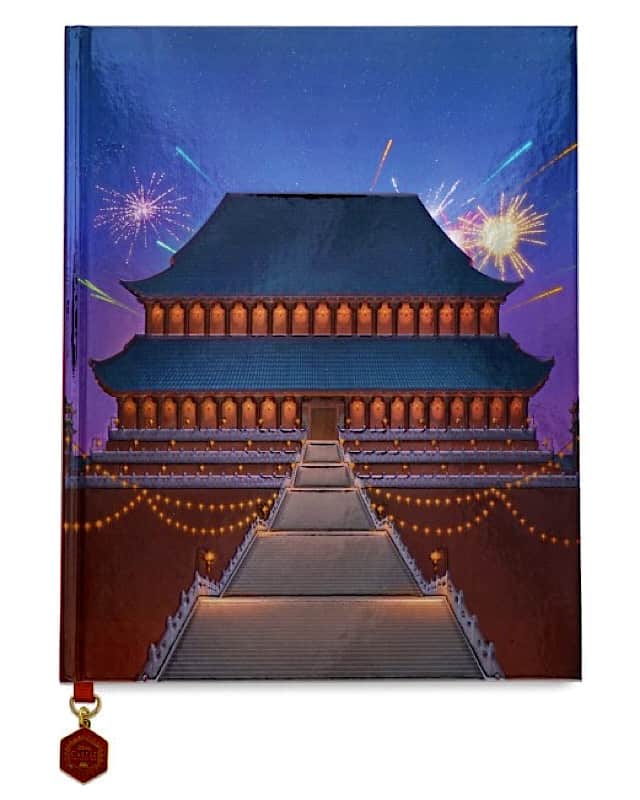 In September 2020, ShopDisney unveiled the Mulan Castle Collection. Shoppers were told what time to purchase live on the shopDisney website. Although some shoppers experienced the crazy Virtual Waiting Room, these items were easier to purchase than the first two sets. 
Additionally, nothing sold out within minutes which was a nice change.
Snow White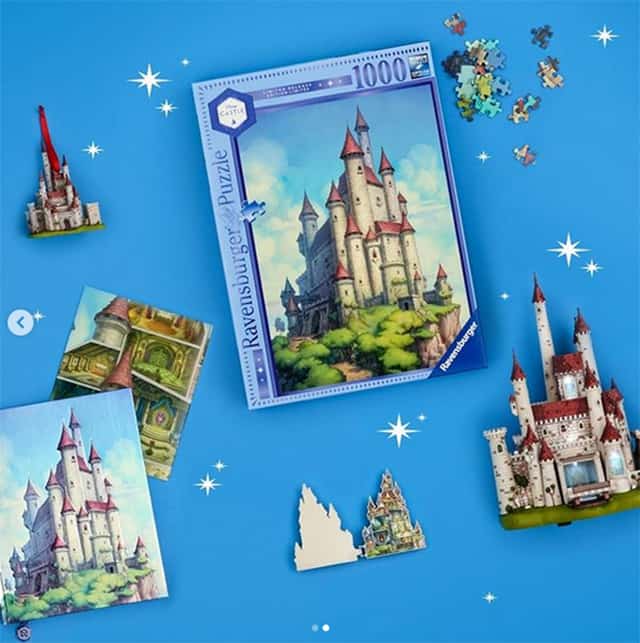 Next, Snow White debuted her castle in October 2020. This castle is one of my favorites! Snow White's Castle Collection was purchased live on shopDisney! This worked better than the troublesome merchandise pass.
Rapunzel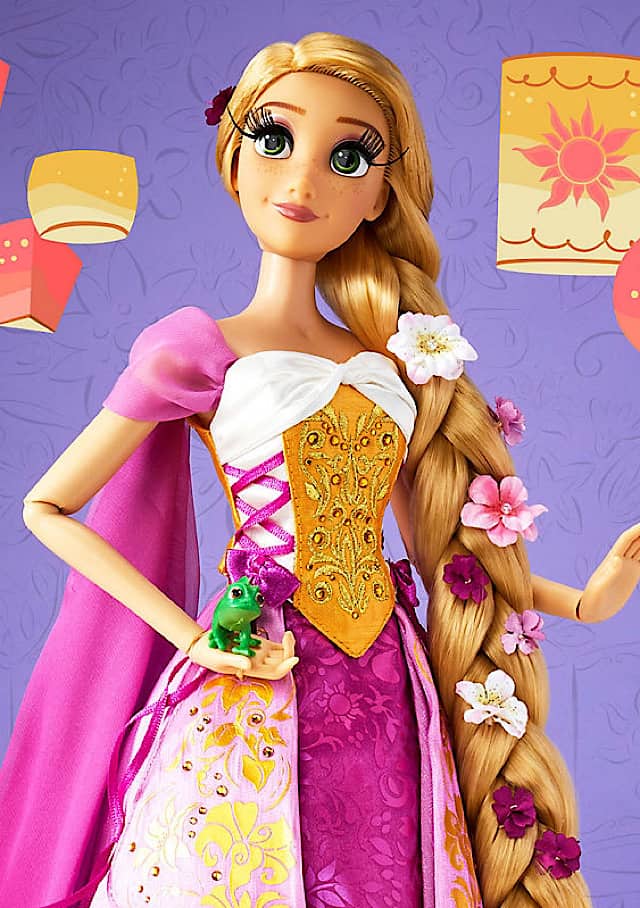 Eager shoppers found the Enchanted Palace from Disney's Princess Rapunzel on December 5, 2020. Rapunzel's whimsical personality comes out in the vibrant colors in her set.
However, the pin quality left many fans disappointed. This may have accounted for the long pause between series. In addition to the previous items, Rapunzel's set included the limited doll shown above with her beloved Pascal. Isn't she stunning?
Aurora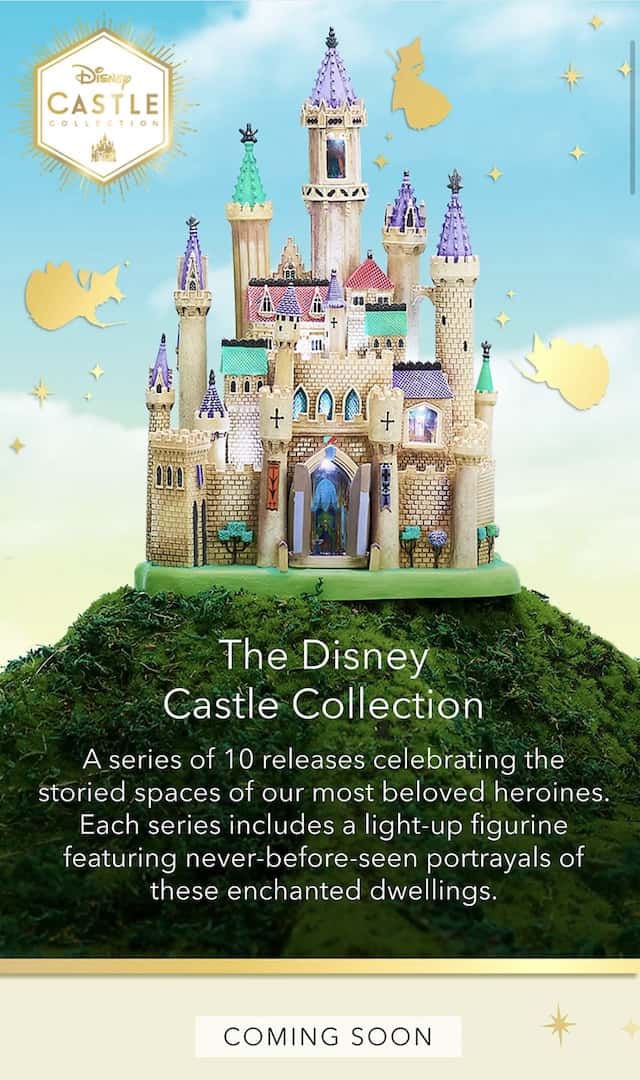 On March 27, 2021, the Aurora Castle Collection went live on shopDisney. This set is just a little magical with its touches of pinks, purples, and pastel greens. The trees resemble those outside Disney's actual castle. Check them out if you visit Disneyland.
Jasmine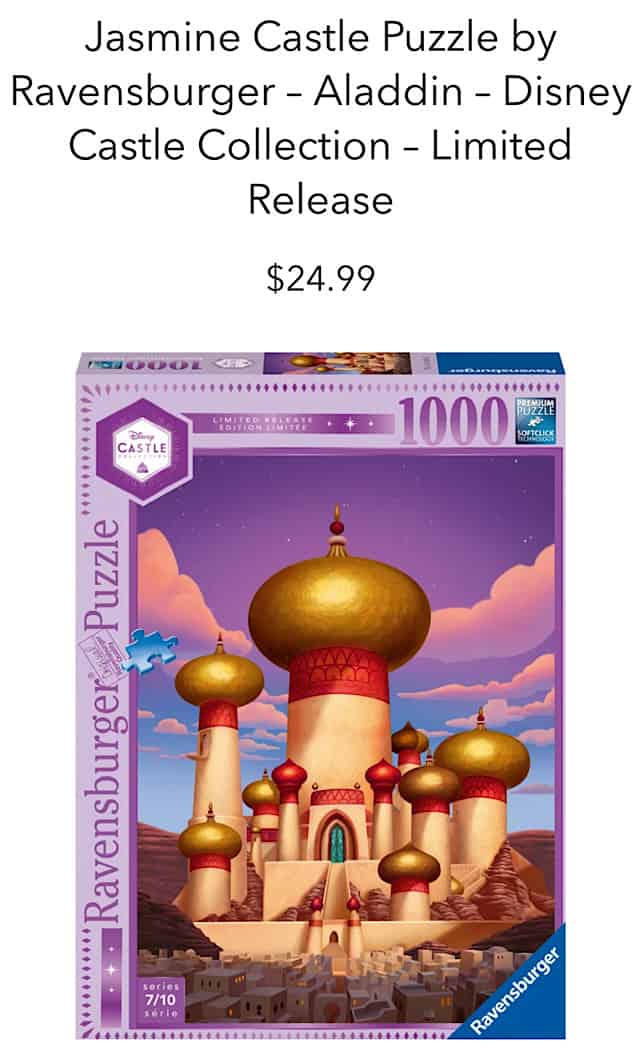 Just a month after the Sleeping Beauty Collection, shopDisney released the wildly popular Jasmine Castle Collection. However, there was a catch to this set. If you shopped this collection during the day of April 27, 2021, you were probably disappointed.
ShopDisney released this set at 3:00am EST! Shoppers were forced to get up incredible early to purchase this set. I'm (Susan) guilty of getting up early.
Ariel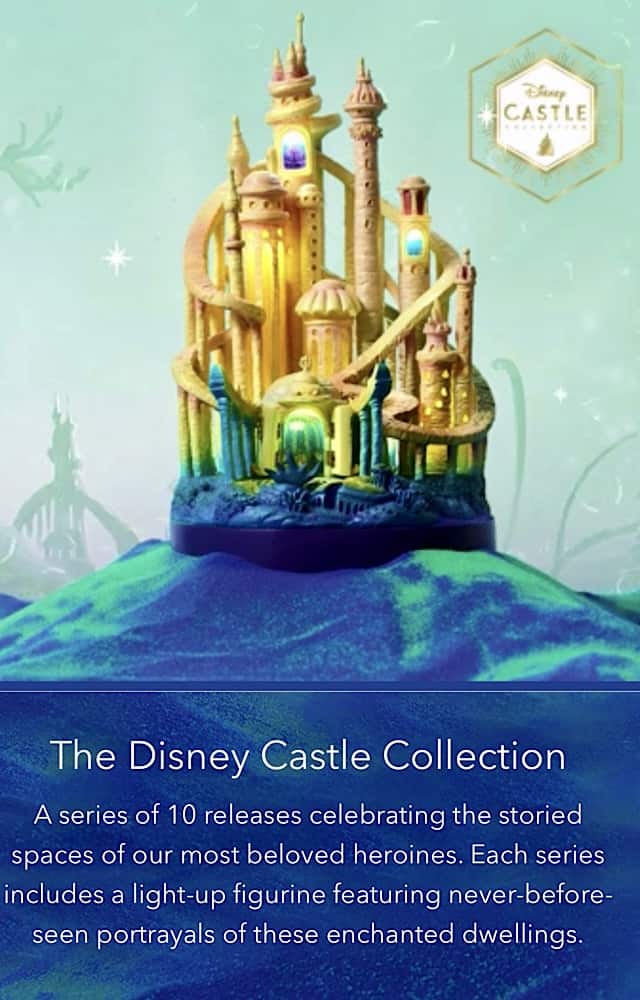 Ariel's Castle Collection was the 8th set released by shopDisney. Being the only underwater (and mermaid) princess, you'll find colors of the sea in this charming set. 
Journals are wonderfully colored and would make a wonderful way to chronicle your Disney trip.
Ravensburger Merida Puzzle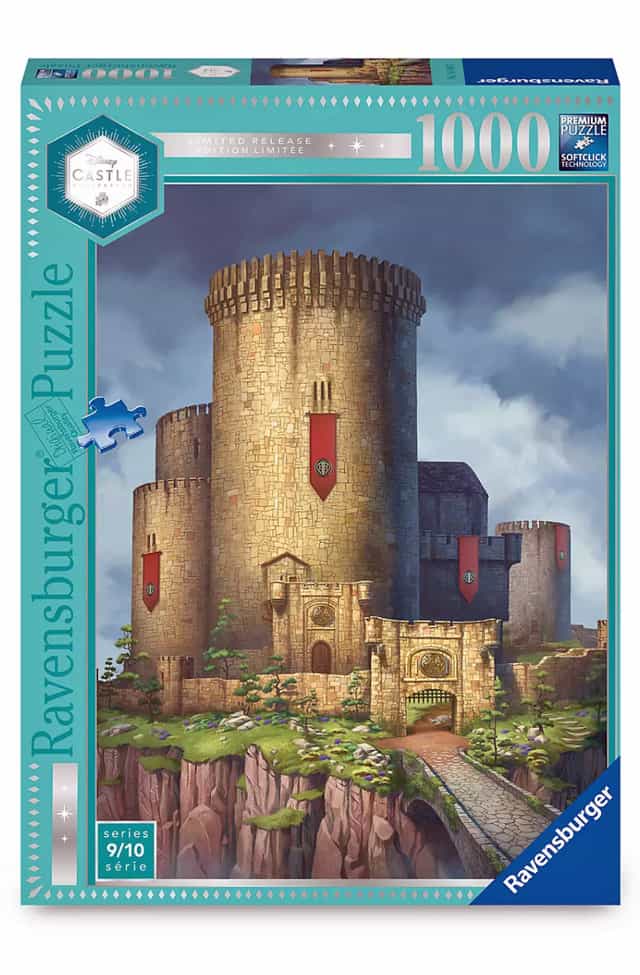 Situated amongst the thick forests and high cliffs of Scotland is a towering castle home to Merida and the DunBroch clan. The impressive fortress is nestled in nature.
This 1000 piece puzzle will keep your family happy for hours.
Merida Pin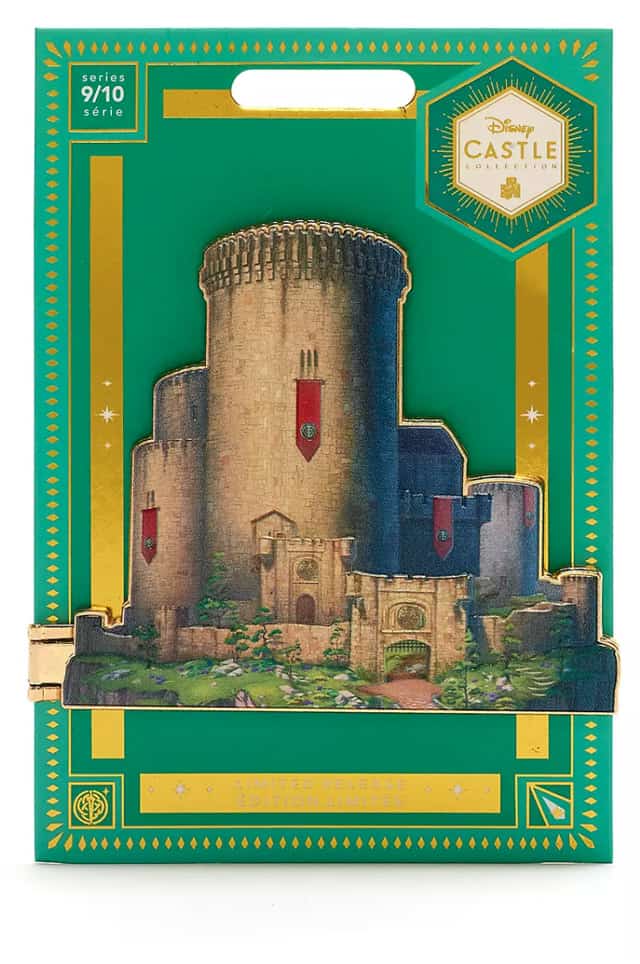 The Merida pin features a hinged design like the others in the Castle Collection. When opened, the pin reveals artwork featuring the castle interior. It also has two Mickey pinbacks. Check out the castle interior below.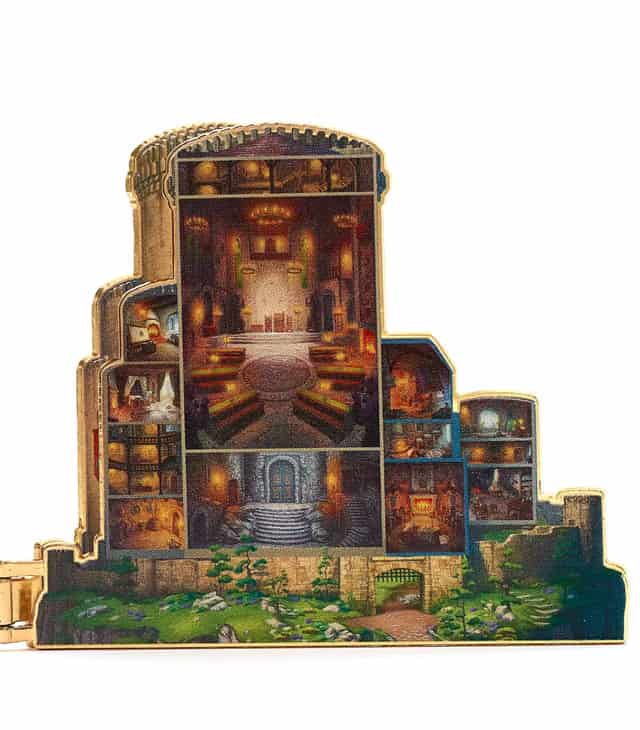 Merida Ornament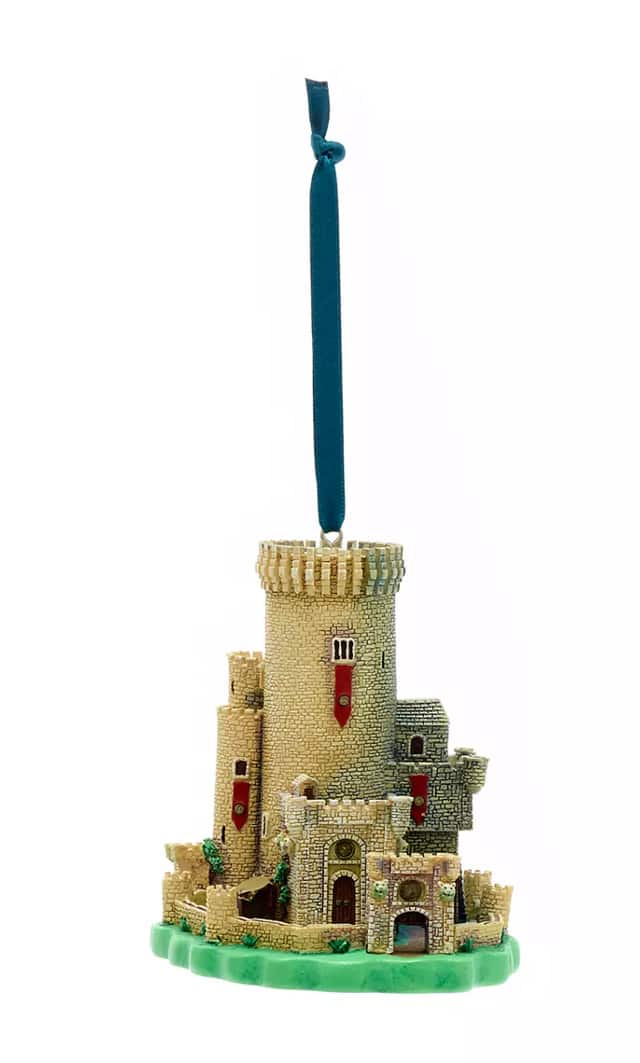 All of the ornaments in the Castle Collection are stunning. The attention to every detail is amazing! Even the packaging and inside padding of the boxes are beautiful. Each ornament is intricately sculpted with painted details and include a ribbon hanging loop. Which of these ornaments is your favorite?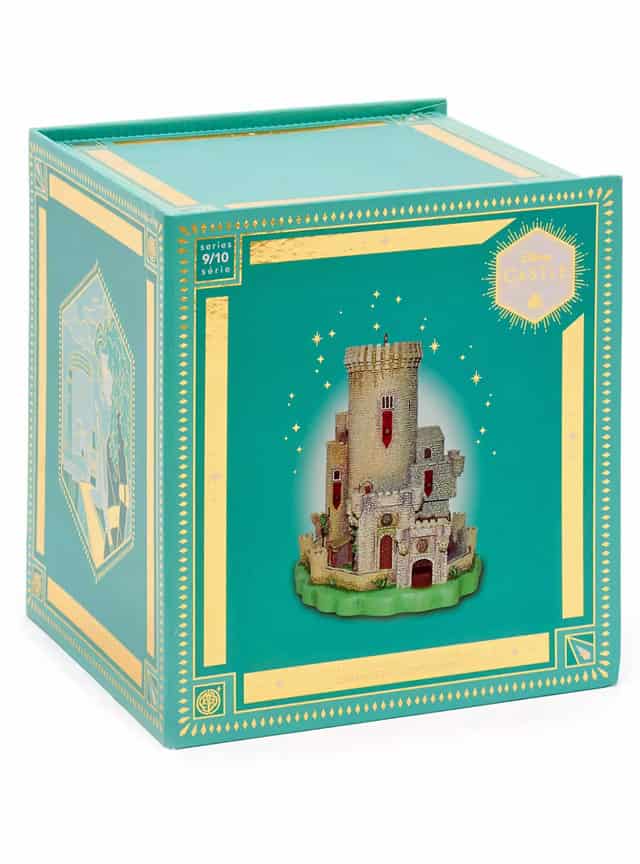 Merida Light-Up Figurine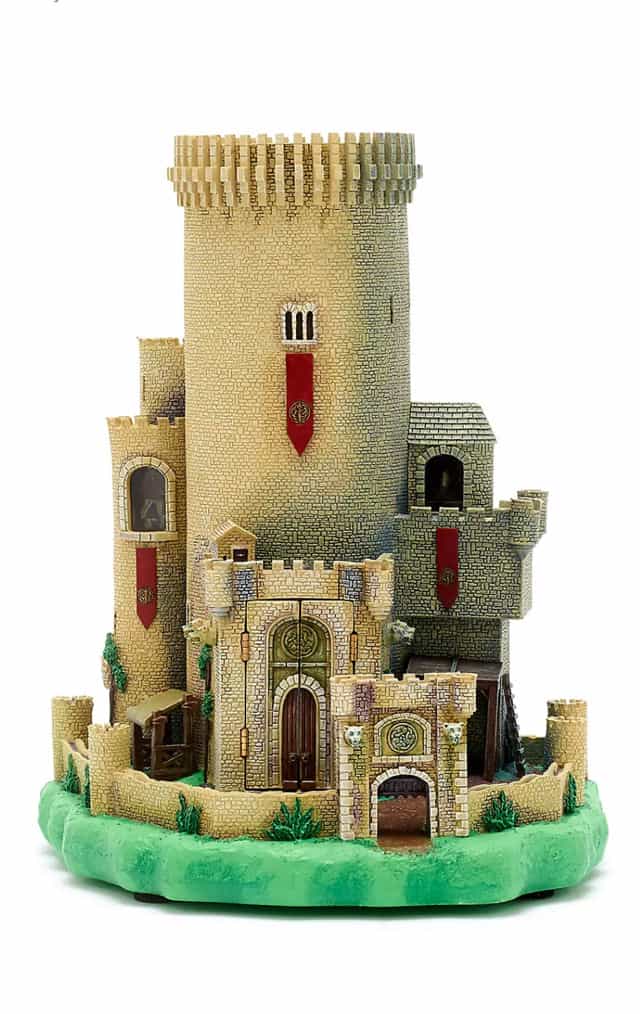 Retailing at $149.99 on shopDisney, this item is by far the most expensive in the set! You'll find past light-up figurines still available. Figurine lights up with an on/off switch. In addition, you'll need 3 AAA batteries, which are included. It's made out of resin and glass.
Merida Journal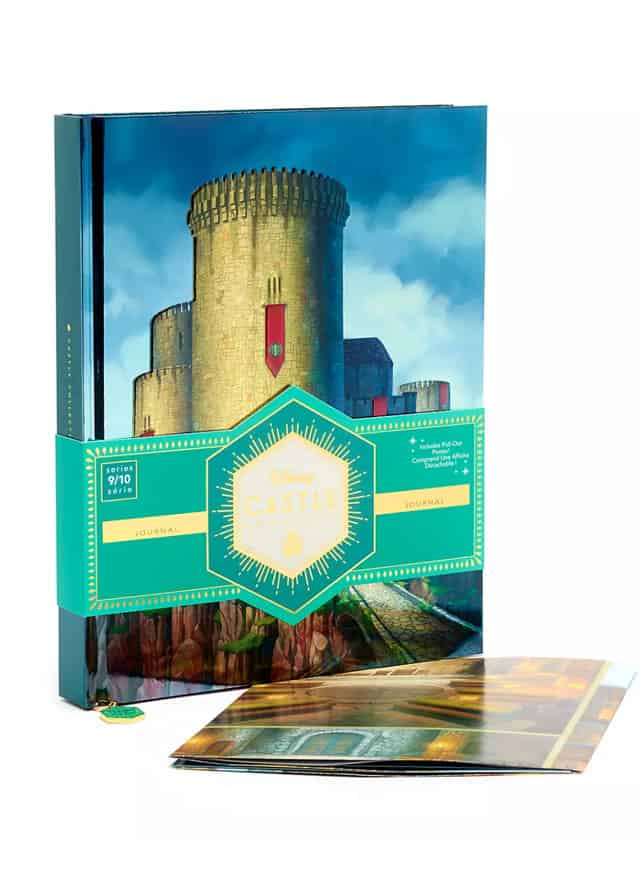 Check out the Castle Collection journal details:
Hardcover with embossed castle artwork
'Castle Collection Vol. IX' embossed on spine
Ribbon bookmark with glittery charm attached
Disney Castle Collection logo embossed on back
Pages featuring castle artwork at intervals
Artwork on corner of pages
Printed inner covers
Lined white pages
Approx. 140 pages
Includes pull-out poster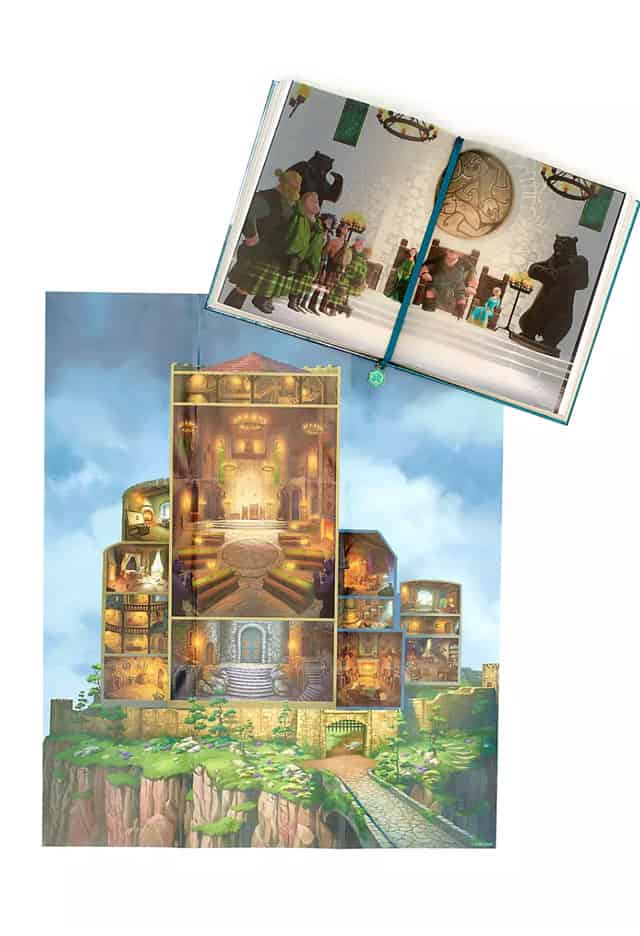 Each journal features beautiful artwork on the cover and throughout the journal pages. This makes a unique present at a reasonable price.
Belle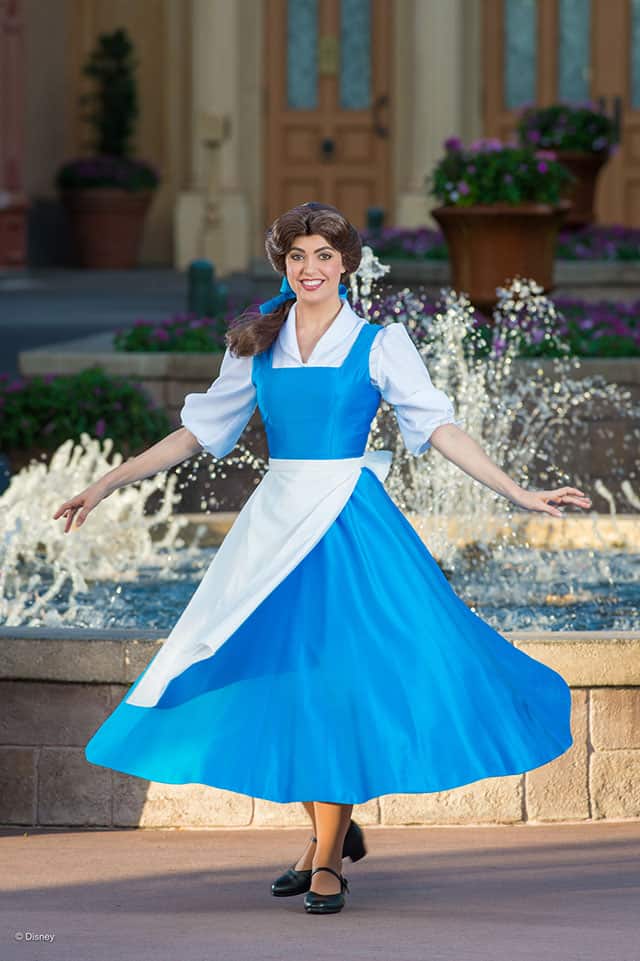 Last, but not least, Belle is the 10th and final Castle Collection set. We'll share the release date and details as soon as they're released.
Who Can Purchase the Merida Collection Now?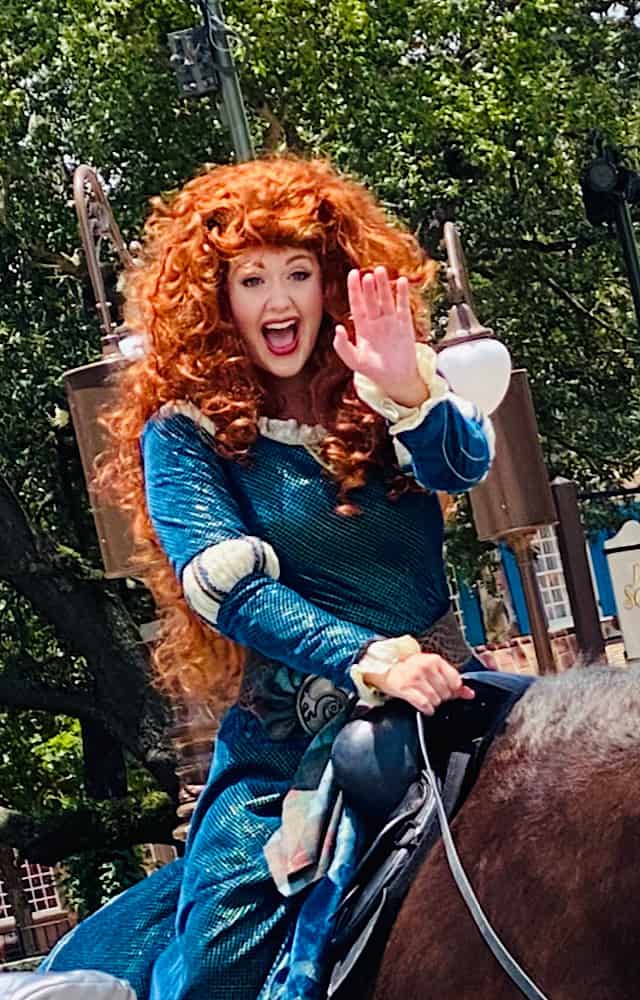 We've seen a pattern where shopDisney UK releases new merchandise before the United States shopDisney. In the past, anyone could purchase items from shopDisney UK. However, now only people living in certain countries buy items from this website.
Merida items are for sale now on shopDisney UK!
Hopefully, the rest of us can purchase this set soon!
Final Thoughts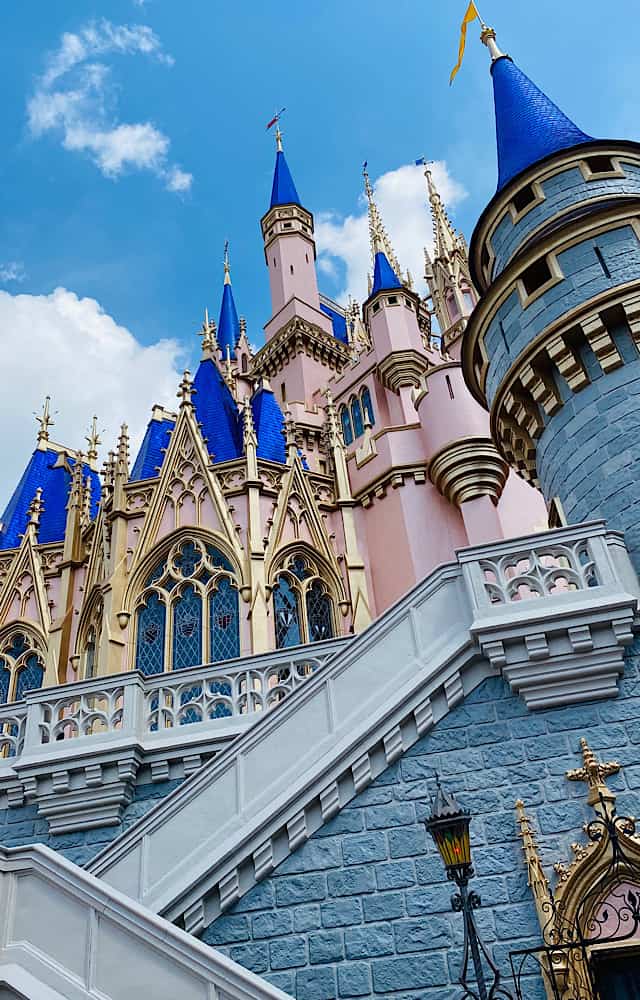 I (Susan) hope you're enjoying this set as much as the Kenny the Pirate writers are. But, it's so frustrating waiting for sets to be released. This may be the longest running Disney collection ever!
We wait with anticipation for shopDisney to release the Merida set in the United States.
Which Castle Collection is your favorite? Also, which item(s) do you collect? Please share your thoughts on our Facebook page and feel free to share this post.
Are you planning a vacation? Reach out to our trusted travel agency sponsor Authorized Disney Vacation Planner
Mouse Class Travel
!