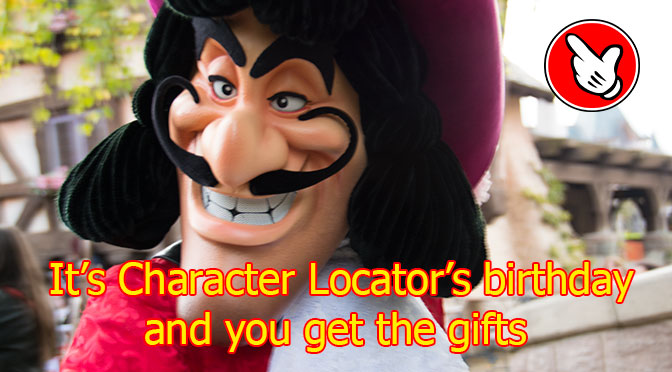 Great news!  Character Locator has turned 6 years old and you're receiving the gifts.  Everyone can receive a 20% discount and one lucky winner will receive a great prize pack.
New subscriptions, renewals and subscription extensions for Character Locator will receive a 20% discount from today through the remainder of June 2018 by using the code: Locator6.  It's that easy.  At check-out, just enter the code Locator6 and a 20% discount will be applied on your Paypal purchase page.  You can purchase with a Paypal account OR any major credit card.
In addition to the gift for everyone, one lucky person who uses the code Locator6 will win a great prize pack that will include a custom 3D printed Character Locator button, a Character Locator t-shirt and the person and their family can win an opportunity to spend a day with KtP in the Disney World park of their choice.  It can be a regular park day or a Halloween or Christmas Party.  I will work with you to plan out the day, then we'll enjoy some time meeting characters, riding rides and enjoying the shows of your choice.
Subscribe, renew or extend your subscription today with code Locator6 at Character Locator and receive the discount and be automatically entered to win the prize pack!
Share the post with your friends, so they have an opportunity to save on the best planning resource for Disney World, Universal and Disneyland and possibly win a great prize!