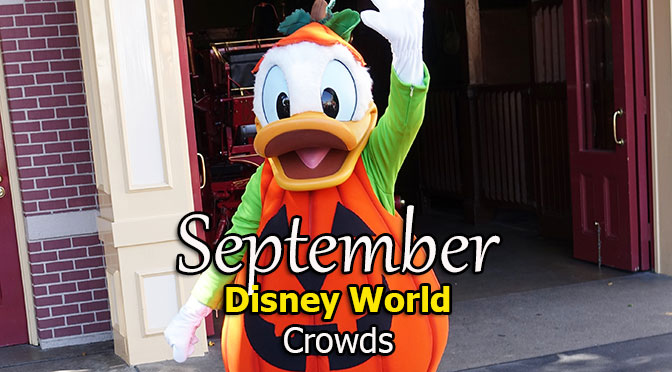 I just completed creating my September 2018 Disney World Crowd Calendar which includes the initial park hours, Extra Magic Hours and some of the nightly entertainment schedules.  I continue with my educated guesses on Mickey's Not So Scary Halloween Parties and possible dates for Night of Joy as well.  Check out some thoughts on my September Crowd Calendar here.
Disney's Festival of Fantasy Parade will continue with the 2pm showing that it began back in mid-August.  Magic Kingdom will continue with its 6pm closings on potential Mickey's Not So Scary Halloween Party nights.  Disney World tested this last year during Christmas Party season and found it was successful in clearing the crowds from the park prior to the party beginning.
Speaking of Halloween Parties, you'll notice that the Magic Kingdom is marked as "Worst Park" on nights that don't offer a 6pm closing.  Last year I tracked every party and found that the crowds on non-party nights were equal to visiting the park on a day during Spring Break.  Even though you might see some days with Light or Very Light crowds, by visiting the Magic Kingdom when it is marked as "Worst Park," you'll be facing formidable crowds.  If seeing Happlily Ever After is important to you, I recommend using a Park Hopper.  Visit a green park during the day and hop into the Magic Kingdom at night for that fireworks show.
Halloween Party tickets typically go on sale in May each year, so there is no need to stress over that purchase.  The only party that sells out in advance is the Halloween night party.
Also a note for this September Crowd Calendar, you'll find that Star Wars Fireworks aren't listed.  It's typical that Disney World provides that schedule about 3 to 4 months in advance and I'll update the schedules.  It's also possible that some nights at Animal Kingdom will see a 2nd Rivers of Light showing.
All park hours are initial offerings and they WILL be updated by Disney as we draw closer to your travel dates.  You'll find that Magic Kingdom will close later on many nights, especially on Saturday nights.  Epcot never changes their park hours.
Visit my Disney World Crowd Calendar page for full details, park hours and Extra Magic Hours for your dates.