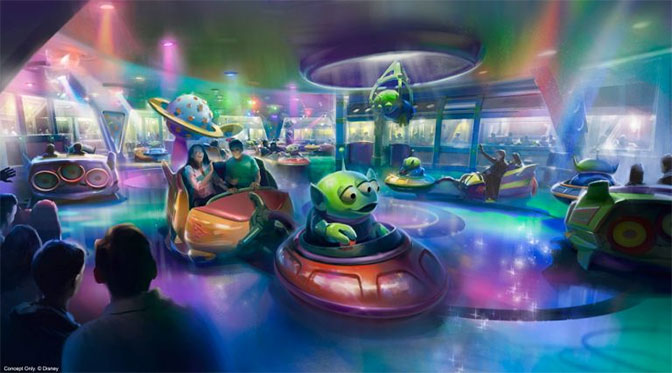 Disney Parks has released new artwork for the upcoming Alien Swirling Saucers ride that will be one of the two new rides in the all-new Toy Story Land and they made a brief comment on the rumors that were recently flying around concerning a possible name change at Hollywood Studios.
The new Alien Swirling Saucers ride, which will open this summer at Disney's Hollywood Studios shows the aliens moving about with guests tailing behind them.  The "Claw" is attempting to grab them.  "Once the aliens have powered up their flying saucers, you'll get to climb into a toy rocket and hang on as aliens lead the way on an interstellar romp set to an out-of-this-world beat. And if you're really lucky, you just might get "chosen" by the claw!" – Disney Parks.
This ride is a covered version of the Mater's Junkyard Jamboree ride in Disney's California Adventure theme park.  Here's  short video of that experience.
Disney also created a release that stated that Disney's Hollywood Studios "name will remain the same for the foreseeable future since we are immersing our guests in a place where imagined worlds of Hollywood unfold around them from movies and music, to television and theater."
Recently, many blogs were posting rumors that stated that Disney might change the name of the park to one of 5 (mostly awful) names that were a part of an official survey.