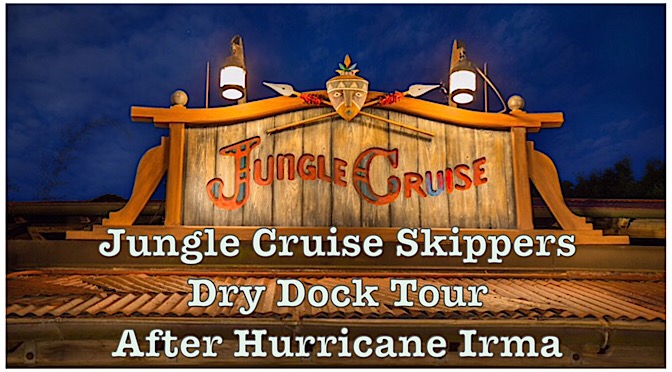 Early morning on Monday September 11th, Hurricane Irma passed over Orlando and the Disney World Resort.  Luckily, there was minimal damage across the Disney Parks and the Resort Hotels.  Tuesday, September 12th, all four of the major Parks reopened to guests.  Unfortunately, some attractions were unable to reopen with the rest of the Parks.  In the Magic Kingdom, one of the more popular attractions that did not reopen that first day was the Jungle Cruise in Adventureland.
Jungle Cruise Temporarily Closed Until After Further Clean-up
The Jungle Cruise was one of three attractions not open the first day after Hurricane Irma.  The other two attractions were the Walt Disney Railroad and Tom Sawyer Island.  The common thread in all three of these attractions is that they have many trees and foliage in the tracks and paths of the attractions.  Until Disney was able to fully clear the areas of the three attractions, guests would have to visit the other Magic Kingdom attractions.
Jungle Cruise Skippers and Castmembers Provide a Dry Dock Tour
Now, if any person were to ever visit another non-Disney theme park (shocking, but yet it happens), a closed attraction would mean not experiencing that attraction.  But this is Disney!  The Castmembers of the Jungle Cruise showed up for work that day ready to bring Magic to the guests.  And they were going to do it with or without the Jungle Cruise being open.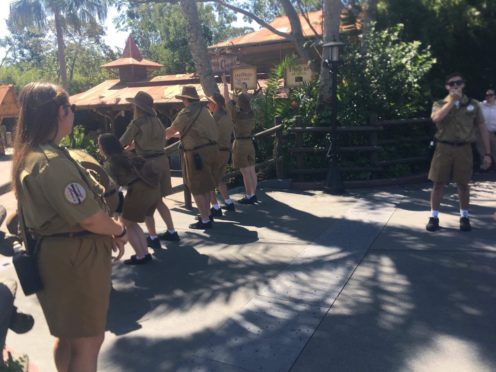 So, throughout the operating day, every hour on the hour, the Castmembers of the Jungle Cruise would walk up the steps into Adventureland in order to perform a Dry Dock Tour.  One of the famous Skippers would step forward and invite all surrounding Park guests to gather round.  The rest of the Castmembers would line up to support the Skipper as they proceeded to verbally guide the guests through an imaginary ride on the Jungle Cruise.
Bringing the Puns Aground
The Dry Dock Tour is full of the wonderful puns that all Disney Parks guests have come to love.  All the greats are there!  Inspiration Falls. The backside of water.  Trader Sam.  These performances have something that the actual attraction does not, though: a row of Castmembers acting out the scenes from the Jungle Cruise.
The result of these Dry Dock Tours is material that many guests already know by heart, but presented in a hilariously new way.
Watch one of the full performances from Tuesday 9/12 below.  Special thanks to Joanna Taylor for providing video footage (click here for her Instagram account).
Overall, reports from Disney World guests have been exceedingly positive concerning how Disney and its Castmembers have dealt with Hurricane Irma.  This is the same for before, during, and as this Dry Dock Tour shows, after the storm.
What do you think of the Jungle Cruise Castmembers and their special Dry Dock performance?  Would seeing such a performance help take the sting out of having one of your favorite attractions temporarily unavailable?
– Chris Edwards